On the first floor of Edgartown Bicycles, where bikes hang from the ceiling and pack the floor, the bike repair stands in the back are almost always occupied. It's there that you're likely to find owner Jon Malone tinkering with bikes and chatting with customers. The Island is starting to feel like home to Jon who moved to the Vineyard in 2020 to work at Edgartown Bicycles and purchased the shop soon after.
"Luckily every place I've lived there's been a biking culture," Jon said in a recent interview with The Vine. An avid endurance athlete, Jon spent the last two decades in Boston, working in bike shops and as a personal trainer, and participating in numerous cycling races. "Living in a city, you're more likely to have accidents happen and you get that spider sense going," he explained.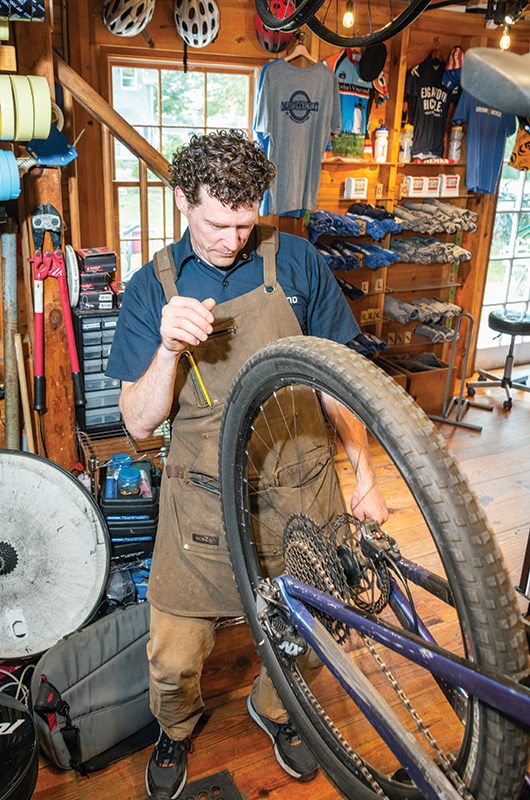 When the pandemic hit, shutting down gyms and taking his personal training business with it, Jon said he was ready for a change. "I was totally ready for this; it felt like the natural next step," he said of his decision to take over the bike shop.
Jon's new venture coincided with a huge boom in cycling as a hobby. "Biking has grown more and more on the Island in the last few years. It started with the pandemic — more people being outdoors because they could no longer be indoors," he said. "They're getting off the pavement. There's a little more biophilia in the woods, more Mother Nature."
Along with setting up shop and taking time to land a few BMX tricks at the Martha's Vineyard Skate Park, Jon said he has spent much of the last three years familiarizing himself with the Island's cycling trails. Though he declined to name his favorite trail on the record, he noted that all the best hills are located up-Island.
Ironically, the 2020 cycling boom also coincided with global supply chain shortages, making it difficult for repair shops to acquire their necessary parts. The biggest challenge at first, Jon said, "was keeping the shop organized, figuring out where everything was, what we needed and what customers wanted."
While he was getting organized, Jon also got a feel for the most frequent repair needs for Islanders. The two most common culprits when it comes to bike maintenance, he explained, are sand and salt, both of which lead to corrosion of a bike's mechanical systems.
"The biggest thing is people not taking care of the chain, not wiping it off and lubricating it the right way," he said. Cleaning and lubrication should be frequent, he said, especially on an Island where these corrosive elements are ubiquitous. When a bike comes in, Jon always lubricates first, letting the liquid set in to "work its magic" on the chain.
The sandy nature of Island trails also leads Jon to make different recommendations to new bike shoppers. In terms of tire width, for example, he typically suggests they go for thick "29ers," rather than the thinner "700" tires (700c or 27.5 inches) more common for road bikes.
For those most serious about conquering the sand on two wheels, however, Jon suggests a more targeted approach: a purpose-built beach bike with extra-wide tires, its chain coated in liquid wax to prevent corrosion. Jon said he managed to circumnavigate the Island – specifically on the Island's beaches – on such a rig during the off-season.
One of the more exciting parts of Jon's job is watching cycling technology continue to advance. In the world of gear-shifting mechanisms, for instance, a major advancement has moved the functionality of a part called the front derailleur to the back wheel. "It changes the whole geometry of the bike," Jon said, which allows for new designs.
Jon said he has also seen great developments in electric bike technology as these bikes rise in popularity with commuters. But that explosion has also seen a rise in lower-quality brands. "Prospective buyers should take a close look at warranty policies," Jon said, recommending that people also go online and look at legitimate reviews — and familiar brands.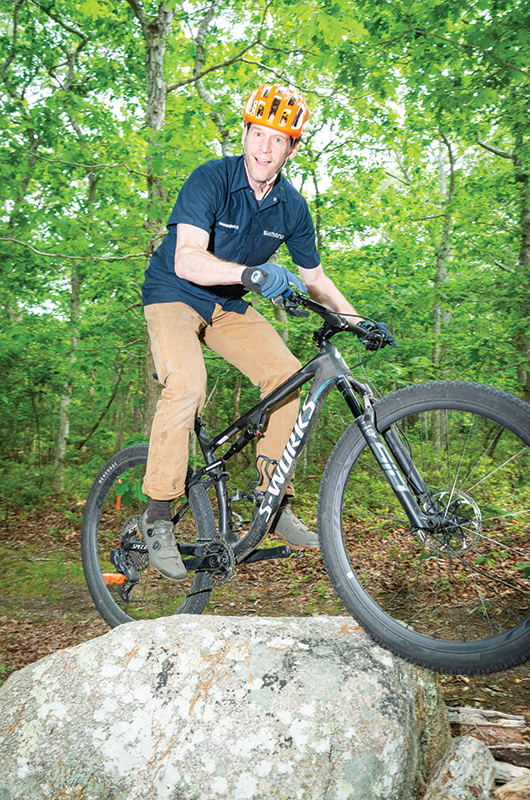 E-bikes are getting sleeker, too. "A lot of electric bikes now just look like normal bikes to people," he said, showing off one of his newest models. Its battery, he pointed out, is hidden in the front part of the frame, making it indistinguishable from a conventional bike at first glance.
But as exciting as the new tech can be, much of Jon's time is spent fixing up older models, even if they turn out to be obsolete. "I'm thinking about my 2004 Jeep. He's my buddy and we've been on adventures together," he said, by way of explaining the emotional attachment people can get to their vehicles, two-tired or four.
Now that he has his feet — or perhaps his wheels — on the ground with the store, Jon said he has big plans for the future of Edgartown Bicycles, from bike maintenance workshops to yoga classes in the upstairs loft to organizing a trailbike race on the Island.
"I feel like I'm getting to a place now of balance and becoming more a part of the community," he said. "I want to make this place more of a hub for how we all train for our endurance sports, for like-minded people to come together."
Thomas Humphrey is a reporter for the Vineyard Gazette.