Julia Tarka's first summer job as a teenager in Edgartown was on South Summer street. Today the mother of three young children still works right across the street at the popular Rosewater Market which she started in 2015 with her father, Christoper Celeste, and stepmother, Nancy Kramer. That same year she met her husband, Zachary Tarka. In 2020 they extended the market brand with the addition of Rosewater Wine & Spirits. In addition to serving as president of the Edgartown Board of Trade, Julia serves on the Edgartown historic district commission, sits on the town's sign advisory committee and was elected to the town's finance committee. She also recently joined the board of the Martha's Vineyard Boys & Girls Club. Julia's civic commitment is evident, and her fresh voice is one that will help define the future of Edgartown.
Q. How did you first come to the Island?
A. I'm the last of six children and when I was six years old I kind of got sent here to go to camp. My family would visit for two weeks. I moved here from Colorado after college in 2012.
Q. What a place for a kid to be sent to in the summer!
A. Little did they know I was winning the lottery! I started working when I was 15 – actually across the street [from Rosewater] at a place called Edgartown Clothing Company. So I've been working on this block in Edgartown for 15 years.
Q. How challenging was it to restore Rosewater's historic building in Edgartown?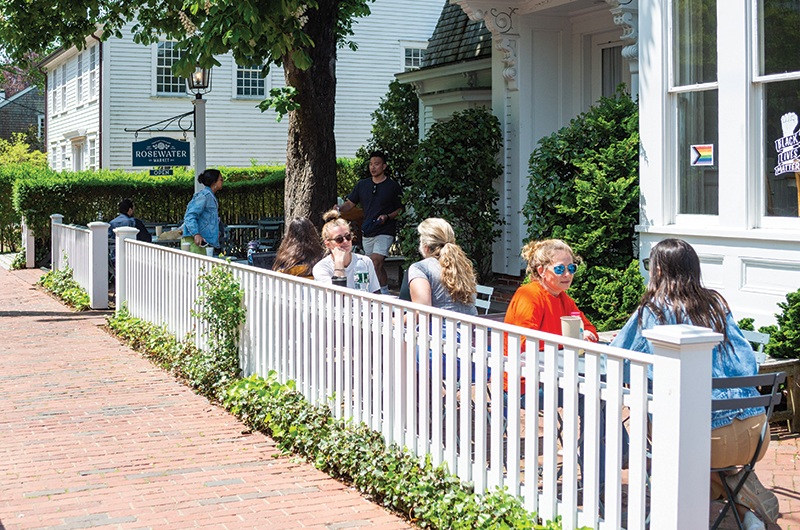 A. My family, with my dad, Christopher Celeste, had already restored the Yellow House on Main street (now home to Lululemon). When we took ownership of the Rosewater building in 2015, we knew it had once been a business called the Penn Street Market, so it felt nice to bring it back as a market. And we added the commercial kitchen.
Q. Is there a responsibility that comes with taking on these historic buildings?
A. As co-chair of the historic district commission here in Edgartown, I feel a lot of responsibility in terms of stewardship of the properties that I'm in – whether it's the property I rent on Main street [Rosewater Wine & Spirits] from Geno Courtney or the properties that we own and manage or rent to others.
Q. How does that responsibility extend to the off-season?
A. Being open year-round at the market is a big part of that responsibility. We are open at the liquor store as long as we have a liquor license – from April until the end of December. We kind of pushed to have a presence in town to keep the lights on for folks who are here working year-round. And it's really important to keep the market open for other people in the off-season. The high schoolers host a climate café on Sundays and when we're closed, we're available for fundraisers. We are just trying to be supportive of others who are doing things in the community.
Q. What is the biggest challenge of serving on the historic district commission?
A. There's a lot of development happening in town and I feel like there are ways to curb that, there are ways to develop properties responsibly, and I hope that our board is moving towards a place where we can be more encouraging of that.
Q. It seems being a community activist comes naturally to you!
A. Civic responsibility is something that was a big part of my family growing up. I take a lot of joy in being able to give back to the town. I think it's important for all of us to take an active part in our towns – to be able to come to a place where everyone can sit in a town meeting and say their piece. That's the beauty of direct democracy.
Q. Is there a common misperception of Edgartown that you would like to clear up?
A. It's much bigger than most people understand, certainly bigger than I understood when I was buying jelly bracelets at Sheila Allen's and going to the Quarterdeck. It's easy to come here as a visitor and think that the town is Main street. You wander four blocks and you're in Sheriff's Meadow Sanctuary – such a beautiful piece of property. Three blocks in the other direction and you interact with the incredible people at the library. And we have Katama!
Q. The tagline on your Rosewater Market website says "our true mission is to spread kindness - to make you feel something, not just buy something." How is that mission tested in the height of the season?
A. All of us get tired and overwhelmed and have moments when we are not our best selves. I think the goal for us is to recognize the gift of being able to feed people. It's something special and always elicits a response. As much as we can, when we're being the best versions of ourselves, you'll get a smile, a good cup of coffee and a sandwich.
Q. Any celebrity sightings you'd care to mention?
A. Don Cheadle came in last summer with a Rosewater reusable cup…that was cool for me.
Q. Tell me about your involvement in the new Edgartown Village Market on Tuesdays.
A. We first had the idea to do an in-town farmers' market in 2020. We had begun permitting, started a layout and branding, and even bought the URL for the Edgartown Village Market, but the pandemic got in the way. I was so happy this year when Grace Romanowsky and Zach Pinerio took the ball and ran with it. It's still an Edgartown Board of Trade initiative but they've really been the power behind it. And a new idea was the partnership with Vineyard Preservation Trust. I think it's going to be wonderful for the town!
Q. You are beginning another busy season, this time with three-month old Peggy joining siblings Theodora, four, and Zachary, three. How are you balancing it all?
A. I benefit from a wonderful partner so it's not a one-woman show in any aspect. My husband is my teammate in parenting. We have a great long-term staff at the businesses, and both of my older kids go to the Vineyard Montessori School and they're absolutely wonderful there. My dad and my brother both live here full time so I'm not of the mindset that one person raises children.
Q. What's next for the Rosewater brand?
A. For Rosewater, we're going to keep doing what we've been doing and hopefully doing that well. For me, I'll get to enjoy my kids and continue to put time into the town and Edgartown Board of Trade and the Boys & Girls Club. I'm trying to find the balance to enjoy this phase of my kids and continue to be part of the other organizations that I've made a commitment to and that I care about.
Q. Describe your perfect July day in Edgartown.
A. Let me say my perfect day off! It still involves walking into town and checking on the stores, but with my kids; they can name the Pagoda Tree from two blocks away! Maybe go to visit the library and check in on Elise and the summer reading program; walk to Fuller Street Beach past my parents' house and bother them on the way, and come back into town for ice cream at the end of the day.
Sissy Biggers is a regular contributor to The Vine and a frequent contributor to Martha's Vineyard magazine.