Gone are the days when "required" summer reading was a burden. As grown-ups, we'd be only too happy if the universe required us to grab a morning on the beach or an evening on the front porch to dive into all the books we've been wanting to read. Even though some of us belong to book clubs or make a point of reading regularly throughout the year, there's nothing like a good book, a comfortable chair (or I should say, relatively comfortable if it's a beach chair), and a few free hours on one of those warm Vineyard days when the skies are blue and the breeze is gentle.
We hereby declare August to be book month on the Vineyard. It only makes sense since the Martha's Vineyard Book Festival happens in August, and the Island will be awash with book authors from August 4 to 6. Additionally, both Bunch of Grapes Bookstore and Edgartown Books, as well as Union Chapel and other organizations — not to mention our libraries — have author events coming up this month.
As a book author myself, I implore you to go to at least one of these events – and to buy a book from a local source. Both the authors and the independent bookstores benefit when you purchase locally. But while we wait for these authors to arrive and sign our books, what else can we put on our summer lists – and begin reading immediately? That seemed like a smart question to ask Molly Coogan, owner of Bunch of Grapes Bookstore; Dawn Davis, book publisher and outgoing editor of Bon Appetit magazine; and Laura Coit, head of circulation/assistant director, West Tisbury Public Library. I reached out to them independently and was delighted to receive recommendations for an interesting mix of genres – and eight different books.
But before I hand the mic over to them, I have a couple notes of my own. One of the best books I've read recently was recommended to me by Molly. (Full disclosure – I once worked at Bunch of Grapes.)
The Postcard, by French writer and actress Anne Berest, is based on the true story of the four members of Berest's family killed in the Holocaust (and the fifth, who survived). It was a bestseller in France and the winner of the Prix Goncourt. The story and the writing were riveting.
Next, I'm looking forward to reading the new novels – both just released – by two of my favorite authors. From Colson Whitehead comes Crook Manifesto, the follow-up to Harlem Shuffle. And from Richard Russo, Somebody's Fool — a return to North Bath and the setting of Nobody's Fool and Everybody's Fool.
Of course, it would be out of character if I didn't recommend a hot new cookbook to you: Simply Tomato by award-winning food writer (and former colleague) Martha Holmberg. The book has everything you need, from toasts and tarts to sauces and salads, to make the most of those Vineyard August tomatoes.
And here's one last pick from my household to yours: my husband, Doug Sederholm, on the advice of his son Luke, has just finished The Three-Body Problem, the first in Chinese writer Liu Cixin's Hugo award-winning science fiction trilogy that is being adapted for a 2024 Netflix series by the creators of Game of Thrones. Not for the faint of heart, but excellent.
Whether we read fiction or non-fiction, we're stepping into the stories of other lives, other places, other worldviews, and in the process, enriching and illuminating our own lives. Here's hoping you enjoy your literary adventures this August.
---
Susie Middleton is the special projects editor for the Vineyard Gazette Media Group and the author of four cookbooks.
Book Recommendations From the Experts
Molly Coogan
Owner, Bunch of Grapes Bookstore
The Heaven & Earth Grocery Store, by James McBride. This is one of the summer's most anticipated books, and with good reason. James McBride is such a warm and funny storyteller, and this novel is as rich and empathetic a tale as any he's written. The story takes place during the early part of the 20th century in Chicken Hill, a run-down neighborhood in Pottstown, Pa., that's home to a large community of African Americans and immigrant Jews. They live their lives side by side, sharing joys, sorrows, and secrets, and finding strength in love and community. It will be published on August 8.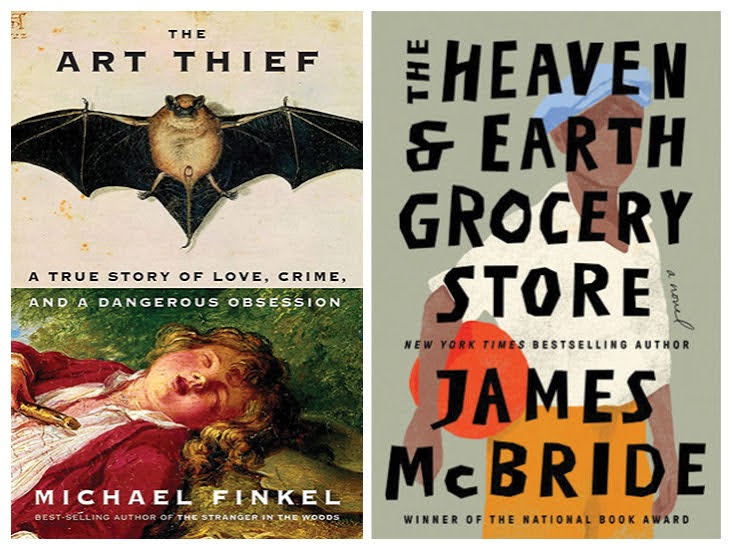 The Art Thief: A True Story of Love, Crime, and a Dangerous Obsession, by Michael Finkel. The thief in this gripping true crime story is unlike most: he steals art brazenly and frequently — sometimes with foresight, though often without — from museums throughout Europe. What drives him is not monetary gain, but the unremitting desire to possess the art he loves. He and his partner in love and crime live with his mother, where, in two locked rooms, they cover every surface with paintings, sculptures and objets — until their luck runs out and their whole world comes crashing down.
---
Dawn Davis
Book publisher; outgoing editor in chief of Bon Appetit; board member, Martha's Vineyard Book Festival.
The School for Good Mothers, by Jessamine Chan. I'll acknowledge up front that I am biased here as I edited The School for Good Mothers by Jessamine Chan. Still, it is a book I want to thrust in everyone's hands. It has everything I'm looking for in a novel: page-turning drama, characters who are flawed but relatable, an ending that takes your breath away and a topic that keeps you thinking long after the last page. In this case it's about how we parent, how we judge parenting and the bonds that tie families together. Set five minutes into the future, it brings to mind Kazuo Ishiguro's Never Let Me Go.
Editor's note: Jessamine Chan will be at the Martha's Vineyard Book festival this August.
Tomorrow and Tomorrow and Tomorrow, by Gabrielle Zevin. Another novel that I shout out and recommend to anyone looking for a new book is Tomorrow and Tomorrow and Tomorrow by Gabrielle Zevin. The plot in and of itself may not strike you as original: a compelling group of characters who meet as children and whose lives intertwine through college and unexpectedly exciting careers, push through the various strains of adulthood. But it's Zevin's spot-on, compassionate, loving touch, as well as the inside look into the world of gaming (a world I didn't know I was interested in until Zevin busted it wide open for me in dazzling ways) that makes this so immediately winning. If you need a break from your guests, don't want to go to another clambake, bow out and do yourself a favor: Find a quiet spot in Menemsha or at the Inkwell and let the lead characters take up space in your heart.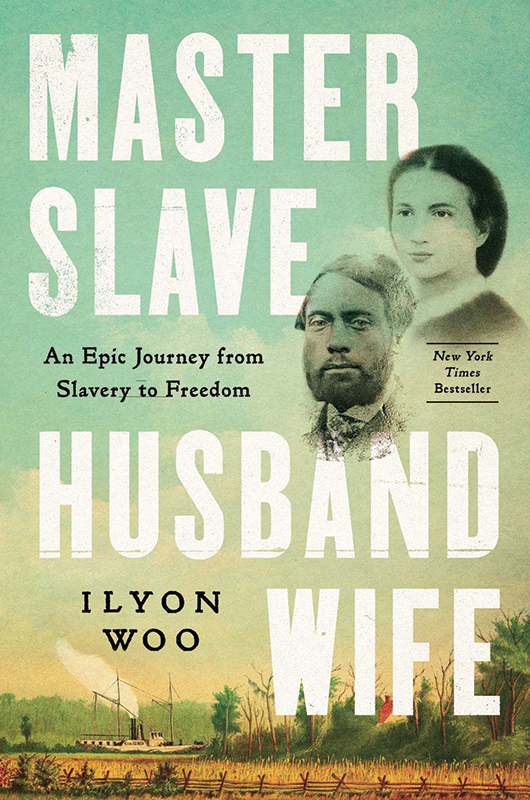 Master Slave Husband Wife, by Ilyon Woo. Again, I start by revealing my biases. I edited this one as well, but it made the front page of The New York Times Book Review and the [Boston] Globe Magazine so it's not just my opinion. Master Slave Husband Wife by Ilyon Woo is history made riveting by engrossing plot turns, new scholarship and writing that is lyrical and accessible. I could describe it by quoting The New York Times or NPR, but I just love that this work of history is so unexpectedly novel-like. Only here, truth is stranger than fiction. People magazine even praised it, "Wild and inspiring." It is the true story of Ellen and William Craft, an enslaved couple who freed themselves by traveling in disguise out of the American South.
---
Laura Coit
Head of circulation/assistant director, West Tisbury Public Library
The Queen of Dirt Island, by Donal Ryan. This engaging novel is one of my recent favorites. It tells the story of four generations of women in rural Ireland, beginning in the 1980s. The author presents short chapters, each one almost a vignette, that depict life's joys and sorrows, grief and humor, through the women of the Aylward family who share fierce loyalty and deep abiding love despite rancorous arguing. I loved it.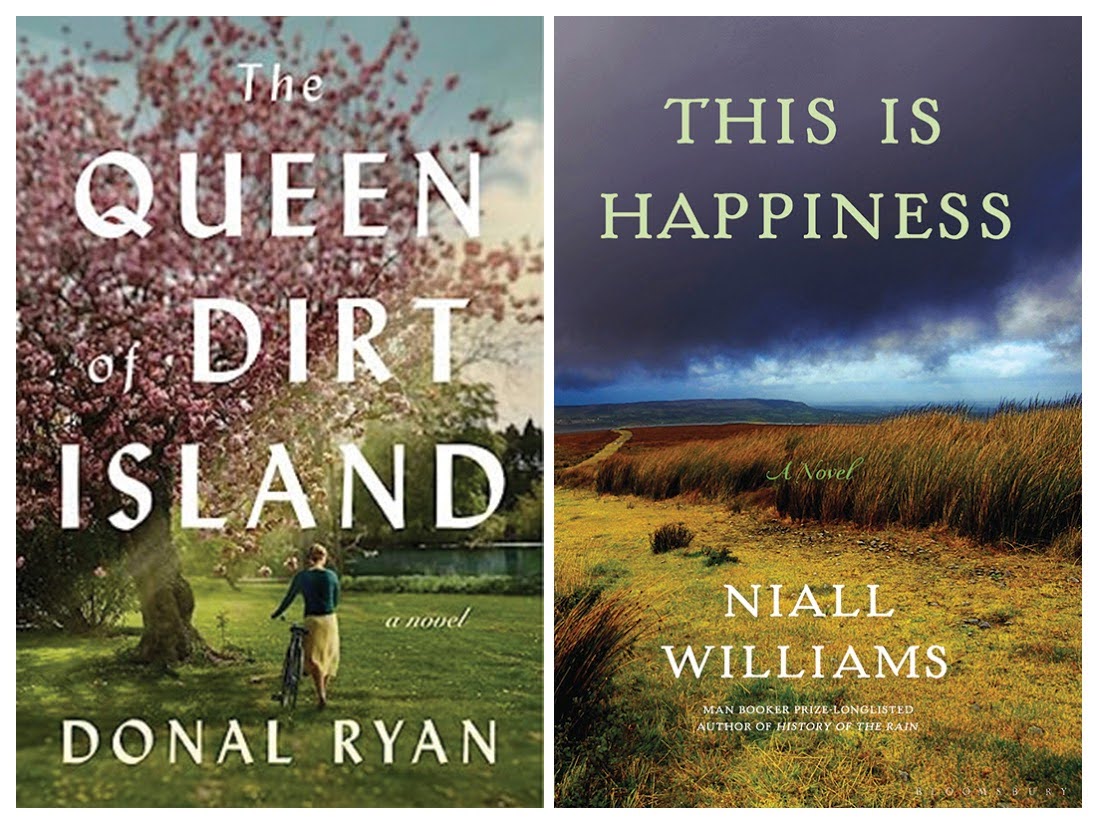 This is Happiness, by Niall Williams. This big-hearted, rambling, 400-page novel also takes place in rural Ireland. The main character, Noe, looks back 60 years at the summer he spent as a 17-year-old when he moved in with his grandparents after a personal crisis. The story's location is the tiny town of Faha where life hasn't changed for generations, except for this year (1958) when electricity is finally coming to the village, altering everything forever. Both poignant and comic, it's a delightful coming-of-age story full of lyrical descriptions and unforgettable characters. What is happiness? We find the answer in our shared humanity illustrated by the foibles of these ordinary people.
A Psalm for the Wild-Built, by Becky Chambers. At 160 pages you can read A Psalm for the Wild-Built on a rainy afternoon. The author depicts Panga, a future world where, centuries ago, robots became conscious. Liberated from servitude, they now inhabit the wilderness while humans live in a separate sustainable society created after an (implied) environmental cataclysm. The non-binary main character, a restless monk named Sibling Dex, ventures into the wild, desirous of the sound of crickets and the answer to their questions. Here Dex meets a robot named Mosscap who is also on a quest. Their friendly philosophical conversations reveal relatable insights about existence. Despite the fact that science fiction is outside of my comfort zone, I found this thought-provoking and hopeful story to be comforting. It reads like a parable on the healing powers of nature and what it means to be alive.
---

The 2023 Marthas' Vineyard Book Festival
Chilmark Community Center, August 4 to 6, Free admission
A stellar lineup of authors, including the Vineyard Gazette's editor Bill Eville ( Washed Ashore ), will read, speak and sign under the tents at the Chilmark Community Center for the much-anticipated biannual Martha's Vineyard Book Festival. (The Martha's Vineyard Author Series is held on alternate years.) The complete list of authors at press time included Nana Kwame Adjei-Brenyah, Elizabeth Alexander, Kwame Alexander, Jonathan Alter, Amanda Benchley, Joan Biskupic, Douglas Brinkley, Jessamine Chan, Nicole Chung, Christian Cooper, Bill Eville, Juliette Kayyem, Tracy Kidder, Carol Leonnig, Rebecca Makkai, Andrew Meier, Michelle Miller, Gretchen Morgenson, Dr. Jim O'Connell (joing Tracy Kidder), Richard North Patterson, Ben Smith, Rose Styron, Rachel Swarns, Michael Waldman, Jeannette Walls, Tamara Weiss and Kate Zernike. Some of their books are pictured here. For more information, visit mvbookfestival.com.