The thought of a sweet summertime treat on the Vineyard conjures tempting visions of syrup-drenched snow cones, a hot apple fritter crusted with a crunchy layer of sugar, or a fresh, hand-packed ice cream cone.
But what about a frozen bar made of superfoods? With no additives and sweetened only by raw honey? One with avocado blended with Peruvian cacao, orange extract, coconut milk and a variety of spices? How about spinach, mint and chocolate chips? Maybe raw cashews, ginger, cardamon, turmeric and cinnamon would be just the thing.
If that sounds good, you're looking for a Yommi Frozen Superfood Bar. Each bar is made by hand in Vineyard Haven from 100% natural ingredients, most of which are sourced from local farms including Ghost Island and Radio Farm as well as Island Bee Company.
Vineyarders can access the creamy, tasty and healthy sweet treats on the regular. And if Caroline Harris and Ryan Gussen, the business' new owners, are able to achieve their goals, Yommi will soon be available at the Martha's Vineyard Hospital and at outlets on the Cape and Nantucket.
In October 2022, Caroline and Ryan bought Yommi from Nicole Corbo and Adrian Johnson, the Island couple who spent seven years developing recipes for the six frozen bar flavors and establishing the brand's visibility. Yommi's presence at the West Tisbury Farmers' Market is unforgettable: the blue vintage 1972 Boler camper that doubles as a sales kiosk is a draw and people are always curious to know what's being sold through the trailer's open windows.
Being surrounded by frozen treats is familiar to Caroline, who spent a teenaged summer scooping ice cream at Carousel Ice Cream Factory in Oak Bluffs. Her Vineyard roots date back to the 1950s when her paternal grandmother bought a Camp Ground cottage, the home that her father and uncles continue to share.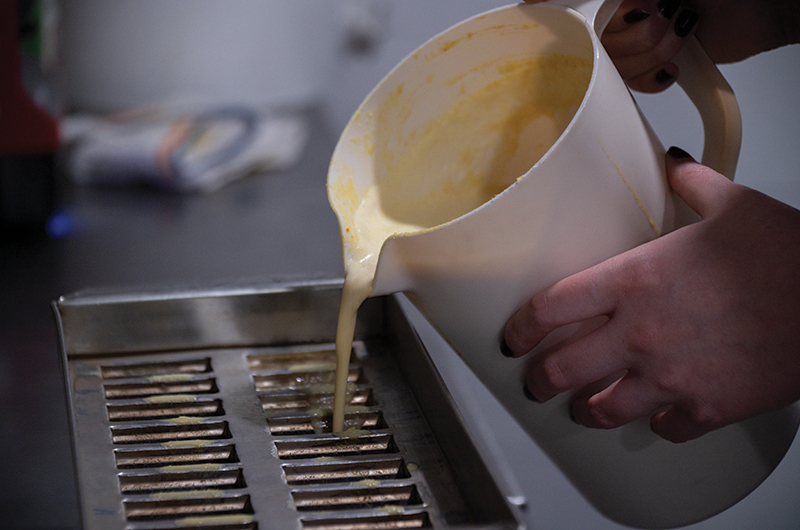 She recalls her childhood Vineyard summers fondly. "I learned to ride a bike here," she recalls. "And we were like all kids in the summer: we lived on sugar."
Caroline and Ryan met in second grade at a Weston, Conn. elementary school. Six years ago they became a couple and Ryan began his sojourns from Connecticut to visit Caroline here in the summer, since she has always worked here seasonally. Until recently, both continued working in Connecticut, Ryan as a landscape architect and Caroline as a freelance creative director in the Westport area. Much to their relief, they finally found year-round housing in Vineyard Haven. Caroline lived in seven Island locations last year and at one point, her rent was set to triple. Not having housing nearly threatened their ability to buy Yommi.
Ryan describes himself as a customer obsessed with Yommi long before becoming the owner. (His favorite flavor: Golden Goodness.) During a casual conversation with Nicole Corbo at the end of the summer market season last year, he learned that Nicole and Adrian were selling the business and moving to Canada. Caroline and Ryan acted quickly, albeit with a full family review of the business plan, and the founders passed the torch – and the recipe book and kitchen equipment.
The same black binder of recipes used by Nicole and Adrian has pride of place on a work shelf in the basement kitchen of The Larder in Vineyard Haven where Caroline and Ryan can be found making 360 bars a day, alongside whichever family members they've wrangled to help them. The production process for making Blueberry Lemon Bliss, Peruvian Choco-Buzz, Golden Goodness and the other bars begins with blending the fruits and vegetables into a coconut milk base that's mixed with spices. The mixes are then poured into molds, which are quickly dipped into a glycol bath before being frozen at -27 Celsius. Each batch yields 60 bars. The duo works six days a week in production in addition to making the rounds of the farmers' markets, the Chilmark Flea, the Edgartown Village Market and on-Island retail vendors.
The finishing touch is perhaps the most painstaking stage of production: each bar is hand-wrapped and sealed in papers made of natural fibers and with flowers pressed into the paper. Caroline's mother Sita, who was helping for the month of July, compares the wrapping to making origami. "It should feel like a handmade present. Adrian and Nicole wanted it that way," Ryan explains. Caroline and Ryan laugh about deviations they've taken from which they've learned – such as the experiment using a different type of coconut milk, or what happens when too little or too much honey is part of the mix. (Too little: the mix comes out like ice and doesn't soften. Too much: the bars melt more quickly.) Ryan is proud of ensuring that Strawberry Bee-licious bar has a visible imprint of the real, fresh berry frozen in it as well as the strawberry compote and fresh basil that give the bar a distinct flavor.
"It looks like a tie-dyed T-shirt," Caroline exclaims on seeing a fresh bar pulled from the freezer.
In mid-July, they were about to work on a custom flavor, specially created for a private party catered by a chef from The Larder. For the Jaws-themed bar, the couple was researching the antioxidant blue spirulina as a potential ingredient.
"Of course we'll have some red berry fruit in it, to make it look really bloody," Ryan said. "For dramatic effect," added Caroline.
Nicole and Adrian's practices and standards — as well as the product — drew Caroline and Ryan to the idea of owning Yommi and they are committed to upholding those values. The new owners continue to source ingredients locally, minimize waste and create a healthy product that makes people happy.
"For me, the best part of the week is being at the farmers' market and talking to people; seeing someone's face light up when you hand them a bar and they really love it," Ryan says.
Health and happiness are part of their vision for the company's future, too. A Yommi freezer used to be in the doctors' lounge at the Martha's Vineyard Hospital; the new owners would like to put one in the chemo treatment area so that patients can experience the cooling sensation, relief, and healthy nutrition found in a bar. They dream of extra freezer space and more workers, which would allow them to meet demand from interested outlets on the Cape and Nantucket.
"Adrian and Nicole created the best product on the Island," Ryan declares. "We're doing a good job of carrying that torch."
Yommi bars are available at 11 locations across the Island including Healthy Additions in Vineyard Haven, Edgartown Meat & Fish, and Aquila and Orange Peel in Aquinnah. Visit yommimv.com for the full list.
---
Elizabeth Bennett is the community editor for the Vineyard Gazette.