For nearly 20 years in the ever-evolving story of Vineyard Haven's downtown, The Beach House has been an anchor store on Main street, with a specially-curated collection of local and international home goods. On a late summer day, soft fabrics in delicate designs hang outside the open door like a Mediterranean bazaar. Picture windows are brimming with Italian ceramics and local pottery. While these wares and more certainly entice shoppers to cross the threshold, once inside it is owner Jane Chandler's modest yet sparkling spirit and special commitment to community that make a visit to The Beach House a uniquely Island experience.
Q. Tell me about the inception of The Beach House.
A. This is the 40th year of the store! I opened my first location at the Tisbury Marketplace which Andrew Flake showed me when it was being built, and after six years I moved to the corner of Main and Cromwell to the wonderful George Silva building. Nineteen years ago I bought this spot, which is a condominium space at 30 Main street. The store has evolved over time and the merchandise has changed but what hasn't changed is this small town and community. I love people and helping people and they've helped me. It feels good to me.
Q. What was your retail and housewares background?
A. When I was working in Boston in an entry-level job, I got a second job in a very small retail store to help pay the rent. I loved the community connection in the retail store. It was owned by two women who were incredibly creative and kind, and one of them became a mentor to me. I soon realized I couldn't wait to get to my second job! I found something in myself — working one on one with the customers — that really spoke to me.
Q. Where did you get your design sense and your eye for what to offer at The Beach House?
A. I grew up [in Mattapoisett] in a very loving, inviting home and no matter what was going on — good times, bad times — my mother always maintained a welcoming home. You see some of those influences in the Scandinavian designs and natural fibers in the store. And I think I've done that in my own family. So many people feel the same way, and that's the common bond with my customers. Your home is your sacred space. It's been a driving force in me and I see that in just about everybody else. I love helping people find things for their home. It's a great match!
Q. Another driving force is your retail relationships with nonprofits. Tell me about your partnership with Aruna Designs, the Fair Trade organization that designs and produces Scrappies, the store's popular collectible bunnies with a variety of matching outfits.
A. This is something I absolutely love doing. It's a very intimate relationship because there are faces to the women in India who make them. It's fun to see how excited the kids get with these, and it also feels great to use the store as a resource that both we and somebody else benefit from. Everybody wins, people feel good about supporting this and they get a super well-made, adorable product.
Q. Tell me about your wonderful collection of old-fashioned sleigh bells in so many shapes and colors that welcome shoppers at the front door.
A. We have been carrying these for a very long time from a company in New Hampshire [New England Bells] and now we have bells specifically made for The Beach House. New this year is a bell in the shape of the Vineyard. We call it the Noepe bell with the profits going to the Aquinnah Cultural Center. The white dove peace bell was created in honor of Bill Stafursky, who used to be the veteran's agent at Martha's Vineyard Community Services. When we sell those the profit goes right to MVCS.
Q. Is there one Island cause that's most important to you?
A. I am so incredibly happy — shout it from the rooftops — to be helping with the veterans outreach on the Island.
Q. You have a large collection of April Cornell designs from dresses and nightgowns to tablecloths and napkins. It must be a popular brand with your customers.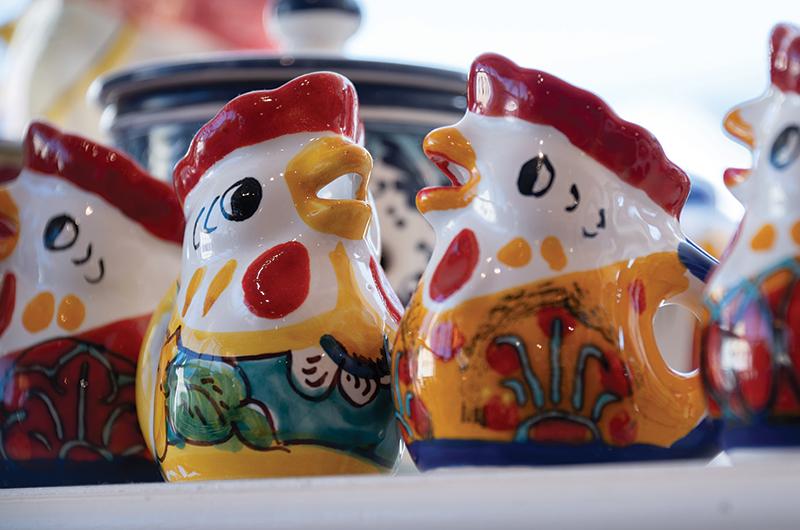 A. A lot of people know and love her company. It is one of our amazing relationships; we work together closely and when you've been buying from people for so long you become family.
Q. Something else we all associate with The Beach House are the colorful Italian ceramics with animal designs that grace the shelves in the window and, of course, many kitchen tables on the Vineyard.
A. These ceramics from Vietri Campagna really are our signature line. I've been buying them since I first opened the store. Locally we source Vineyard potter Debbie Hale, Island artists Liza Coogan and Barbara Reynolds, Barney Zeitz's work in pen and ink and Alexander Campbell's special cards — which I am especially passionate about!
Q. How does the change of seasons and the holidays affect your inventory?
A. I love all the seasons and I like it when summer wanes so you can collect yourself and get ready for fall. Christmas is my favorite at The Beach House and not because the store is full of holiday items, but because people are just kinder to each other. Christmas at The Beach House is very full of love and happiness and kindness.
---
Sissy Biggers is a frequent contributor to Martha's Vineyard magazine and a regular contributor to The Vine.