Tending Joy, on State Road in West Tisbury, is a shop that truly lives up to its name. Owner, artist and poet Ingrid Goff-Maidoff has filled the historic former North Tisbury post office with colorful artwork, gifts and books to refresh the weary soul.
"We have so many beautiful places in nature to restore us. This shop, I want to have a similar effect," Ingrid told the Vine.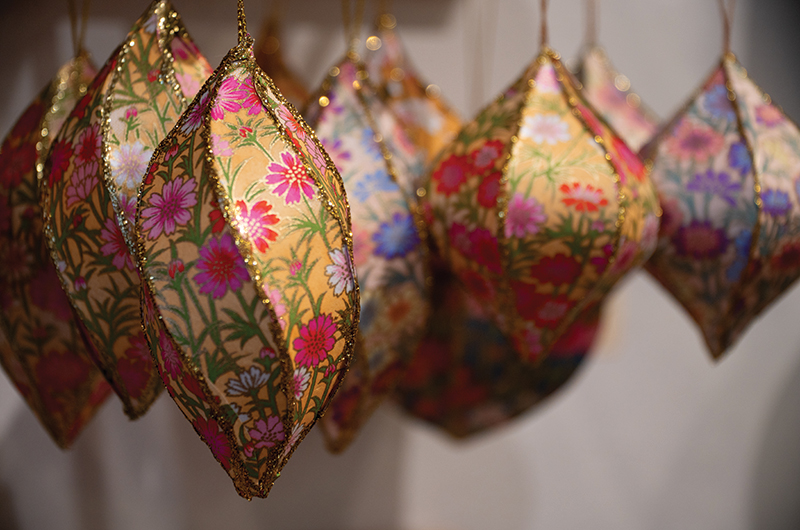 "We walk at the beach and we fall back in love with the natural world. Here, I want us to remember the goodness of humanity, because there are a lot of good people still out there, creating beauty, loving each other," she said.
"This is a celebration of that in the human spirit."
Ingrid sources Fair Trade goods wherever possible. Haitian hammered-metal ornaments, African and Moroccan decorated candles and Indian block-print paper are among the many imports she's chosen in a wide range of prices.
Opened in November of 2020 amid pandemic lockdowns, Tending Joy began as a gallery for Ingrid's writing and artwork, which she had been selling for 25 years at Vineyard shops and fairs.
"This is my new chapter," she said.
Ingrid's books include The Bliss of Being and Simple Graces for Every Meal. She has also created a series of colorful gift packets filled with affirmative words: One Hundred Inspirations, One Hundred Blessings and the like.
To complement her own work, she looked for items with similar mood-boosting qualities.
"I started going with anything that I thought was beautiful and artisan-made and Fair Trade and anything that celebrates the human spirit and creativity," Ingrid said.
She also listened to her customers — including some who literally wanted to buy the shirt off her back, which had been a gift from her daughter, she said.
"I called the company, which is a Fair Trade company, and ended up carrying their line and a few others," Ingrid said.
"That's how the shop sort of blossomed and evolved."
With Christmas in mind, Tending Joy is well stocked with handmade ornaments from around the world, many of them connected with philanthropic projects.
The shop, at 697 State Road, is open Wednesday through Sunday from 11 a.m. to 5 p.m. Ingrid also sells her own work online at ingridgoffmaidoff.com.
Louisa Hufstader is senior writer for the Vineyard Gazette.