Abigail Southard Chandler, performing arts department chair at the Martha's Vineyard Regional High School, has been making beautiful music on the Island all her life. Born in a "hippie farmhouse on Lambert's Cove Road" and raised on Chappaquiddick, she is a proud product of Martha's Vineyard public schools, quick to credit her many teachers who contributed to her music education — from Mr. Wilson in the second grade at the Edgartown School to Robert Nute, who served as music director for 29 years at the Martha's Vineyard Regional High School. It was Bob who urged her to pursue degrees in music education and music performance at Ithaca College, after which she completed a masters in music with an emphasis on opera at the University of North Carolina Greensboro.
In 2009, Abigail joined the MVRHS music department as assistant director, assuming the director's role in 2018. Today perhaps her most recognizable role is leading the school's elite choral group, the Minnesingers. This year on Friday, Dec. 8 and Saturday, Dec. 9, the Minnesingers will return for their holiday concert to the Old Whaling Church — the very stage on which Abigail herself performed at the chorale's first holiday concert 27 years ago.
Q. Even before you were a Minnesinger you were an accomplished flutist in the band program.
A. I started with the band program where I was a flute player all the way through, and it was Bob Nute who suggested I audition for Minnesingers. I was one of those kids who could have gone either way in high school. I was smart, but I was a terrible student and I loved my music stuff. Bob Nute was really instrumental in keeping me focused and is the reason I ended up doing anything of value with my life!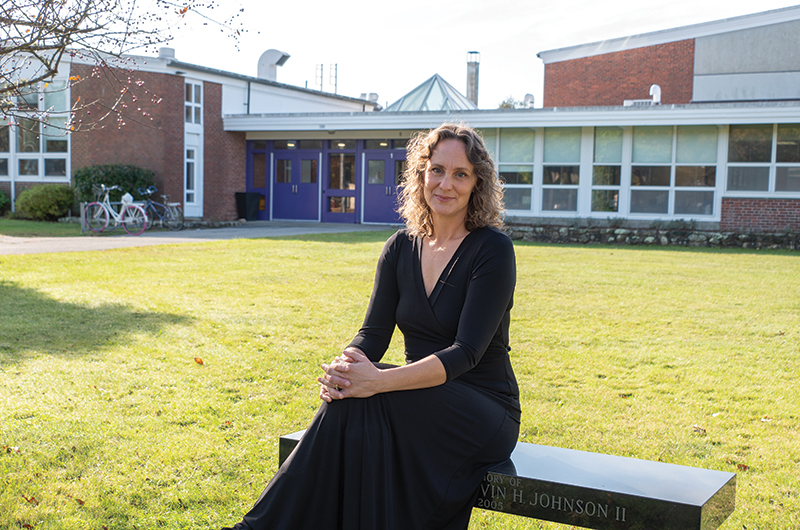 Q. Is there someone in your family from whom you inherited your musical chops?
A. My grandfather enjoyed singing, but not in a professional capacity. My mom and stepdad have been my biggest supporters since kindergarten — and I don't think they've missed a performance in 40-plus years, from New York to North Carolina to Italy. Today they are always in the audience watching my students. Without them, no musical chops would have blossomed.
Q: What kind of musical experience did you have in Italy?
A: In the summer of 2001 I attended an Italian language and opera program in Urbania run by Oberlin Conservatory. We studied Italian during the day and sang the rest of the time. I had a small part in Puccini's La Rondine. We performed dozens of recitals for surrounding towns. It was magical!
Q. Is there one musical "tuning fork" of a performance that you still recall?
A. I think the culmination of it all was my role as Pamina in Mozart's The Magic Flute at UNC Greensboro. The technical challenges of singing that role were really the pinnacle — a truly magical and wonderful experience.
Q. After all your training, did your professional aspirations take you off-Island?
A. I was here on the Island waitressing to get ready for my big move to New York City…met a cute guy…made the move to New York. It quickly became apparent that it wasn't the lifestyle for me — the hustling and the auditioning. I grew up on Chappaquiddick, so New York was not where I was going to be living my best life! Plus there was the cute boy (now husband, Curtis Chandler, a detective with the Edgartown police department).
Q. It's almost cosmic that you returned to the Island to teach at the high school that meant so much to you!
A. Yes, that's the thing. People ask me if I feel like I've made the wrong move because I should have been a singer. But this is absolutely 100 per cent the life I was meant to live. It's a hard job, but that [musical] piece was so important to me in high school, and to be able to be that person for the next generation of kids is really beautiful.
Q. You clearly get the best out of these teenagers. How did you develop your distinctive, sprightly style of musical direction?
A. For 14 years I have worked to create a language that works for me and these kids — through my hands and face. I love the music I choose, and I love hearing them perform it. What I do with my arms is just a way of getting the right sound to match the music, beyond the usual conducting techniques I was taught. When they're well prepared and we're connected, it's like playing an instrument: a gesture creates the right sound and we're performing the music together.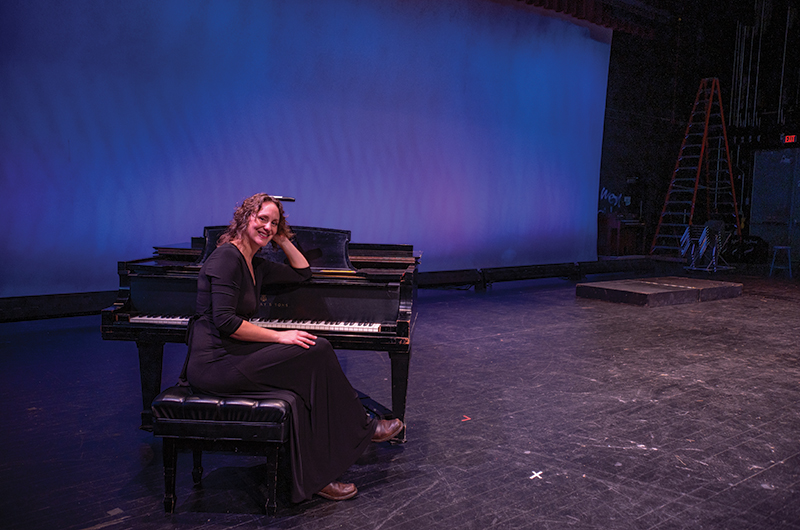 Q. What can we expect from this year's Christmas in Edgartown concert?
A. There is a lot of tradition built into these 27 years of holiday performances at the Old Whaling Church. We do carol singalongs, which is really, really fun, and we end every show with alumni joining – a highlight being the Hallelujah Chorus with singers coming up on stage from as far back as the original group in 1968. It's a moment that always gives me chills and now I see a lot of my own students come up too!
Q. How do you freshen up your program every year?
A. I start with the kids in front of me and their skill level. And this year we are looking at a travel year. This spring we are going to Austria and Germany, so I like to grab a couple of pieces from those countries.
Q. What does it take to mount this spring concert trip?
A. None of this could happen without the Minnesingers parent group who raise funds for half of each kid's trip. They plan out the fundraising and support all the performances —especially the Christmas concert — which includes the wonderful tradition of a feast downstairs at the Old Whaling Church after the performances.
Q. What's the hardest part of the job and the best part of the job?
A. The hardest part is the rigorous schedule; I have kids, a husband, dogs, chickens and it takes a lot of extracurricular time. The best is being able to give these kids that missing piece that so many of them are looking for. High school can be brutal; I remember it well. And when they come in here they find a place where they belong. This is where these 28 kids come together and make something beautiful that is greater than any one of us, something that we can gift to our audience.
Sissy Biggers is a regular contributor to the Vine and a frequent contributor to Martha's Vineyard magazine.