The following business was transacted at the adjourned [Edgartown] town meeting, on Wednesday last.
The tenth article of the warrant, relative to the support of Nancy Michael, was taken up. -
It was stated that there were documents in the Selectmen's hands, going to show that said Michael belonged to the town of Tisbury. It was contended that she was born in Chilmark, was formerly a slave, belonging to Col. Basset, and afterwords sold to Jos. Allen, of Tisbury. It was stated that information had been given to the Overseers of the Poor of Tisbury, to this effect, but that no action had yet been taken by them. She has been chargeable as a pauper since July last. It was voted, that the Selectmen be authorized and directed to use all such measures as may be necessary to cause the town of Tisbury to provide for the expense that has been, or may be incurred, by this town, for the support of Nancy Michael.
From the June 4. 1852 edition of the Vineyard Gazette: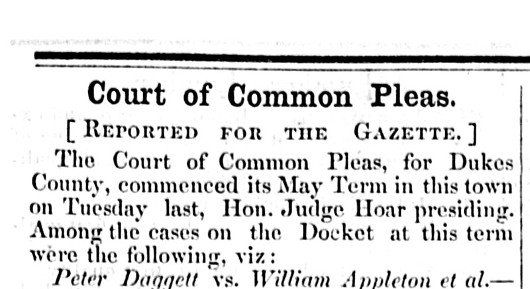 Court of Common Pleas.
The Court of Common Pleas, for Dukes County, commenced its May Term in this town on Tuesday last, Hon. Judge Hoar presiding. among the cases on the Docket at this term were the following, viz:
Inhabitants of Edgartown vs. Inhabitants of Tisbury. - Colby for Plaintiff. A special jury appeared for the trial of this action, composed wholly of Chilmark men. This action was brought to recover a sum of money alleged to be due from defendants for support furnished one Nancy Michael, a colored pauper, supposed to belong to the town of Tisbury. The main question involved in this case, was the settlement of the said Nancy. Mr. C. in opening the case, said that the plaintiffs expected to prove that said Nancy was the daughter of one Rebecca, a slave of Cornelious Bassett, of Chilmark, at whose death said Nancy was appraised and sold at auction to Joseph Allen, of Tisbury, more than 40 years ago. Said Rebecca's child fell into distress, in the town of Edgartown, in 1812, which town brought a suit for damages against the town of Tisbury, and recovered; but in consequence of the loss, by fire, some years since, of the records of the Barnstable Court, it is impossible to produce a certificate of said judgement, which was given in 1813.
Mr. Bringham, for defendants, denied the judgment, in toto - and held that said Nancy was born free, and cited the cases of Sherburne vs. Greenfield, 13 Mass. p. 552; Andover vs. Canton, do, p. 547; Lanesboro' vs. Westfield, 16 Mass. p. 74, to prove that persons born slaves before slavery was abolished in Massachusetts, were, after the abolition of slavery, held to have been born free; therefore, althp' said Jos. Allen held and used her as a slave, for a series of years, she did not acquire thereby a settlement in the town of Tisbury.
Mr. Colby cited the opinion of Chief Justice Parker, adverse to this decision.
The Court ruled, that Rebecca Michael having given birth to Nancy Michael, while a slave in Chilmark, in 1772, or prior, did not constitute her child a slave; consequently said Nancy was free at the time she was sold to Jos. Allen, and acquired no residence thereby.
The plaintiffs' Attorney then admitted that said Nancy was free from the time of her birth, but attempted to prove that she belonged to the town of Tisbury, from the fact that a suit was brought and judgement recovered, (as before mentioned,) which goes to show conclusively, that, so far as the decision of the Supreme Court is concerned, said Nancy was then, and is now, an inhabitant of said Tisbury. Various documents were offered to prove said decision, but the Court ruled that they were insufficient to prove a settlement. The case was carried, by bill of exceptions, to the Supreme Court, to be held in Barnstable next October.