It happened again to the Vineyard. New England's second tropical hurricane, with the code name Edna, struck the Island with its full force on Saturday, inflicted some further damage although not nearly so great as the first storm of the season, and left much restoration work to be begun all over again.
That the Vineyard was close to the center of the hurricane was proved by the fact that the "eye" passed over the Island, and also by the fact that at least one gust reached a force of 120 miles an hour. Advance warnings by radio, not to say advance alarms, had led to unusually complete precautions, and this was one reason for a smaller toll of damage.
Up to Aug. 31 it had been ten years since the Vineyard had a hurricane strike. Ten days later the Island was again being ravaged by hurricane-driven wind and sea.
Saturdays storm rose slowly, breezing from the easterly quarter, but veering from east to south-east as the storm approached the Island. The rainfall was terrific, and the barometer fell lower than in the previous hurricane, 28.02 being the lowest reported here and the pressure such as to cause the ears of super-sensitive people to ring and also to interfere with breathing at times.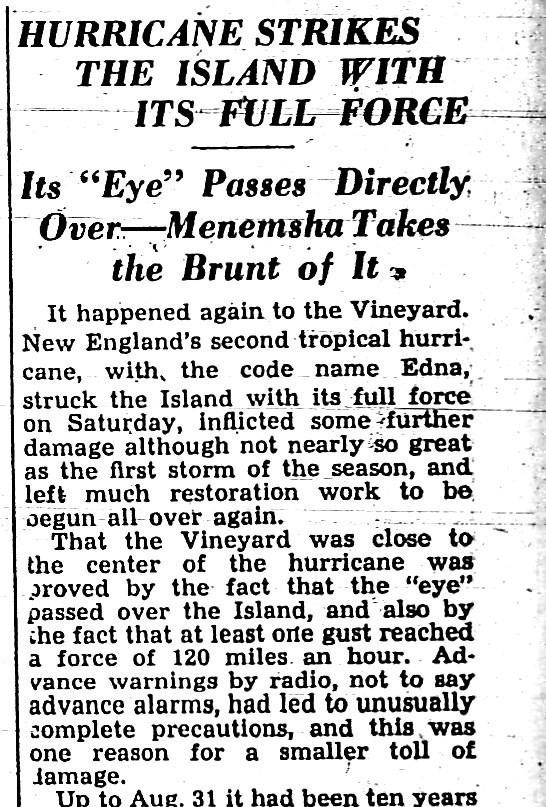 Indescribable Force
The wind velocity in the morning was not up to the radio predictions, though gusts certainly reached seventy-five miles an hour or more. But in mid-afternoon the "eye of the storm passed over the Island, the wind dropped to a gentle breeze, the rain ceased, the sun came out - and then the northwest phase of the hurricane struck and blew for between two and three hours with indescribable force. This was the greatest violence of the storm, and it was the northwest gales that did most of the damage here.
The tide rose over the land, and at what should have been dead low water, the breakwater at Menemsha was completely submerged, the beach roads were again under breaking seas, and waterfront property covered.
Summed up, the water was not nearly as destructive as before. But boats that had ridden out the first half of the storm in safety, found themselves on a lee shore when it shifted and many were beached, capsized or sunk. More trees fell and great quantities of branches were torn off and sent flying, creating havoc among the cables and wired of the electric and telephone company systems.