Life in the Martha's Vineyard Camp Meeting Association (informally called the Camp Ground) is a unique experience, and never more so than on Illumination Night. Each August the event draws thousands of visitors, as residents adorn their cottages with lanterns in a tradition dating back to 1868.
"It's just a flow of people," said Stephanie Flor, who lives with her husband Brian Kirkpatrick in a 1,200-square-foot cottage just steps from the bustle of town. The couple hosts an Illumination Night party every year and enlists their grandchildren's help in painting lanterns.
For those who need more guidance, a lantern-painting workshop is held annually at the Tabernacle the day before the event, but preparations usually don't begin in earnest until the day of, when the work of hanging lanterns gets underway.
For Camp Ground resident Pam Rogers, who now summers with her family in the house her grandparents bough in 1962, this entails stringing her signature purple lanterns, painted with letters to spell out "VINEYARD", from one side of the porch to the other. "We have some lanterns that my grandparents used to put out, and then a few years ago I came upon a bunch of white round lanterns, so I painted them," she said.
Rogers has spent summers in the Camp Ground since she was 13. "I like to say that Illumination is like a national holiday in the Camp Ground," Rogers said. "It's kind of like our Christmas."
Bill Sittard will be celebrating his 27th Illumination Night as a Camp Ground resident this summer. His home, next door to the Rogers cottage, is one of the few three-story homes in the neighborhood, and Sittard takes his decorating duties seriously.
"It used to take me all day to get set up," Sittard said. Now, he uses an intricate system of wires that runs all along the porches and upper balconies, dotted with instant outlets and hanging sockets. "I can actually get the whole porch set up in fifteen minutes," he said.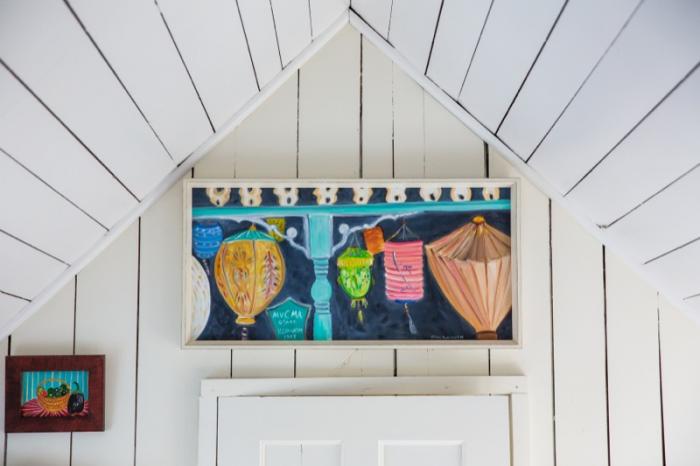 Stephanie Flor and Brian Kirkpatrick have a similar routine, though they use Christmas-style twinkle lights strung through paper lanterns. The wires are hooked over nails pegged into the exterior of the house and porch, and the nails never come down.
With front row seats to the festivities, Flor and Kirkpatrick often see familiar faces moseying by. "Bill Murray walked by last year," Kirkpatrick said. "Our friend's teenaged son asked if he could take his picture, and Bill Murray said, 'No, but if you want, we can walk around and talk.' And he walked all around the Camp Ground with Bill Murray!"
Each year the event begins with a Community Sing at the Tabernacle. After the first, ceremonial lantern is lit, traditionally by the oldest member of the association, a switch is flipped and the Tabernacle glows. This is the signal for other homeowners to turn on their own lanterns, and often, eager children will be sent home in advance to get ready.
"We always tell the kids to run home early," Rogers said. "It's almost like Paul Revere. They run around the Camp Ground yelling, 'It's time! Light your lanterns!'"