When it comes to food, I like it local. And by local I mean in my neighborhood. If I can't walk there, I'm not going. Luckily, I live in Oak Bluffs, a town so packed with dining options I probably couldn't name them all; trust me, I just tried. But with four places updated and opened recently, I decided to get friendly with some of the newest additions to the Oak Bluffs dining scene: the new kitchen concept at the Ritz, a Neapolitan pizza place that moved from Edgartown to the Loft, the fine dining staple that reopened with a hip young couple at the helm, and the only fish market in the harbor town.
So I packed my notebook and pen, enlisted the help of friends and trekked the streets of OB looking for a new favorite meal. (I know, but someone had to do it.)
Grits at the Ritz
The Ritz SoulKitchen and Barbecue opened a few months ago as a new concept in an old dive bar. Created in partnership with Ben deForest, chef at the Red Cat, and building owners Larkin and Jacqueline Stallings, the menu has been revamped and then revamped again. Delving into soul food made for Oak Bluffs, the newest chef, Dan Kelleher, takes feeding people seriously. In his own words, he strives to, "make delicious food, work with good people and have fun."
I had two friends (Helen Petty and Kateri Donahoe) visiting from Boston on a recent weekend and used them as an excuse to try out Chef Kelleher's take on brunch. We showed up on a Saturday at noon. I'm used to seeing the Ritz at night for the music scene, but I have to admit, it cleans up nicely in the morning. Sitting near one of the big windows looking out on Circuit avenue, we examined the menu.
While the breakfast options were limited (though we could also order off the full menu), it didn't matter to me, or my friends, because everything looked so good.
I got the Omelette Today, Kateri, the Your Name Here, and Helen, the Our Benny, plus a bowl of cheesy grits to share and three perfectly spiced Bloody Marys.
More than anything, the cheesy grits spoke to Chef Kelleher's mission of serving food for the soul. They were bathed in butter and we battled with our spoons for the last bite. Our Benny featured crispy grilled corn bread that was somehow creamy in the middle. A linguiça and sweet potato hash in the Your Name Here was new to the menu, an idea Chef Kelleher whipped up that morning.
My omelette was made with root vegetables and white cheddar. Buttery, just-cooked chunks of carrot nestled in fluffy egg proved carrots aren't just for salads anymore.
"Carrots have a natural sweetness, they are one of my favorite vegetables," Chef Kelleher told me. "Growing up I was always chomping on carrots; I try and sneak carrots into everything."
After that omelette, I don't blame him.
Firing up pizza at the Loft
Pizza DiNapoli changed the slice game on the Island. When operating in Edgartown, their bigger-than-your-head sized slices were a lunchtime draw. But after last summer, DiNapoli moved to Oak Bluffs in the Loft at Dreamland. Loft owner JB Blau said Pizza DiNapoli was his go-to pizza spot last summer so he jumped at the chance to bring Joe Monteiro's 18-inch pies to Oak Bluffs.
"In Oak Bluffs in the winter there's no real pizza place, no take-out available," said Blau. While seasonality won't interrupt slice service, DiNapoli does have something most pizza places don't—an age limit. Because the Loft is a bar, eat-in customers must be 21 and over. But underage pizza-lovers can always order take-out.
I stopped by to satiate a 'za craving with my friend and co-worker, Graham Smith, one evening. Pizza DiNapoli now opens at 5 p.m. and continues serving late night.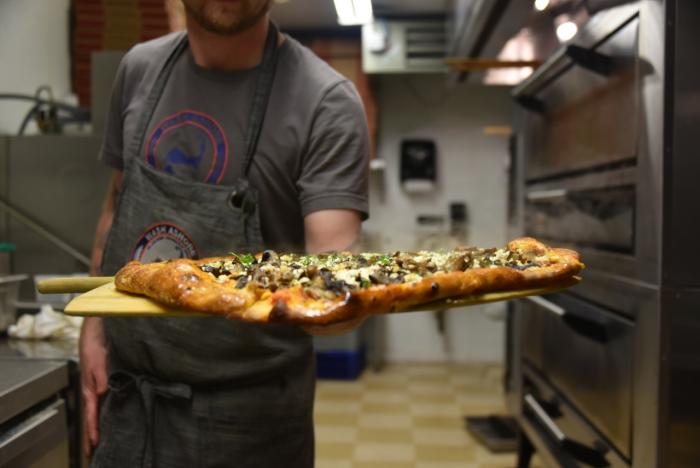 Kitchen manager Nick Berntson, whose been working with Monteiro since the beginning, has been heading the kitchen at the Loft.
"Nick is the man," said Blau.
I asked Nick to make us the best pizza, and he chose the one named after the sign on the building, the Loft. He topped hand-tossed dough made with garlic and Shipyard ale with a garlic paste, piled on a mountain of spinach, added a liberal amount of pancetta and prosciutto, sprinkled it all with mozzarella, laid out sliced fresh tomatoes and finished with parmigiano-Reggiano.
The Loft pie is not for those watching their sodium intake. With pancetta and prosciutto it's certainly on the salty side, but the sliced tomatoes cut through the savory slice with a burst of freshness.
It's a slice made for folding. The slices are large. The crust is thin, crispy on the outside, light and airy on the inside. Even after giving away a few slices, Graham and I weren't able to eat the whole pie. Good news though, a DiNapoli pizza slice is just as good the next morning, eaten cold right out of the fridge.
Tasting The Sweet Life
Calling the patio at the Sweet Life an oasis may seem dramatic. But after dining on layered, flavorful dishes surrounded by bushes that can only be described as elegant, dripping in twinkle lights, shielded from the bustle of Circuit avenue, it also seems appropriate.
Recently taken over by Hal and Erin Ryerson, Sweet Life has long been a favorite for fine diners of note, like the Obamas. With Hal in the kitchen, the menu now focuses on freshly made pasta and seafood from nearby waters.
On a dinner date with Nicole Mercier, I decided to split three dishes with Nicole for maximum tasting ability. We ordered the grilled asparagus salad with burrata, the stuffed local squid, and the potato ricotta gnocchi. But first we started with house-made olive rosemary focaccia. We dragged it through olive oil and convinced our waitress to bring us a second round.
The asparagus salad found the balance between crunchy greens and cool, creamy burrata. Hal described it to me as "trying to capture spring in a salad."
The shrimp-risotto stuffed squid sat on a pile of rapini with three sauces dotting the plate to dip and swipe through: squid ink to give the dish depth, a salty cured Meyer lemon sauce, and a sweetly s moked tomato puree for relief. Hal originally dreamed up the dish as chef de cuisine at Detente as a special. "It just sold and sold and sold, so we put it on the menu," he said.
The gnocchi took on a creamier texture with ricotta mixed in with the potato, and the dish got a burst of color and texture from brightly colored pomegranate seeds.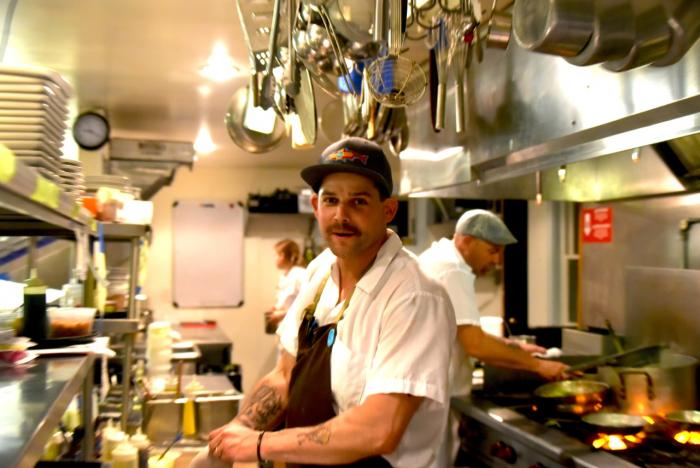 "It needed a little brightening and crunch on the plate," said Hal. I found the burst of juice a welcome and surprising addition to the pillowy pasta.
Hal promised me that pasta and seafood will continue to anchor the menu, but the options will change regularly to keep the experience fresh for both the diners and kitchen.
"It's a terrible thing to get bored," he said.
Catching it fresh at Oak Bluffs Fish Market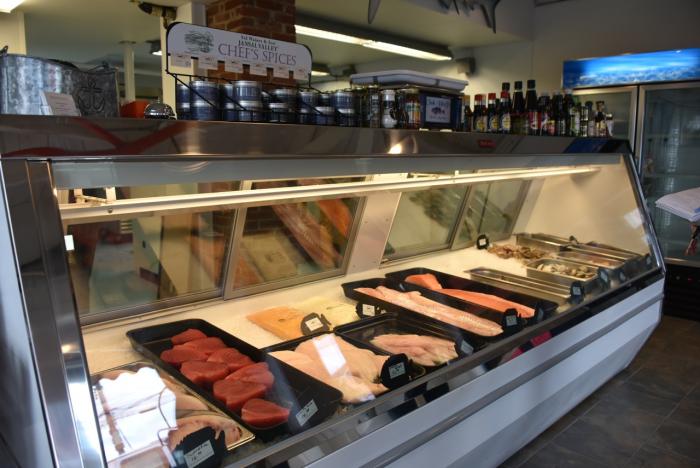 As someone who is relatively new to fish, I must admit I find a fish market to be a bit intimidating. Luckily, Michael Holtham at Oak Bluffs Fish Market has a wealth of knowledge from what's fresh (all of it) to what to cook (for me, cod) and is ready to share.
Mike joined fish market founder Sandy Fisher this year as a partner and co-owner. Sandy opened Oak Bluffs' only fish market last summer. When I stopped in recently, I told Mike that I was new to cooking fish and that I preferred thin white fish. He directed me away from the flounder because of my limited fish-cooking experience and suggested an eight ounce piece of cod.
"Flounder is a great fish," he said, "But cod is more forgiving."
Mike used to work as a chef at State Road restaurant and was more than happy to share some suggestions for preparing my meal. He recommended I fold the fillet so it bakes evenly and holds more moisture, to season well, and to top with lemon.
I took the piece of fish home and confronted my pantry. Luckily, I had a bag of baby gold potatoes on hand and decided to do a baked-take on fish and chips. Halving the baby golds, I roasted them tossed in oil, salt and pepper. After about 25 minutes of roasting in a re-purposed brownie pan, I added the cod fillet (oiled, salted, peppered and lemon peppered), folded over three times, the way Mike showed me.
I added some minced garlic to the potatoes and baked the dish until the cod flaked (about 10 minutes), like Mike told me to. Out of the oven, I sprinkled lemon zest, and squeezed two slices of lemon over the whole plate. The silky slivers of cod had a delicate flavor buoyed by the seasoning.
Next time, I think I will try the flounder. After all, Mike had suggestions for preparing that as well: breaded and fried or rolled around a stuffing. Maybe I can even convince Hal Ryerson to share Sweet Life's shrimp risotto stuffing recipe.
Heather Hamacek is a staff reporter for The Vineyard Gazette and a proud resident of Oak Bluffs.