They're cooking and serving at community suppers, caring for shelter animals, helping out at their kids' schools and meeting scores of other needs: In every town and community on Martha's Vineyard, volunteers are working — sometimes around the clock — to improve their neighbors' quality of life.
While there's no way to tell exactly how large this army of Vineyard volunteers is, many of the more than 100 nonprofit organizations on the Island depend on both volunteer boards and a volunteer workforce to carry out their missions—and some of these organizations have help from hundreds of people every year.
Why do so many Vineyarders volunteer? When asked, they most often say they want to give back to their community or to donate their skills to a project that needs them. For some, volunteering is a social activity, a way to connect with other people. No doubt the strong community values that thrive in a small, isolated population account for the degree of willingness Vineyarders exhibit when it comes to volunteering. But even with so many Islanders engaged, organizations still need more volunteers. And with an aging population, the demand for volunteers on the Island is only going to continue to rise.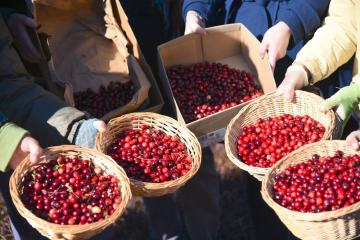 Help wanted
To keep the volunteer rosters vital and growing, Island organizations use a variety of techniques.
The Island Grown Gleaners have a volunteer email blast that they send to a list of 369 people who have expressed interest in participating in a harvest. From that group comes about 1,000 hours of assistance each season. "This year we had 140 unique adult volunteers (some of whom came five or 10 times during the season, and some who only came once) and 237 student volunteers who helped out during school gleaning month," said Jamie O'Gorman, Island Grown Initiative's Gleaning Program Leader. "Since 2009, volunteers have done all the harvest work to recover 175,000 pounds of produce from local farms," she added.
But during the gleaning season—which runs from June 1 to December 31—they always need more help, not just with the harvest, but to make deliveries or help clean and process produce. Much of the processed produce goes to schools and the elderly for use in the off-season.
In addition to maintaining the email list and encouraging school kids to get involved, Island Grown Gleaners has a user-friendly page on the Island Grown Initiative website where you can fill out a short form to learn more or enter your names on a calendar for a specific gleaning event.
At the Animal Shelter of Martha's Vineyard, manager Lisa Hayes and her assistant Gordon Healy have found that training volunteers is key. They manage about a dozen volunteers who are so well-trained, Lisa said, that they could practically run the shelter on their own.
"We have volunteers who come at the same time every week, and they know the animals and the shelter so well," she said.
Even with those folks, Lisa and Gordon could still use more volunteers, even those who only have an hour a week to spare. Along with basic tasks like answering the telephone, cleaning cages and spending time with animals to socialize them, the shelter needs gardening and landscape work and welcomes volunteers who are skilled in graphic design, marketing and development.
"Whatever your specialty is, I can probably use it," she said. They also have a contact form on their website.
Meals on Wheels has 80 volunteers delivering prepared food on eight routes around the Island. But they constantly need more, and this is why: In 2015 they served 35,000 meals. In 2017, that number had grown to 48,000 meals, according to nutrition coordinator and care manager Michele Dupon of Elder Services of Cape Cod and the Islands. Michele said she sees the demand continuing to increase steadily every year.
The heart of a volunteer
Of the people who do volunteer on the Vineyard, there is a subset of super volunteers—people who give their time for more than one cause. It's not unusual for them to double or triple their commitments.
For Marjorie Peirce, hunger is a primary target. Marjorie is a home health care worker and advocate who coordinates the community suppers at First Congregational Church of West Tisbury and the meal service for the Houses of Grace winter shelter program. In summer, she volunteers with the Island Grown Gleaners.
"I try to give two full days to the community every week in some way," said Marjorie. But, she admitted, she'd probably gone over that commitment somewhat during the first two weeks of January: She's also in the Houses of Grace leadership group, and has been volunteering on the overnight shelter shift as well.
Marjorie donates her time and skills because, she said, "it feeds my soul. If I'm in a position to do it, it feels like that's the way to go.
"Some day I'll be in the receiving line," she went on. "Life is a circle, and there are times when all of us need to step out of the circle of giving and into the circle of receiving."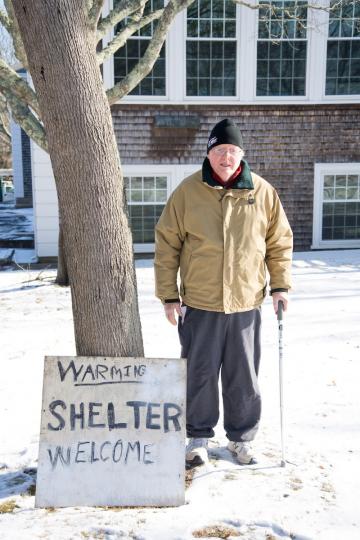 Les Holcomb, a former engineer and retired hospital executive, has jump-started both a weekend food program for low-income schoolchildren at Oak Bluffs School and the high school, and a weekday warming shelter at Good Shepherd Parish in Oak Bluffs.
"I've been trying to close the gaps," he said. The food program does exactly that—filling the gap between a child's Friday and Monday school meals. And the warming shelter gives homeless Islanders a place to gather out of the weather five days a week.
"The things I'm doing, I used to do while I was running institutions," said Les, who estimated he volunteers more than 30 hours a week. His wife, Betsy, volunteers along with him. Their work is largely self-sponsored, without nonprofit status or a board — and that's a plus in Les's eyes.
"I don't have any of the baggage of a 501(c)(3)," he said.
Les often works side by side with Annette Moreis, another super volunteer who can be found at the warming shelter five days a week and at the Serving Hands food distributions once a month. For Annette, the reasons for volunteering are personal.
"I want to be there to help other people, because I've been there myself," she said.
"When I was in a situation years ago, there really wasn't that much help out there and I had to help myself," she said. "Sometimes family doesn't work. People who don't have anybody need the help."
Sign me up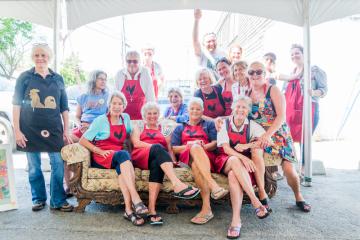 The need for Island volunteers is always growing. Peter Temple, executive director of the Martha's Vineyard Donors Collaborative, sees an expanding need for services to the elderly. "As our population ages and people need more support in their homes, we're never going to be able to pay for that by paying people," he said.
The Island's chapter of the American Red Cross is also recruiting volunteers. While there are more than 300 southeastern Massachusetts volunteers trained to respond in case of a disaster, the Vineyard has just six.
Island Red Cross coordinator Ann Marie Cywinski said an upcoming weekly series of training sessions will take place on Fridays in March, with the location to be announced. Volunteers can also sign up at volunteerconnection.redcross.org.
And it's a safe bet to assume that many of our non-profit organizations are looking for more volunteers. If you're interested in helping, or you know that you have a skill that might be useful, visit their websites or give them a call.
Louisa Hufstader is an Edgartown-based freelance writer.