Forget turf fields or canceled ferries, if you want to spark an inspired debate among Islanders, ask them about pizza. Never are Vineyard residents so passionate, so intensely opinionated, as when discussing their personal preferences for the traditional bread, sauce, and cheese combo.
But listen a little more closely, and you'll hear that very few people are completely loyal to only one spot; one guy has his favorite, but his wife likes that one all the way over in Edgartown, and the kids love the slices in OB. Oh, and then there's that place on the way home from soccer practice that's not actually that bad, if you get the special.
Pizza is the king of take-out—the quick, universally appealing meal we fall back on in times of stress, celebration, and plain old laziness. As divided as we think we are, pizza itself is about bringing people together: We negotiate toppings and portions, and even when we're in a rush, everyone sits down to eat together, enjoying the fresh-from-the-oven tastiness.
While the Island may not rival New York or Chicago in terms of choices, we really do have a pizza for everyone, and more importantly, for every occasion.
Weeknight Take-out
ROCCO'S PIZZERIA
In Vineyard Haven, Rocco's Pizzeria is my family's choice for busy nights when we need a quick and convenient meal. Time and again, Rocco's simple, dependable New York style pizza has rescued us from our overscheduled weekdays and provided a gratifying pre-movie bite. The crust is soft and chewy on the inside, while maintaining a satisfying crunch around the edges. There's enough rich, slightly sweet sauce to enhance the flavor and texture without making the crust soggy. They offer daily specials, like any self-respecting pizzeria, but the menu sticks to the traditional array of toppings, and shies away from trying to get too fancy.
Date Night
PIZZA di NAPOLI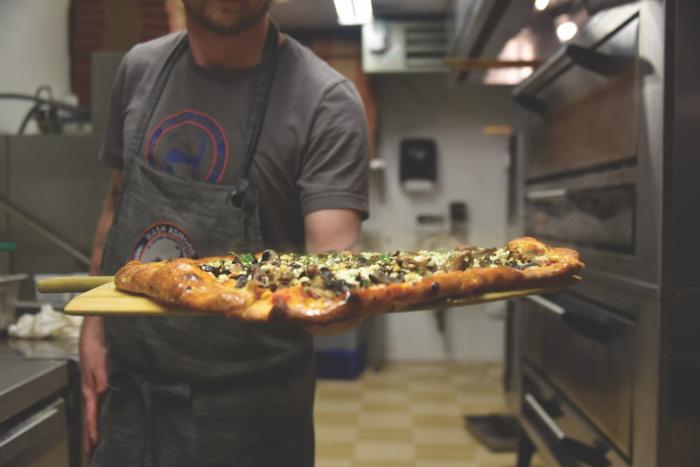 Pizza di Napoli at the Loft in Oak Bluffs offers grownups a fun option for date night. The 21+ game room has everything I love about game night (board games, yummy food, a full bar) and none of the annoying parts (namely, my children). Plus, Pizza di Napoli's jumbo sized 18-inch pies guarantee there will be leftovers, and if anything is better than being relieved of cooking dinner, it's getting out of cooking breakfast the next day too. Pizza di Napoli is—you guessed it—Neapolitan style pizza: an ultra-thin crust under a light layer of hand-crushed tomato sauce and shredded mozzarella. Toppings are well balanced, but are used sparingly to preserve the crispness of the crust, making it less likely to flop and easier to eat with your hands. This comes in handy at Loft, when you're playing darts or shooting pool, like the unfettered childless couple you're pretending to be.
Family Fun
OFFSHORE ALE COMPANY
Even though Martha's Vineyard summers are ripe with perfect picnic weather, we occasionally do find ourselves in the midst of a seriously dreary afternoon that can only be saved by the brick oven and low-key friendliness at Offshore Ale in Oak Bluffs. There's a little bit of fun for everyone—craft beers for the adults, root beer and throwing peanut shells on the floor for the kids. Offshore's Roma, with its sliced tomatoes and fresh herbs, smells like your grandmother's vegetable garden and looks almost as pretty. The crust is on the thinner side, but still retains that cushiony, chewable quality. You can even add truffle oil if it strikes your fancy. My personal favorite is the Double Garlic, which features not only roasted garlic and garlic oil, but onions and Kalamata olives as well. It's pungent and briny and definitely keeps vampires (and anyone else) away for at least a day.
Girls' Night Out
ROCKFISH
A perfect match for girls' night out, the flatbread at Rockfish in Edgartown oozes comfortable elegance, just like the ambiance in the restaurant's downstairs bar. The menu changes every few months and features seasonal ingredients; look for everything from steak to smoked salmon. The Italian Sub flatbread is a more sophisticated version of the sub shop favorite—a pile of spicy, salty meats accented with pickled banana peppers and shaved red onion. The crust is on the thinner side and picks up those deliciously smoky charred spots in the wood-fired oven. Not exactly a pick-up-and-eat-with-your-hands kind of pizza, this is more conducive to civilized knife-and-fork consumption, which I'm usually against. But technically it's a flatbread, not a pizza, and this is girls' night, so we're allowed to be dainty.
Feeding the Wolves
WOLF'S DEN
The teenagers in my house love Wolf's Den thick-crust pizza. Not only do the hearty pies satisfy their bottomless hunger pits, but the wide variety of unconventional toppings really speaks to an adolescent's emerging sense of adventure. Signature pies include Chicken Caesar, Shrimp Scampi, and the boys' favorite, Big Mac, complete with pickles, special sauce, and a sesame seed crust. The addition of cheddar to their mozzarella blend adds a creamy, familiar complement to the tangy, almost yeasty flavor in the decadently thick crust. Those
Summer Nights
GIORDANO'S
Pizza from Gio's is by far the Island's favorite. On some level, we all know that our love affair is heightened by the fact that it is only available from May to September—and that Gio's is located right in the heart of Oak Bluffs, the buzzing epicenter of summer on the Vineyard. I can't tell you if it is legitimately the best tasting pizza ever in the history of pizza, but I do know that it is genuinely delicious if consumed the right way: purchased in slice form and eaten right there on the sidewalk, a river of grease running down your chin.
Whether catching up with friends or filling the whiny pizza hole of overtired and hangry children, pizza is more about the social experience than the specific flavor. It's about compromise and concessions, T-ball victories and major league defeats, spontaneous movie nights, and noticing when your partner really needs a night off from washing dishes. So if we must speak our minds about crust thickness and the merits of pineapple on pizza, let's at least do it over pizza.
Two more to try
Our friends who work in Vineyard Haven swear by the thin-crusted slices at Porto Pizza, conveniently located on Water Street across from the Stop 'n Shop. Grab a slice (try the white pizza with broccoli and garlic), and sit on one of the picnic tables outside.
In Edgartown, Vineyard Gazette staffers are fond of The Fun Guy pizza at Isola restaurant on Church Street. The Fun Guy features roasted portabella and cremini mush rooms with white truffle oil and fresh spinach.