A glance at the nonprofit directory published in the current edition of the Vine (and online here) may cause you to gasp. The list is impressive. You may wonder why and how so many organizations are working to provide services on a seemingly small Island. Do the organizations operate as one person's passion project? With a skeleton crew of dedicated workers? Or a formal staff of professionals?
Many Island organizations find the solution is the power of collaboration. For decades, nonprofits on the Vineyard have taken the idea of being a good neighbor to heart. Unlike partnerships formed to take advantage of grant funding opportunities or to stave off a fiscal crisis, local collaborations have more organic roots.
Most often, they arise out of the unique feeling of community. Jackie Friedman, executive director of the Martha's Vineyard Nonprofit Collaborative, noted in a recent interview with the Vine that many collaborations stem from casual interactions people have with each other during the winter months. A new program or partnership might grow out of a conversation that took place at a child's Little League game or a chance encounter at a grocery store.
The most productive collaborations arise from shared interests and goals. Nonprofits are working together to complement strengths, fill needs and build each other's capacity. Jackie said that on the Island, "People are working together to reduce the silos. They're engaged in problem solving and finding creative solutions. People have been asking, 'How can we do this differently?'"
Take a Pass – A Community Pass
Martha's Vineyard Museum has created collaborations with other nonprofits as a solution to expanding community engagement and being more inclusive. "Our museum is meant to be for all Islanders," executive director Heather Seger explained.
"As we looked at who is coming to the museum and who isn't here, we realized we weren't reaching all Islanders," she said.
The result has been recent programs created with – not just about – The Cottagers, the Chappaquiddick Wampanoag Tribe, the Vineyard Gazette and many others.
The museum is launching an initiative to expand its services for low-income Islanders. A new Community Pass will eliminate paid admissions as a barrier to access for 1,200 year-round residents. A pilot program debuted in 2019 but the current reboot has a crucial difference: partnerships. Nonprofits outside the cultural sector will be distributing the passes – and they are essential to the museum's ability to reach the Island's under-served populations.
In identifying which Island organizations would make good partners, the museum sought those with similar values, including a desire to create a strong sense of community, pride of place, emphasizing family and enhancing life on the Island.
Island Grown Initiative, Martha's Vineyard Community Services and the Martha's Vineyard Boys & Girls Club will each distribute 100 passes (four people per pass) during this first year. The program is funded, in part, by Martha's Vineyard Bank and Cronig's Market.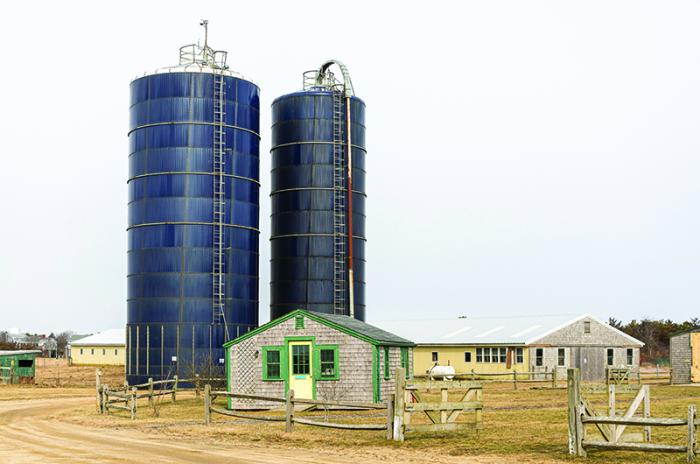 Field of Dreams
The fields of Katama might seem an unlikely nexus point. But that's what is happening as two nonprofits – Trustees of Reservations' FARM Institute and Slough Farm – as well as two farms – Morning Glory Farm and Grey Barn – work with the Town of Edgartown to manage the 180-acre town-owned property historically known as Katama Farm. Morning Glory and Grey Barn hold the agricultural lease. The Trustees (which formerly held the entire lease) holds the education lease and offers programs created by the FARM Institute and neighboring Slough Farm. Collectively, the partners are addressing food equity and insecurity, community access and education. And in the process, by sharing stewardship of Katama Farm, they are assuring that the working farm will continue to offer community access to agriculture and the arts.
The fortuitous partnership came together in February 2021 amidst the town's request for proposals from potential leaseholders for the site. All of the current partners were thinking about submitting individual applications. Lindsay Brown, the engagement site manager for the FARM Institute, recalls thinking, "Can't we just do this together?" Everyone had something to offer, the relationships all seemed beneficial, and they shared common goals. After a few phone calls and a meeting held outdoors because of Covid concerns, a handshake deal was made to submit as partners for each lease. "I think if we didn't know each other very well, there wouldn't have been a decision to do this together," Lindsay reflected.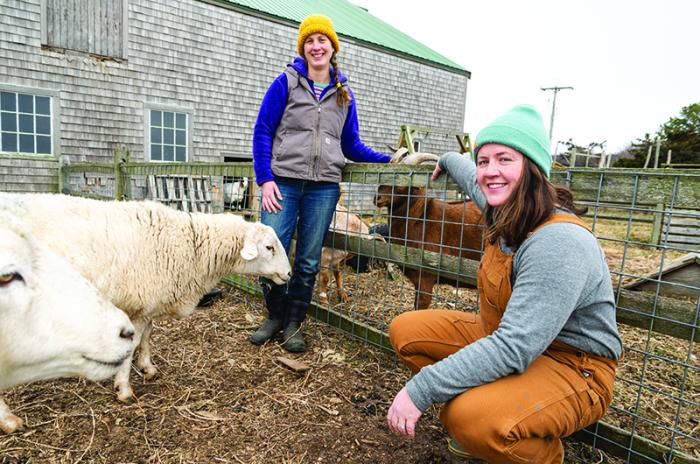 There are many reasons for the partnership between the FARM Institute and Slough Farm. The livestock which they both raise (and which require significant land for grazing) is just one. The partnership also rests, in part, on the long working relationship between Lindsay and Slough's executive director Julie Scott. The women had built a base of trust and respect while working together at the FARM Institute for years. Lindsay described Julie as "a wealth of knowledge in making real, hands-on farming be accessible in an educational way."
Collaborations are written into Slough Farm's mission. "When our founders decided to create a nonprofit, they were not shy to the fact that there were already a lot of nonprofits on the Island," Julie noted.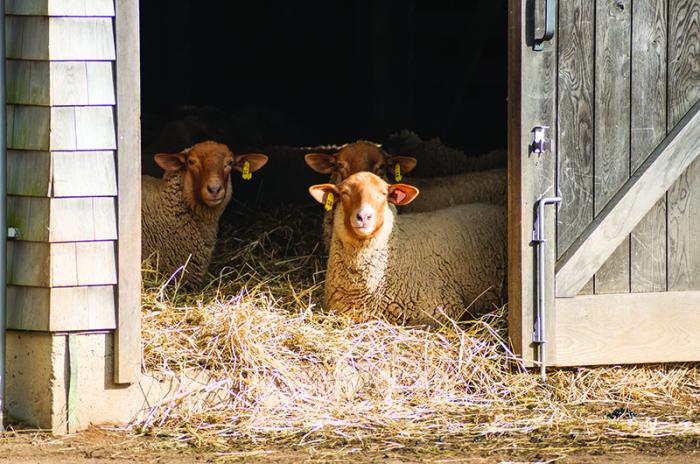 "Our mission is intentionally broad. It includes the phrase 'to support our fellow farmers, food equity organizations, and creative communities.' We have a working farm, grow great food and offer educational programs. But we also have a building that focuses on art, culture, health, wellness and culinary activity. We're bringing all of these thinkers and craftspeople together and supporting them."
That might seem daunting to some people, but Julie and the farm's staff have embraced the possibilities. They met with a lot of nonprofits and offered their space and their support. The result has been partnerships with Island Grown Initiative (IGI), the Martha's Vineyard Agricultural Society and Martha's Vineyard Community Services in addition to the FARM Institute.
Slough Farm Suppers is a good example of how working together benefits all involved. The program began as an early pandemic initiative to meet the increased demand for food and to address food insecurity for under-resourced Islanders. Individually packaged meals were prepared by local chefs and restaurants, using foods sourced not just from Slough Farm but also from fishermen, dairies and other farms. Camp Jabberwocky rented its kitchen out for meal preparation.
In Fall 2020, the Suppers program was integrated with the IGI To Go program. This merger prevents duplication of communications, storage and distribution efforts. It also means the meals get into the hands of people who need them most – which IGI does so expertly through programs including the Island Food Pantry and other partnerships.
Slough's studio space and professional demo kitchen have enabled arts residencies through local cultural organizations. Slough worked with The Yard to provide two dancers with space access on the farm. With Featherstone Center for the Arts' Literary Arts program, the farm offered writing residencies.
"I don't think they were writing poems about chickens but they were hard at work," Julie said with a laugh. She hopes for a "Poetry in the Pasture" program when the weather is better.
Better Together
Space availability and health concerns have propelled collaborations amidst the Covid pandemic. Martha's Vineyard Film Festival (MVFF) partnered with the YMCA of Martha's Vineyard on the Vineyard's Drive-In, which ran its second successful season last summer. Garden Gate Child Development Center turned to its longtime partner Featherstone Center for the Arts to run an auxiliary preschool program there when Covid protocols prompted need for more space.
Even before Covid, collaborations like the Island Food Equity Network, an alliance of both private and public organizations and individuals serving the food-insecure community, rose up from the desire to work more efficiently together.
The web of Islandwide partnerships is extensive and crosses different sectors. There are practical benefits including not duplicating services and achieving cost efficiency. But the current spirit emphasizes embracing interconnectedness. By sharing resources, the Island's nonprofits are learning from each other. Most of all, they're putting their energies into the hands of the people they most want to reach and serve. That type of collective action is hard to achieve but it's working here at the local level.
---
Elizabeth Bennett is a writer and editor working for the Vineyard Gazette.