No one knows for sure how the egg sandwich got to Martha's Vineyard; there is no mention of it in any of our history books, no photos of Victorian ladies picnicking on the cliffs with a hamper of egg sandwiches.
What we do know: The sandwich probably originated in 19th century industrial London as a street snack for factory workers heading off to early shifts. When it crossed the Atlantic, it took up with railroad workers and settlers traveling west, and the first truly American version called "The Denver" featured a ham, onion, and pepper omelette between two pieces of white bread.
It's no accident that the egg sandwich gained popularity as more people left work on the farm (and the tradition of big, generous breakfasts) and began to work in factories. Here was a budget meal-in-one that could be eaten on the go.
But while American workers were probably eating egg sandwiches throughout the early 20th century, it took Jack-in-the-Box to debut it in 1971 on a fast-food menu. Only a year later, McDonald's launched the Egg McMuffin®, a smartly designed hand-held gem that filled bellies for a cheap price. The perfectly round fried egg (cooked in a ring), American cheese, Canadian bacon, salt, and pepper on a toasted, buttered English muffin became a nationwide sensation.
It took a few decades, but eventually the egg sandwich evolved. It became customizable. Rolls, biscuits and bagels were options. Cheddar or Swiss cheese offered more flavor than American. Sausage and bacon could swap out for Canadian bacon. Vegetables like sautéed mushrooms or caramelized onions snuck in. Pickles, sriracha, and kimchi appeared.
And every self-respecting breakfast joint put an egg sandwich on its menu. Restaurants even began offering local eggs as an option—for a little extra change. (It's not documented, but perhaps that was our contribution to egg sandwich history!)
Who knows when egg sandwiches made the leap to the Vineyard, but one thing is certain: They are here to stay. More than 30 restaurants in all six towns serve egg sandwiches. That probably tops the number of places serving burgers or even chowder. And a majority of those restaurants offer take-out, of course, in the spirit of eating your egg sandwich on the run (or in your truck…with your dog).
Despite the heavy competition in the Best of the Vineyard contest, sponsored by Martha's Vineyard Magazine, the egg sandwiches of two restaurants—Scottish Bakehouse and 7afoods—have come out on top for the last two years. With upstart Little House Cafe doing a pretty brisk sandwich business, we decided to take a gander at a sandwich from each of these three spots. The most interesting difference between the three? The bread. Muffin? Roll? Biscuit? You decide.
7afoods - West Tisbury
Best on a biscuit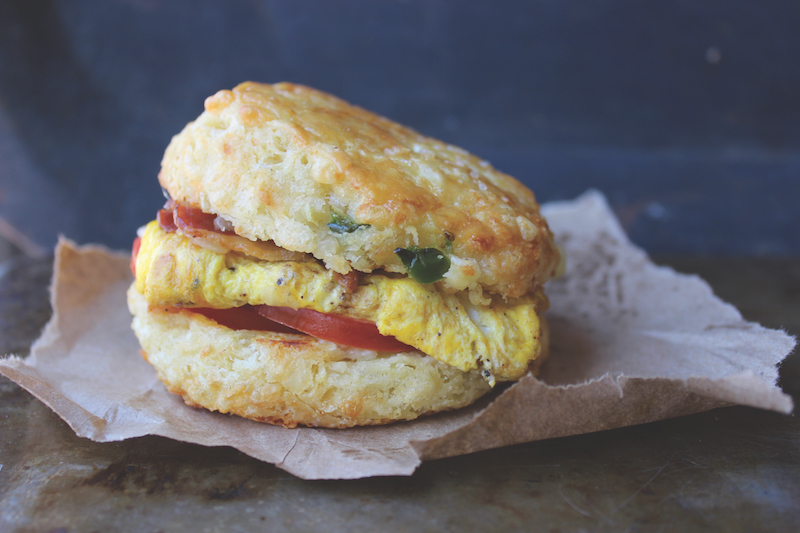 Years ago, when 7a Foods chef and owner Dan Sauer lived in New York city, the egg sandwich was part of his daily life.
"When I worked early mornings, I'd go to the bodega and they would make me an egg sandwich and I would eat it on the way to the subway and, especially in the winter, it was just the perfect start of the day," he said.
Now Mr. Sauer serves egg sandwiches to a line of hungry Islanders and visitors every morning but Sunday.
While 7a offers a choice of English muffin, biscuit, or cheddar jalapeño biscuit, the flaky, buttery biscuits have become famous Island-wide, and fans will wait for the latest batch to come out of the oven, just because. In addition to egg (fried or scrambled) and cheese, 7a also offers extras—spinach, tomato, red onion, bacon or housemade sausage.
Dan Sauer's personal favorite? Egg, housemade sausage, tomato and cheese on a cheddar jalapeño biscuit.
7a Foods Egg Sandwich, $4.75, plus $2 per extra meat, $1 more for local egg.
Scottish Bakehouse - Vineyard Haven
The works on a muffin
For starters, Scottish Bakehouse offers a standard sandwich called "The Works" which tops a toasted, buttered English muffin with two fried eggs, spinach, red onion, cheese, and a choice of meat, all for one price.
"That's the standard," says Erica DeLorenzo, head of catering. "But you can customize it; sky's the limit."
The optional extras are almost limitless; with a combination of bread, meat, cheese, and vegetable selections, it's almost like a slot machine of choices: croissant, local egg whites, tomato, goat cheese, and Fakin' Bacon; gluten-free bread, scrambled egg, cheddar and sausage; Portuguese cheese bread, fried egg, onion and linguiça.
"You could turn a $5 egg sandwich into a $10 egg sandwich," said Ms. DeLorenzo.
Breakfast is served all day at Scottish Bakehouse and early risers can even place their order online the night before so it's ready right at 6 a.m.
"We believe in it; it's something that people can count on, so we're really proud of it," said Ms. DeLorenzo. "It's quick, it's easy, it's fast. It's that staple—it's so basic."
Scottish Bakehouse egg sandwich, $5.00, plus $1 each for extras.
Little House Cafe - Vineyard Haven
The egg roll
Ask Little House Cafe chef and owner Merrick Carreiro what the essential elements of an egg sandwich are and she doesn't skip a beat.
"Soft bread, melted cheese, and a well-seasoned egg," she says.
From 7:30 a.m. to 11 a.m., Ms. Carreiro and her staff serve their version of the classic egg sandwich: Fried egg and cheese on a Ciabatta roll. But their sandwich is customizable, too: Substitute local eggs and add avocado, grilled onion, feta cheese and arugula, for example.
"Very rarely do I just get a regular egg sandwich order, so rarely that when I get one I'll ask the servers, "Are you sure they just wanted an egg and cheese sandwich?" she said.
Since Ms. Carreiro cooks breakfast at the café every morning, she even knows regulars' special orders by heart.
"Nothing gets by me," she said. "I know them so well that I'll look at the name and I don't even read the ticket. So when they change it, it throws me off a little."
Little House Cafe egg sandwich, $4.50, plus $1 for extras