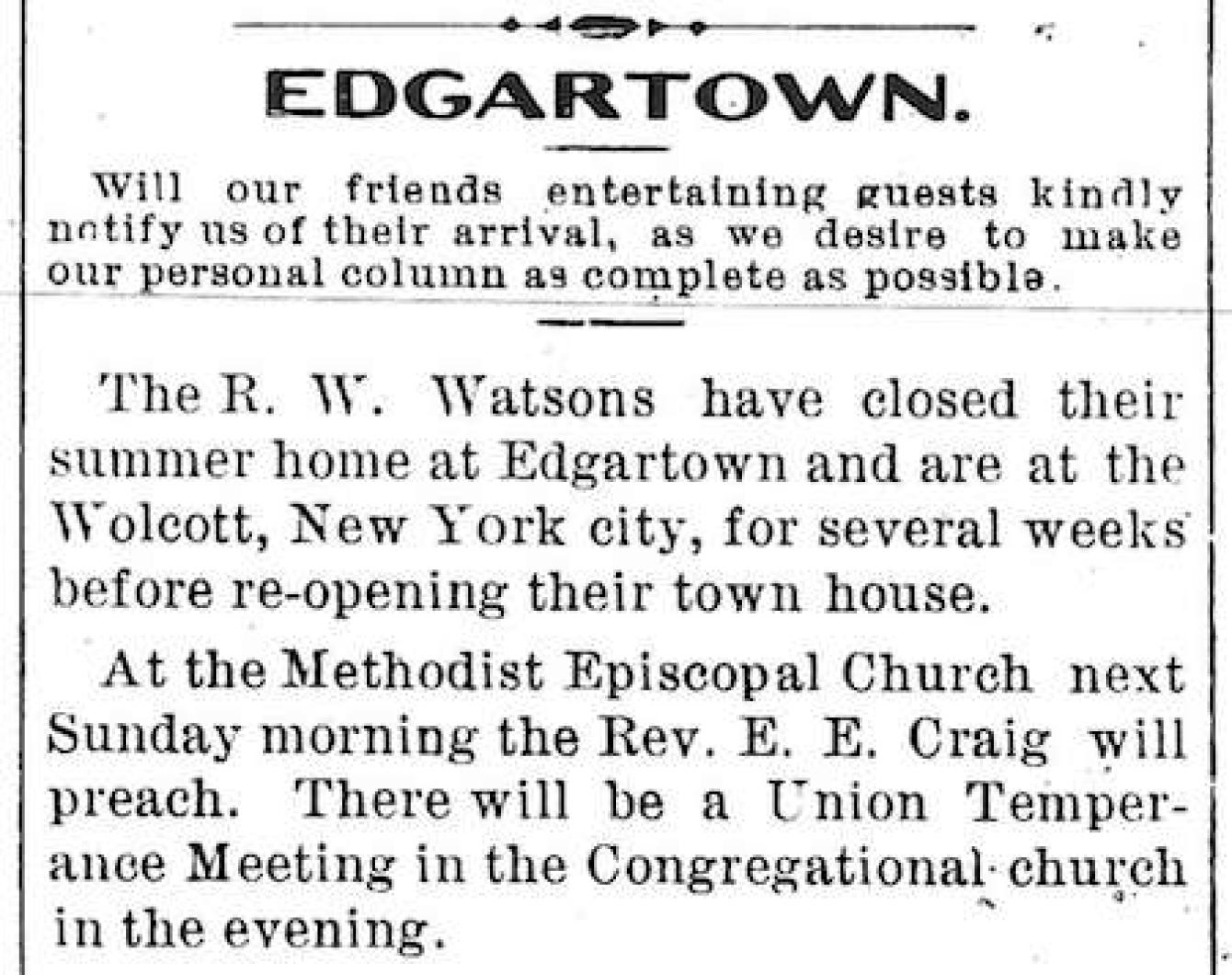 The R. W. Watsons have closed their summer home at Edgartown and are at the Wolcott, New York city, for several weeks before re-opening their town house.
At the Methodist Episcopal Church next Sunday morning the Rev. E. E. Craig will preach. There will be a Union Temperance Meeting in the Congregational church in the evening.
Mrs. Edward Burchell and Mrs. Samuel Burchell of Nantucket have been visiting Mrs. William H. Luce the past week.
Mr. Nahum T. Norton of Whitman was in town several days the past week, the guest of his brother, Mr. Tristram N. Mayhew, 3 Green avenue.
Lying alongside the wharf at New Bedford is the bark Charles W. Morgan, the oldest whaling vessel in the world. She was built in that city in 1841 and has chased whales 72 years. - Barnstable Patriot. If we recall correctly the Morgan was originally built for the late Capt. Thomas Adams Norton of Edgartown, who commanded her on her first voyage and possibly one or more succeeding ones. Capt. James A. M. Earle has also commanded the Morgan in later years, as well as have other Vineyard masters.
Corps 166 will hold a Food and Penny Sale, Friday, Nov. 14th, at 3 p. m. Per order.
Mrs. Chas. Doucette returned on Monday from visits in Taunton and Attleboro.
Mrs. Mary S. Look of Lynn, is visiting her niece, Miss Abbie D. Pease, North Summer street.
Constable James C. Sandsbury passed the week-end in Nantucket.
Mr. and Mrs. Edmund B. Morse have returned from a recent visit in New Bedford.
Dr. E. W. Huckins, dentist, is taking a vacation until the 18th.
Mrs. Rogers Young, of Providence, has been the recent guest of Mrs. Edward P. Worth, So. Water street.
Mrs. J. D. Donnelly made a brief visit in Taunton during the past week.
The union Thanksgiving service, we are told, will be held this year at the M. E. church on Sunday evening, November 23d.
Mr. and Mrs. James E. Chadwick have passed the week in Boston and vicinity, returning last night.