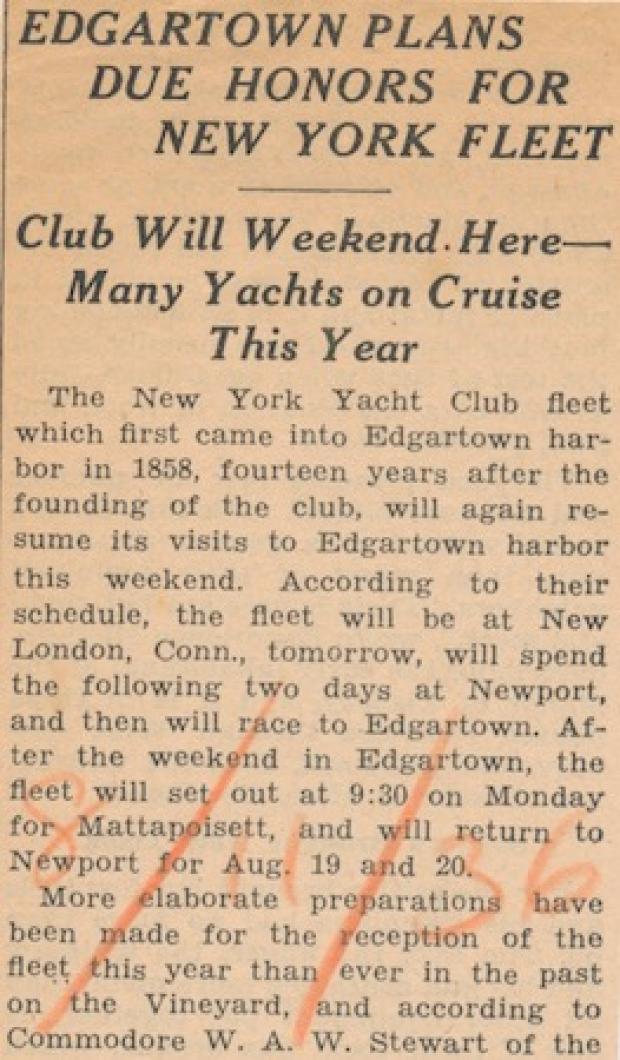 The New York Yacht Club fleet which first came into Edgartown harbor in 1858, fourteen years after the founding of the club, will again resume its visits to Edgartown harbor this weekend. According to their schedule, the fleet will be at New London, Conn., tomorrow, will spend the following two days at Newport, and then will race to Edgartown. After the weekend in Edgartown, the fleet will set out at 9:30 on Monday for Mattapoisett, and will return to Newport for Aug. 19 and 20.
More elaborate preparations have been made for the reception of the fleet this year than ever in the past on the Vineyard, and according to Commodore W. A. W. Stewart of the New York club, who was in the harbor recently in his auxiliary schooner Queen Mab making preparations for the club's annual cruise, it is likely that the club this year will bring a larger fleet than ever in the past, - about seventy boats - in contrast with the forty odd craft that came to Vineyard Haven last summer.
All Craft Will Dress Up
Friday night at the Edgartown Yacht Club house there will be held the annual club supper and dance. Saturday night there will be a club dance for the New York club. Sunday morning, according to a general order posted by Commodore Stewart of the New York club, all craft of the fleet will dress ship. In a sympathetic demonstration, all boats of the Edgartown club will dress ship at the same time. Those lacking sets of code flags but owning prize pennants, are requested to use those to dress ship with.
Reading Room privileges have been extended by the members of that group to the visiting yachtsmen and their guests, and a reception for them will be held Sunday afternoon between the hours of 4 and 6.
The Edgartown Golf Club has extended to New York Yacht Club members the privileges of its course on Sunday morning. Marshall R. Kernochan, president of the club, and Cornelius S. Lee, one of the founders of the club, have arranged a four-ball tournament for Sunday morning. There are two cups for the best teams most up or least down in play against par.