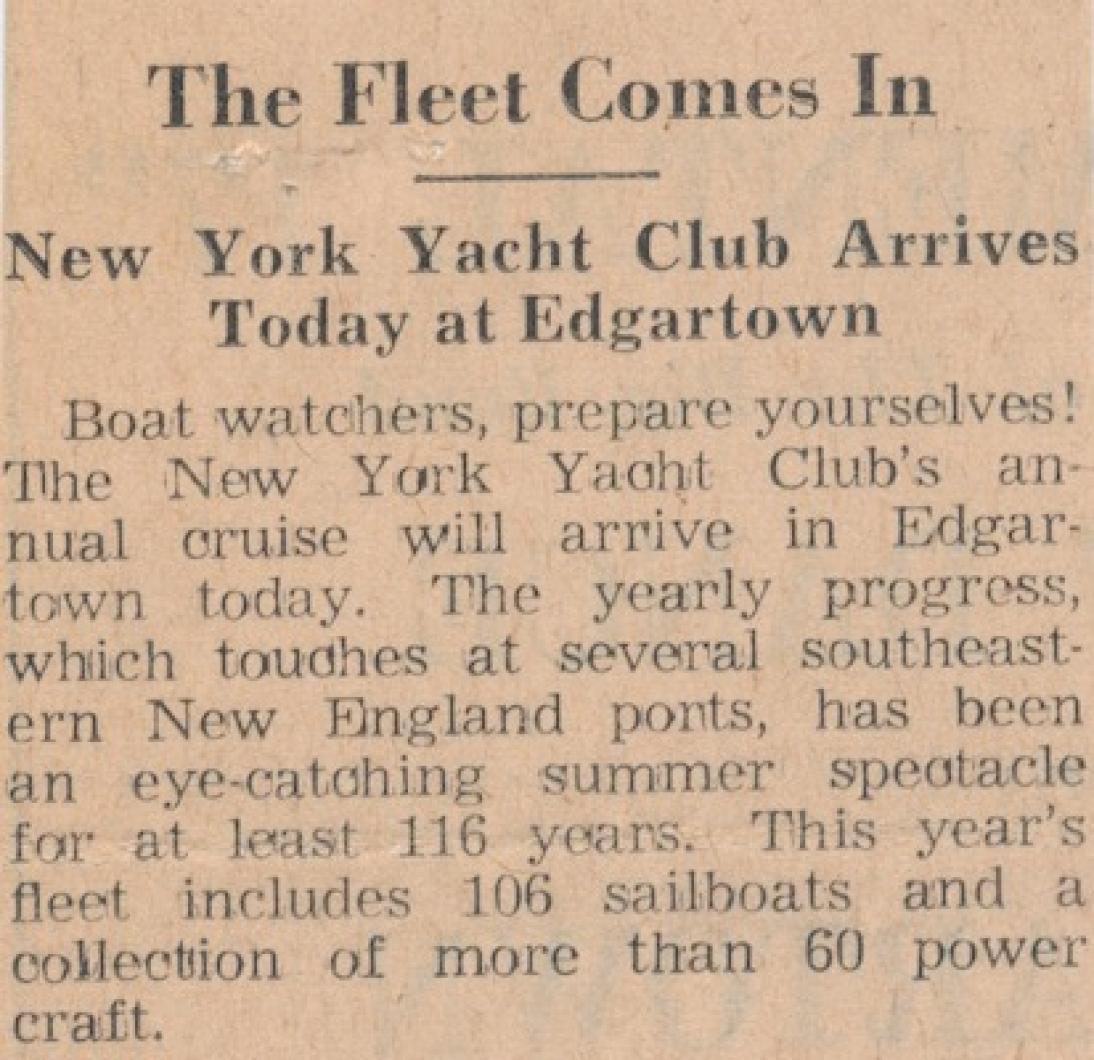 Boat watchers, prepare yourselves! The New York Yacht Club's annual cruise will arrive in Edgartown today. The yearly progress, which touches at several southeastern New England ports, has been an eye-catching summer spectacle for at least 116 years. This year's fleet includes 106 sailboats and a collection of more than 60 power craft.
The cruise, which began with a rendezvous in Newport, R. I., Saturday, has visited Pocasset, Hadley's Harbor, and Nantucket. Each day's sail is a race as well, and competition is excitingly stiff. Many of the most well-known ocean racing sailboats combine cruising pleasure for family and friends with a pinch of contest in a week-long circuit of summer fun.
Among the high-powered participants in this year's cruise are David D. Steere's Yankee Girl, Walter Gubelmann's Windigo, Robert M. Johnson's Windward Passage, and Commodore Clayton Ewing's Dyna.
The cruise will lay over in Edgartown tomorrow before racing Thursday to Padanaram. More than 830 skippers and guests are participating this year, and the spirit of frolic and merriment will be happily unleashed in Edgartown during their stay.
Receptions and dinner parties, sponsored by the host Edgartown Yacht Club, are planned for the visiting yachtsmen, and the facilities of the Island club have been placed at the disposal of the arriving sailors.
Boats in this year's fleet range in size from 30 to 73 feet. Some are no-nonsense racing machines, and some are designed with just plain comfortable cruising in mind. All are certain to provide fun for sailors and sailboat watchers alike.