All bets were off for those who planned to pace themselves during the opening morning of the 142nd Martha's Vineyard Agricultural Society Livestock Show and Fair.
There were simply too many temptations.
A few minutes after the 10 o'clock opening, most kids veered inside - pulling their parents and grandparents toward the thumping rap music and neon colored rides and cotton candy on the midway.
Parents who were able to secure their little ones under the straps of a stroller peeked into the spinners' and weavers' tent. Others pushed their way to the hall, trying unsuccessfully to break past 11-year-old security guard Win Grimm to see how the entries fared. But the exhibit hall was off-limits through early afternoon as the last of the judging teams tasted baked goods, handled quilts and smelled flowers.
Amy Vanderlaske of Oak Bluffs stuck to her priorities. A few minutes past noon, she was well through a serving of fried dough - the first of many for the weekend ahead.
"Fried dough is the most important part of the fair," said Ms. Vanderlaske, who added that she at least waited until her three daughters, Hannah, Emma and Olivia, could no longer wait for a ball of cotton candy before she gave into the fried dough.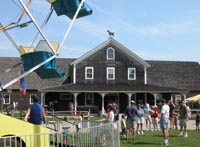 Sam Meicel took the morning slow. The four-week-old slept soundly beneath the canopy of his stroller. His mom, Deb, perched patiently on a picnic table, waiting for him to awake and see his first cows and chickens.
Inside the exhibit hall, teams of Islanders deliberated over jams, jellies, pies and cakes with the care of Olympic judges. Hall manager Kathy Lobdell breezed up and down the barn's corridor with a plate of banana bread to reward these volunteer judges - some of whom stayed well into the night Wednesday awarding blues, reds and yellows to the non-perishable categories.
Jelly and preserve judging proved just as time-consuming, though veteran judge Rose Treat guided her team through the ins and outs of awarding a blue without a taste test.
"It's all about texture, color, canning quality," Mrs. Treat said. "After you have tasted about 10 jellies, your taste buds are frozen." Tasting, however, is now illegal at fairs across the nation.
Ninety-four-year-old Mrs. Treat, who's been judging entries at the fair for nearly half her life, has been pinch-hitting in the preserves category for quite a while - an expertise codified during World War II when she taught folks how to can food.
Much to the disappointment of the preserves team - Mrs. Treat, Jenifer Strachan, Sara Thibault and department head Cheryl Birol - there were no beach plum jelly entrants. It wasn't a good year for beach plum bushes.
Sneak previews revealed blue ribbons on Guilia Fleishman's black and white photo of a knotted oak tree; Elia DaSilva's bird origami dangling from a wooden mobile; the Turtle Project students of the Wampanoag Tribe of Gay Head (Aquinnah) for their replica of a tribal village; Aaron Galley's wooden rowboat; Clarissa Stead's foot-and-a-half long summer squash; and Joshua Morenthau's oil painting of an elegant woman gazing into the distance.
Though it was still unclear Thursday morning just how many ribbons the P. Roy and Diana Vagelos family earned, their participation was a marvel to hall organizers. The family submitted 14 entries from family members ranging in age from two to 73.
Mrs. Lobdell, veteran exhibit manager, confessed one of her favorite entries this year is the glass-encased baby boomers' toy box, a collection of 1950s memorabilia compliments of Douglas and David Seward. Everything from a Roy Rogers and Dale Evans lunch box to class pictures from the Menemsha School are on display in the blue-ribbon exhibit of these Island twins.
The Spinners' and Weavers' tent - already a fair mainstay in its third year - rivals the animal barn with its selection of llamas, alpacas and sheep. Twenty feet longer and one breed of sheep stronger this year, this tent full of fiber animals attracted the curiosity of urban, suburban and country kids alike. Island doctors Deurward Hughes and Terry Kriedman, stood guard watching their three Huacaya alpacas mingle with some off-Island Suri alpacas.
Glenn Jackson, the mastermind behind the Tent, marveled at how the area has grown in the last three years. "You now wonder 'how do you stop something once you start?'" Mr. Jackson joked.
Inside the livestock barn, Clover, the Brown Swiss cow, was chewing with her mouth open again. Four-year-old Jackson Bernard couldn't understand why Clover didn't have a little cow with her like all the others did. His mother Judy laughed and explained that female cows don't always have small babies.
Susie Schwoch of Oak Bluffs waited patiently for the judges inside a stall with her Vietnamese pigs, Wendy and Homer.
"We haven't been judged yet, but we're confident of blues again," Ms. Schwoch said.
FARM Institute's Belted Galloway cow, Lamium, antsy after winning her blue-ribbon with student handler Dylan Rice, tried to jump her stall. Lamium, the institute's farmers explained, had been without her calf for nearly two days and was unaccustomed to life inside a stall.
The crowds didn't wait for the lunch hour to draw them to the food tents. Five dollars could get you a loaded burger from the West Tisbury Firemen - the best bargain on the Island this weekend.
The Martha's Vineyard Charter School Club gang, which is trying to raise money for the school's botball team, appealed to those with a healthier appetite, said customer Bruce Nevin as he paid for his gyro filled with Greek salad.
André Bonnell (Dr. Milkbone), master of ceremonies for the pet show for nearly two decades, made his way out to the ring wearing his raccoon cap. Genevieve Hammond led her five-month-old sheep around on a leash like a dog, getting Shamrock ready for the show. She raised this orphan sheep, feeding her with a bottle through her infancy.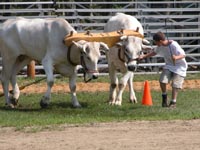 Inside the fair office, Eleanor Neubert, fair manager and secretary of the agricultural society, juggled a barrage of requests from the fair staff while ticking through a list of anticipated events in the coming days. All of this, Ms. Neubert handles without missing a beat - a skill she's perfected through the 20 agricultural fairs she's headed.
A riding demonstration by the Martha's Vineyard Horse Council begins today at 10 a.m., and a draft horse pulling contest follows at 1 p.m. The Blue Strangers take the stage at 4 p.m., followed by the Martha's Vineyard Swing Orchestra at 7 p.m.
Saturday kicks off with the long-awaited dog show. All types of breeds will be prepped and scrubbed for the contest. The 27th Annual Woodsmen's Contest, expected to be even more competitive than last year, will begin at 2 p.m. A chainsaw demonstration by Michael Higgins makes an early afternoon highlight. An Irish duo from Columbus, Ohio headlines the night's entertainment - beginning at 7 p.m.
Sunday, the final day of the fair, offers the Women's Skillet Throw contest, set for 1 p.m. and a hip-hop demonstration by Kelly Peters between 3 and 4:30 p.m.
The fair opens at 10 a.m. today and Saturday and closes at 11 p.m. On Sunday, the fair opens at 11 a.m. and shuts down at eight p.m. Admission is $8 for adults, and seniors and children from five to 12 years old get in for $5, and for those under five, no charge.