The mood was jovial at derby headquarters in Edgartown Sunday morning. More than a dozen committee members of the Martha's Vineyard Striped Bass and Bluefish Derby came together to prepare for the fall contest that begins next week.
A few carried cups of coffee. Derby committee member Don Eber of Chilmark stepped into the old fish shack carrying a Makita power drill. For the next few minutes, Mr. Eber put screws into wood to hold two vertical two-by-fours.
Just an hour earlier the space was a vacant sail loft for the Edgartown Yacht Club. But it had been quickly transformed into what will serve as the center of the universe for the roughly 3,000 fishermen expected to enter the contest.
Derby day is a week away.
"Where are the doughnuts?" Mr. Eber said, smiling at his colleagues. No one had brought any. Janet Messineo, derby committee member, picked up a telephone and started talking: "We want doughnuts." The phone wasn't plugged into the wall. She laughed as she showed everyone why the phone wasn't working.
The derby officially opens Sunday, Sept. 12, at 12:01 a.m. For five weeks fishermen from around the Island and from around the country will compete on the same beaches and in the same rips offshore to catch the biggest striped bass, bluefish, false albacore and bonito.
This year's derby will be the 59th annual event, a celebration of the end of summer, and on Sunday morning the rush was already in evidence in the old building. The gathering is a tradition in the days before the start of the contest, a time for coffee and doughnuts and an assembling of like-minded anglers.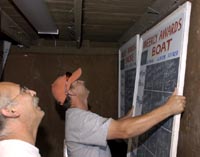 Walter Wlodyka of Chilmark held a stapler gun and began attaching a banner to a mahogany trim table. Mr. Wlodyka, a derby committee member, has had his share of winnings in the fall contest. "I sold my Key Largo boat. I am fishing as a shore fisherman this year," Mr. Wlodyka said. "Shore fishing is a lot more relaxed than from a boat. A beach is quieter. You don't have the worries of a boat."
There are a few boat anglers who might appreciate Mr. Wlodyka's decision to fish from the shore. Two years ago Mr. Wlodyka caught the biggest false albacore, a 11.63-pound fish, from a boat. He won the event again in 1998 for a 14.99-pound false albacore. Mr. Wlodyka is a serious and spirited angler. His son, Lev, remains an annual derby leader with big catches of his own.
"I like fishing from the shore," Mr. Wlodyka explained to his fellow volunteers. "You can nap." From years past he has memories of catching winning fish while napping. "I wake up and check my line. When you go fishing, you're supposed to enjoy it," he said.
Mark Plante of West Tisbury, another derby committee member, spent this summer working hard as a plumber. He said he looks forward to the derby as "my vacation." On Saturday, Mr. Plante was fishing 30 miles to 40 miles south of the Vineyard in pursuit of tuna. He told his colleagues about fishing for bluefin tuna with his friends in Joe El Deiry's boat, Remedy, out of Vineyard Haven. They left the dock Saturday at 4 a.m. and were home for supper by 7 p.m. "We had a wonderful time out there," he said, reporting that the waves from Hurricane Frances weren't that bad far south of the Island.
John Custer, chairman of the derby, walked into the weigh-in headquarters carrying a heavy box. His steps sounded on the old wooden ramp.
Derby committee member Shirley Craig and Ms. Messineo talked about hours spent volunteering upstairs in the derby shack, where they load mystery bags with prizes. When the derby is under way, the committee organization will hand out dozens of mystery prizes each week.
Blackboards on the interior walls still carried last year's winners, a snapshot of the last day of the contest in October 2003. Chris Harding was posted with his 46.26-pound striped bass as a derby boat leader. Mike Alwardt held a lead with a 42.12-pound striped bass.
Mrs. Craig took a swipe with a wet sponge and the names on the board began to disappear.
Registration and forms for the fall contest are available at nearly all Island tackle shops. Registration is $40 for adults in either the flyrod or all tackle divisions. For senior and junior fishermen, registration is $15. For more information, visit www.mvderby.com.
By 10 a.m., the fishermen had finished and were filing out of the headquarters and heading home. Several commented that if the only problem with the derby was a lack of doughnuts, this was a good start.