Looks of calm, looks of determination, looks of pain and of pride: the expressions were as varied as the runners themselves, crossing the finish line of the annual Chilmark Road Race on Saturday morning - or, for the walkers, afternoon.
Just over 1,500 people ran the race, ranging from six to 79 years old. The youngest and oldest runners finished just 14 seconds apart. Some runners were turned away toward the end of registration, since 1,500 is the town's set capacity for the race.
In the moments before the first runner passed, spectators from Beetlebung Corner up past Beetlebung Farm shuffled, relocated and crossed Middle Road, trying to secure the best possible view of the street. Orange plastic netting - and the pleadings and reprimands of dozens of volunteers clad in lime-sherbert-colored T-shirts - were the only effective means of keeping the anxious onlookers at bay.
Some waiting at the finish line, perplexed when no runners had yet arrived from their starting place near Tea Lane, were helpfully informed by a seasoned attendee that three miles down Middle Road is in fact a different time zone.
Then came 23-year-old Steve Meinelt of Topsfield, who sprinted across the finish line first, 14 minutes and 55 seconds after the race started in the next time zone at 10:53 a.m.
"Did you see how fast he was going?" one mother exclaimed to her two young boys, to which her four-year-old enthusiastically replied, "I think my dad's going to be the last one!"
"Maybe not the last one," Mom replied, and indeed Dad zoomed past, waving, with an admirable time of 23 and a half minutes.
There was one record-breaker in the day: 60-year-old Phyllis Kugler of West Tisbury set the record for the women's 60-69 age group with her time of 25:24.1.
"I was totally shocked when they said that," said Mrs. Kugler, who is the fitness director of the Vineyard Tennis Center, Workout and Spa at the airport. Mrs. Kugler runs every day that she doesn't teach aerobics classes and sometimes runs to work in the morning from her home in West Tisbury six miles away. "I'm so anxious when I run races," she said. "I just run it and try to do the best I can."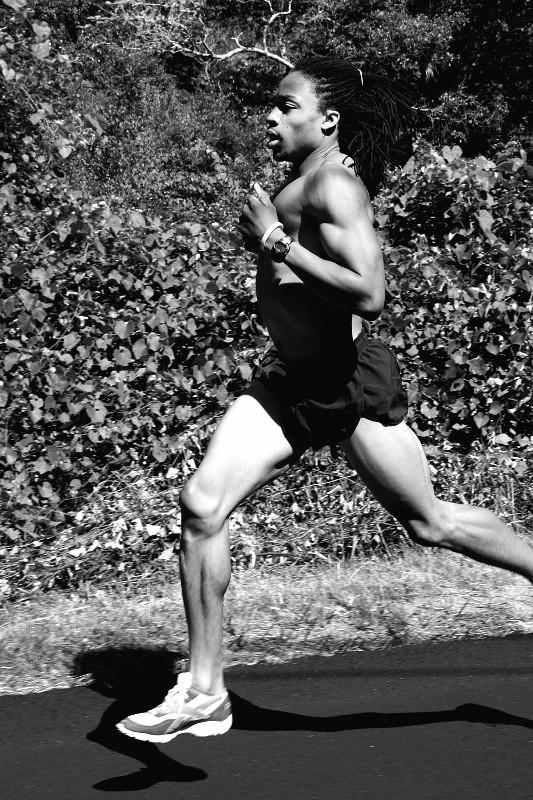 Not long after the very first few runners crossed the finish line, the pavement became congested. Jesse Husid, 20, of Edgartown and Noah Jampol, 18, of Waban, were neck in neck until Mr. Husid kicked up his heels and pulled ahead, beating Mr. Jampol by less than a second with a time of 16:52.1 versus 16:51.9.
The crowd was hysterical when the first woman - 24-year-old Katy Litwinoeich - crossed the finish line with a time of 19:14.1.
"There's Mom!" a dad told his children minutes later. Clinging to and shaking the orange netting that she was just able to see over, his five-year-old daughter cried, "She beat boys!"
Runners took pride in their performance handicaps, which included a broken arm, strollers and wagons bearing children, a plaid jacket and tie, clinging youngsters that couldn't quite make it and a mime outfit complete with three bowling pins. "This man may have been juggling during the race," announcer James Heuser declared.
Some ran with friends, holding hands above their heads in victory when they crossed. Others ran with family - sometimes three generations' worth. Custom T-shirts indicated other alliances, such as Clifford's Big Red Dog Running Team, pink T-shirts saying "You push me, I push you," L'Etoile restaurant and Camp Eli.
The yellow Camp Eli T-shirts were not campers but a group of friends and family - including wife, children and grandchildren - of Eli Segal of Chilmark, who died this winter.
"One of the things he always wanted to do was run this race," Stan Eddy said. "WWED stands for 'What would Eli do?'" he added, pointing to the letters across his T-shirt.
Toward the end of the race, the numbers crossing the finish line again began to thin, and the volunteers urged the last of the walkers to hurry across.
"I wonder who will be last," Mr. Heuser said. "There is a prize for last place." At this, one woman replied, "I came in second to last place last year! No one told me there was a last place!"
Race founder and organizer Hugh Weisman was pleased with this year's race. "The weather was very good, so the times were pretty good," he said.
At the awards ceremony at the Chilmark Community Center, a new award was presented, honoring a person who has contributed to the spirit of the road race.
"We presented the first Jim Austin award to Jim Austin," Mr. Weisman said. "He has run almost every road race. I think the third or fourth year he said, 'I'm going to miss it this year, will you come time me and my family next weekend so I feel like I ran it?' And I did."
This year, 63-year-old James (Jim) Austin of Vineyard Haven came in first in the 60-69 age group with a time of 21:14.5.
The award presented to Mr. Austin - an old photo of him made into a road race poster - had, on the backside, a color scanned copy of the results of the 1978 road race in which he finished sixth overall at 36.
In past years with harsher weather, ambulances carried several runners off to the hospital.
"The humidity can be a killer and it can be a lot hotter," Mr. Weisman said.
This year, advanced life support coordinator for Tri-Town Ambulance, Deborah Cini was prepared with a tent and cots for the first time at the race. "This is my baby project this year," she said.
But graced with a cool, sunny day and low humidity, no one needed medical attention for more than minor bumps and bruises.