An Island man who fell into the Edgartown harbor was saved from drowning on Sunday by a pair of unlikely heroes: a patron at the Wharf Pub who had stepped outside for a smoke, and a determined four-year-old Bouvier des Flandres named Maui.
Bouvier des Flandres is a breed of Belgian retrievers known for their intelligence and for protecting their masters, two attributes displayed aptly by Maui Sunday when he played a pivotal role in saving the life of his owner, Leonard Fogg of Edgartown.
Mr. Fogg was walking with Maui along the harbor around 5 p.m. when he stopped to look at a boat for sale anchored near the old junior yacht club. When he learned forward to get a better look at the price, he slipped on the edge of the bulkhead and fell forward, hitting his head on the edge of the boat.
Mr. Fogg, who is diabetic, said he was feeling dizzy when he fell, and because of a recent medical procedure, he was unable to reach out and grab the boat to stop from falling into the frigid water.
Mr. Fogg said he may have lost consciousness for a few seconds after hitting his head, but was quickly jolted awake by the 37-degree water.
"As soon as I fell in I thought to myself, 'I'm dead.' I tried to reach up and grab the edge [of the dock] but everything was slippery. Then I looked around and tried to find a ladder and found nothing to grab," Mr. Fogg said.
"I said a quick prayer to myself. I was sure it was all over," he added.
Because of the weight of his clothing and his weak physical condition, Mr. Fogg had a hard time treading water and started to go under. He tried one last time to grab onto the dock, and was finally able to latch onto a cross beam and pull himself partially out of the water.
By now he estimated he had been in the water for as long as 15 minutes. He recalled that he could only hear lapping water and something faint that sounded like a dog barking in the distance.
"And then I heard someone yelling," Mr. Fogg said. "I'm not sure what exactly they were saying, but I think the voice was saying, 'Hold on! I'm coming!' "
Unbeknownst to him, his faithful companion Maui had stood at the spot where he had fallen in and barked and barked - and the sound had carried up lower Main street.
Enter Peter R. Robb, a regular patron of the Wharf Pub who had stepped outside to have a smoke and read the sports section of the newspaper. Mr. Robb heard Maui barking, and began to notice the dog's urgent tone.
"There was just something strange about the way he was barking. It was like he was calling out to anyone who could hear," Mr. Robb said.
Mr. Robb followed the sound down to the town parking lot at the foot of Main street. There he encountered Maui, who was sitting and seeming to point with both paws toward the water.
"That's when I looked down and saw this hand sticking out. And then I heard this faint moan," Mr. Robb said.
Mr. Robb ran to the spot and reached down to grab Mr. Fogg's hand, but was unable to pull him out of the water. Instead, he dragged Mr. Fogg along the dock until they reached shallower water, where he was able to grab his belt and pull him out.
Mr. Fogg said he only remembers being in the cold water one minute and then being on dry land the next.
"Even when he had me, I still thought I was in trouble because I was so weak. And then suddenly - and I can't really explain this - he had me up on the dock," Mr. Fogg said.
Aware of the risk of hypothermia, Mr. Robb removed his own outer clothing (he was wearing long underwear) and used it to cover Mr. Fogg. He knew he couldn't carry Mr. Fogg alone, so he ran up to the Wharf and recruited three friends - Dave Garvin, Mike Porier and Tom O'Hanlan - to come down and help carry the shivering man back to the bar.
When the three men got Mr. Fogg inside the pub, they stripped him of his wet clothes and covered him with an assortment of sweaters, shirts and pants.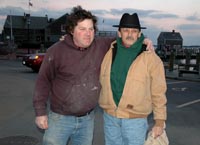 "It may not be the first time someone got naked in the Wharf, but in this case I don't think anybody minded," Mr. Fogg joked.
Minutes later, an ambulance arrived on the scene and Mr. Fogg was transported to the Martha's Vineyard Hospital. He was treated for possible hypothermia and released later that day.
Mr. Robb brushed aside any suggestion that what he did was heroic.
"The EMTs that came to help [Mr. Fogg]; now those are our heroes. The people who put on the police and the fire uniforms every day and to make sure we are safe; those our heroes. There are so many people more deserving to be called a hero than me. I just did what anyone else would have done in the same situation. I reacted," he said, adding:
"If you really have to call anyone a hero, call the dog a hero. He's the one who deserves all the credit. If it wasn't for Maui I wouldn't have even been there."
Mr. Fogg had a different take. "If he hadn't come to help exactly when he did, it would have been over. I don't think I could have held on for another minute," he said.
And on the subject of his faithful Maui, he said this is not the first time the dog has played a part in keeping his owner safe.
"A couple of times when my blood sugar has gotten low he knows it, so he'll bark at me to let me know. But since this happened on Sunday, I almost can't look at him the same way. I kind of look at him like he's half human, half dog," Mr. Fogg said.
Mr. Fogg said he plans to reward Maui this weekend with a special treat.
"When my wife was still alive we used to love to feed Maui prime rib. But it's been a while. So this weekend I think I'll go to the Square Rigger Restaurant and get him a nice big cut. He's definitely earned it," he said.