About three weeks ago I received an e-mail inquiry from a Maine naturalist named Norm Famous, whom I met through a mutual friend when I was birding this last Spring up in Lubec, Me., just this side of the New Brunswick border.
He had heard via the birding grapevine that an inordinate number of red-breasted nuthatches and purple finches were moving down through New England in greater numbers and earlier in the fall than would be commonly expected. He asked me if I could verify the unusual activity from my observations on the Vineyard.
I emailed back that a lot of RB Nuts were being seen, heard, fed and reported to the bird hot lines and that I did not really know about the purple finches. Since then I have encountered RB Nuts everywhere on the Vineyard and have seen some PUFIs and heard a few more.
PUFIs and RB Nuts? Birders use a shorthand to refer to avian species, often using the first or the first two letters of each word in the name: PUFI for purple finches, RB Nuts for red-breasted nuthatches, GBH for great blue heron, and so on.
There are numerous ways that birders get bird news from other birders. Some subscribe to email services that will alert them to any rare or vagrant bird that is reported in a given area of interest: all of North America, for instance, for those working on their lifetime list; a smaller area, usually a state, but not necessarily the birder's home state, for which the subscriber is compiling a list, such as a year list for Massachusetts.
Birders also will go looking for reports of sightings in their own general area, say southern California in the vicinity of San Diego, or Dade County, Fla., or, perhaps, Cape Cod and the Islands.
They will either join an online list serve that sends individual or grouped reports to their email or they will simply peruse such a website for the reports. For my purposes I go to The Virtual Birder, then B-Mail, then MASSBIRD and scan the sightings that people have submitted for birds of interest in eastern Massachusetts.
Each calendar day has a bunch of reports and you can go back a day at a time and scroll through previous days' reports for items of interest. When birders posting the reports list their most interesting birds or locations in their email subject, it makes it easier to skim for something of real interest and not have to read about the robin's nest out so-and-so's window (Not that there's anything wrong with that.) After a while the reader will also begin to discern which birders writing in seem to know what they are talking about and are likely to have something juicy to report.
While I have submitted photos to MASSBIRD to document a rarity, I do not believe I have ever sent in a sighting report, though I probably would, if some really wondrous avian gift descended upon the Vineyard and I knew off-Island birders would be upset to learn they had missed it because no-one here e-mailed a report.
For some reason unknown to me Vineyard birders are largely not in the habit of submitting up-to-date sightings. Maybe it's the Island mindset.
Speaking of the Vineyard, word-of-mouth, the telephone and e-mails are the way bird news typically gets around. Telephones are the best, because time is often of the essence when it comes to bird sightings. Today's news gets very stale in a hurry if the bird in question is half way to Cape May when you first hear about it.
Bird Sightings
Susan B. Whiting compiled the following report: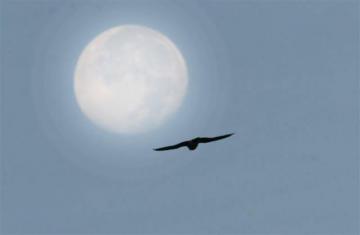 Aquinnah continues to be the hot spot for birding.
Northern harriers have been seen not only at Aquinnah but also all around the Island. One birder saw one at Aquinnah off Moshup's Trail on Sept. 25, Pete Cruikshank spotted one over Mink Meadows pond on Sept. 29, and on the same day Alyssia Landrey had four at Cape Pogue, I spotted two at Black Point in Chilmark and Claudia Rogers spotted one at Cracktuckset Pond in Katama on Sept. 30.
The Aquinnah passerine migration continues. On Sept. 29, I joined Matt Pelikan early and we spotted five species of warblers: blackpolls, redstart, palm, yellow-rumped and common yellowthroat. We also spotted dark-eyed juncos, American kestrel, a banded common loon, bobolinks, Eastern phoebes, red-breasted nuthatches and golden-crowned kinglet. I left and Matt added a clay-colored sparrow before he was joined by Laurie Walker and Katharine Colon. Together they added least flycatcher, purple finch, prairie warbler, indigo buntings, Baltimore oriole, a flock of American pipits, a merlin and an osprey. Matt stopped at the land bank's Chilmark Pond property on the way home and spotted a black-throated green warbler and red-eyed vireos.
I continued to Black Point and watched a Cooper's hawk circling around a flock of starlings and forcing them into a flying ball. I also spotted an osprey and a red-tailed hawk. Laurie Walker and Katharine Colon found two kestrels and a merlin at Blacksmith Valley in Chilmark.
Alyssia Landrey took a Massachusetts Audubon group to Cape Pogue on Sept. 29 and had a dunlin, laughing gulls, one least sandpiper, four great egrets, a merlin and a red-tailed hawk. The day before at Felix Neck, the group spotted a willet, an osprey and red-breasted nuthatches, to name a few. Lanny McDowell and Allan Keith went to Cape Pogue on Sept. 29 and also spotted dunlin, two lesser black-backed gulls and three American wigeon off the beach with black and surf scoters.
Sept. 30 proved to be a good birding day as Allan Sgroi and Allan Keith spotted birds such as Lincoln's sparrow, four rusty blackbirds, and black and white and Nashville warblers. Warren Woessner also spotted Lincoln's sparrow as well as a white-crowned sparrow, magnolia warblers and a sharp-shinned hawk at Aquinnah the same day. And everyone is seeing red-breasted nuthatches.
Allan Keith continued down Lighthouse Road in Aquinnah and found a pocket of birds and added three swamp sparrows, a house wren, two ruby-crowned kinglets, a late yellow warbler, a northern parula and two orange-crowned warblers. At the Gay Head Moraine, Allan added a black-throated blue and Tennessee and two black-throated green warblers as well as an ovenbird, a blue-headed vireo and a brown creeper.
In the duck department, Claudia Rogers spotted eight wood ducks and a green-winged teal at Cracktuckset Pond on Sept. 30. I spotted 35 green-winged teal on Tisbury Great Pond and Allan Keith had two gadwall, 26 blue-winged teal and a female northern shoveler at Squibnocket Pond. Allan also spotted a white-crowned sparrow in the Squibnocket parking lot.
On Oct. 1, Alexander Linmere called in to report a couple of excellent birds. He and his family spotted a Virginia rail and two sora rails at Squibnocket. At Aquinnah they had palm, blackpoll, and orange-crowned warblers as well as a field sparrow. Sally Anderson added both white-crowned and white-throated sparrows, a merlin and several sharp-shinned hawks to the Oct. 1 Aquinnah list.
Scott Stephens spotted an interesting hawk "sandwich" at Peaked Hill on Sept. 24. As he watched a northern harrier fly over his head Scott looked above the harrier and spotted two peregrine falcons, one over the other.
His most exciting sightings came after an east wind on Oct. 2 when he spotted a northern fulmar, a greater shearwater and an unidentifield flock of terns off Noman's Land.
Lanny McDowell birded Aquinnah on Oct. 1 and commented that there was a large movement of palm warblers. He also spotted one orange-crowned warbler, a merlin, a peregrine falcon, and a sharp-shinned hawk. He heard an evening grosbeak and watched a spotted sandpiper fly off the Cliffs.
Birding is still hot, so call your sightings into the bird hot line at 508-627-4922. Thanks.