The Menemsha harborfront, long defined by a history of providing open dock space for working draggers and lobstermen, must be protected, a vocal gathering of Chilmark fishermen told their selectmen early this week. The fishing industry is ailing and the harborfront endangered, they said.
"In a few years, there will be no fishermen," warned Louis S. Larsen Sr.
Sparked in part by a quiet plan to build new office space for the town harbor master near the Menemsha Texaco station, the wide-ranging and sometimes heated discussion took place at the Chilmark selectmen's meeting Tuesday evening in the town hall.
The meeting, called to discuss harborfront issues among the selectmen, the harbor advisory committee and the shellfish restoration committee, was well attended by fishermen who voiced overwhelming objection to the proposal to replace harbor master Dennis Jason's shack with a multi-purpose building. The plan, which has seen no public discussion until this week, was first proposed by Mr. Jason last month and now is accompanied by drawings. A warrant article asking voters to appropriate $1,000 to pay for design drawings for the building has also been drafted for a special town meeting on Oct. 29.
Fishermen urged the selectmen to put the article on hold.
In a letter sent to the board last month, Mr. Jason described the conditions of his shack as inadequate, deteriorated and inconvenient. He recommended the town consider building a multipurpose, winterized building to house the harbor master and his staff, the shellfish propagation officer, a storage area and facilities for a wholesale fish buyer including a cooler and an ice machine. On Tuesday, selectman Frank Fenner distributed drawings he sketched for a 16-by-24-foot building. Mr. Fenner based his drawings on blueprints for James Morgan's fish shack, located next to the Menemsha Fish Market. "We've been thinking about the inadequacy of the harbor master shack for awhile," Mr. Fenner said.
While the proposal was for a new building whose primary purpose would be to house the harbor master, discussion quickly turned to the Menemsha harborfront, the state of the commercial fishing industry and wholesale fish buying on the harbor.
Historically fishermen in Menemsha, currently the only harbor on the Vineyard to offer free dockage for commercial fishing vessels, have relied on selling their catch to a wholesale fish buyer on the docks. Warren Doty, now a selectman and chairman of the board, ran a wholesale fish buying business in Menemsha from 1984 to 2003. After he closed his business, Karsten Larsen operated a fish buying operation by boat in the harbor, which he sold last year to Alec Gale.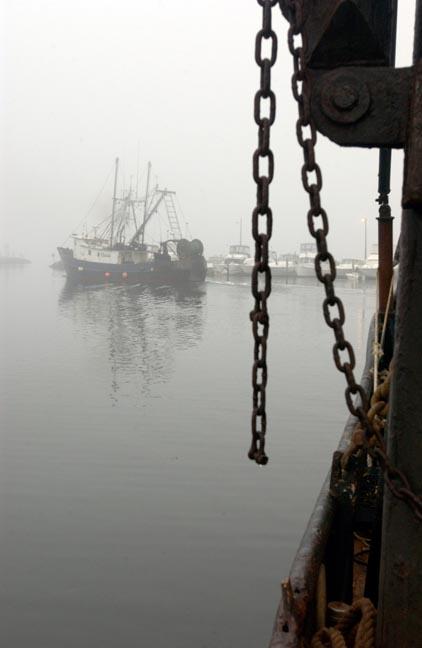 Louis S. Larsen Jr., owner of the Net Result in Vineyard Haven, built a lobster shack next to Larsen's Fish Market 12 years ago, which he outfitted with an ice machine and cooler. Mr. Larsen intended to operate a wholesale fish business in Menemsha, but unable to cope with an overwhelming amount of paperwork, in the end he killed the plan.
Finding an outlet to sell their catch is only one hurdle facing commercial fishermen in Menemsha. Rising fuel prices and quotas imposed by state and federal fisheries regulators have in recent years added more stress to the industry. "High fuel prices, low quotas. It's hard for us to compete," said Jonathan Mayhew, an offshore fisherman and former selectman. Mr. Doty agreed. "We had a successful fluke season, but it was shortened by regulations," he said by telephone following the meeting. "We had a successful striped bass season, but it was short. We have a good fishing harbor for ten weeks, but the year is 52."
To illustrate the problem, Mr. Mayhew, who for years harpooned swordfish with his brother off their draggers Quitsa Strider II and Unicorn, said this is the first year in his memory that a swordfish has not been brought into Menemsha. "And probably in yours," he said with a nod to Everett Poole, a retired fisherman who started Poole's fish market in 1945 at the age of 13.
In the face of a diminished season and increasing regulations, the fishermen on Tuesday criticized the plan for a new building and urged selectmen not to further crowd a dockfront already congested with boats, buildings and fishing gear. "To lose valuable water view property would be a crime," declared Wayne Iacono, a fisherman who attended the meeting and delivered a handwritten letter to selectmen. "Menemsha can be run with a pickup truck and a skiff," he also wrote.
A possible solution came from Louis S. Larsen, Jr. Mr. Larsen suggested the town buy his lobster shack and rent it to a wholesale fish buyer. "I'd rather be out there catching it; I'm sick of buying it," he said. Retired fisherman Chris Murphy urged selectmen to take Mr. Larsen up on the offer. "The town should jump on it," he said. Mr. Murphy then suggested the selectmen remove the article from the warrant for the Oct. 29 town meeting until they can talk further with Mr. Larsen. "It's a very generous offer from little Louis," Mr. Mayhew said following the meeting. "It would go a long way to help commercial fishermen."
The selectmen will meet again on Tuesday, and Mr. Doty said only that they are trying their best to improve conditions on the harbor. "The Chilmark board of selectmen are very dedicated to trying to keep Menemsha as a commercial fishing port. We are looking at things we can control," he said.
But Mr. Mayhew said later that the problem goes well beyond blueprints and plans for the Menemsha harborfront.
"The selectmen are trying to do the best they can to keep the commercial aspects of fishing alive," he said. "But it's a much bigger problem than if we have ice and a building."