The Nantucket varsity football team is a formidable foe. When the Whalers come to the Island tomorrow, they bring with them the state's best coach and a lead in wins for the Island competitive trophy. Nantucket leads the series 35-22-3 since the rivalry began in 1953.
Their weakness is that they aren't defending the trophy. And they are behind the Vineyard in wins and losses this fall. This has been a tough year for the Whalers. They are 3-5.
Lest the Vineyarders become too confident, Nantucket athletic director Nancy Larrabee reminds them about past games between the two Islands: "It doesn't matter what the season has been, anything can and will happen."
Of the Nantucket football team, Ms. Larrabee said: "They had a rough start to the season but they have done well in the last month."
Nantucket has won the last three games. In the last two away games, they beat Diman Regional Vocational Technical High School 14 to 6 last Saturday. They beat Tri-County Regional Vocational Technical High school 13 to 12, in a cliff-hanger on Nov. 2. And they beat Old Colony Regional Vocational Technical High School 19 to 8 on Oct. 27 at home.
"We do have a strong string of juniors and seniors, while our ninth and tenth graders have seen a lot of time," Ms. Larrabee said. "I see a really strong team effort on the field. The players work well together.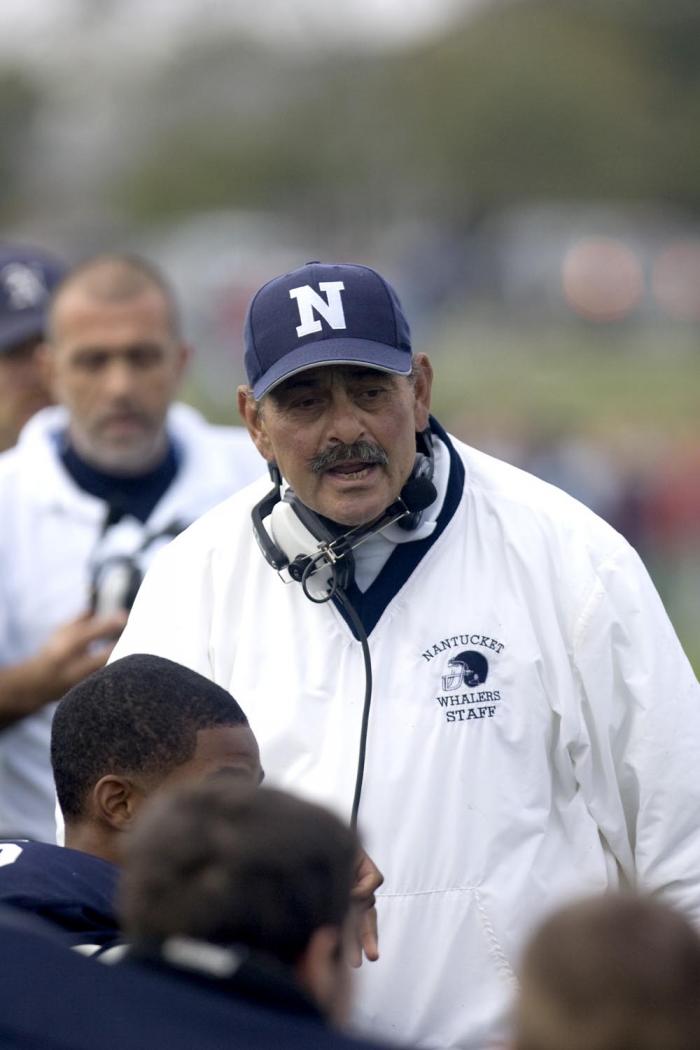 "We are a small school," she said, and football and other sports are a big part of the school's sports programs. The school population is 420," she said. Nantucket has the smallest high school in the state.
"The key ingredient on our Island is that sports is a big outlet for our kids," she said.
A key ingredient to past successes of the school football team is tied not only to the Island culture but to the 45-year experience of the head coach Vito Capizzo.
Mr. Capizzo is a charismatic coach with a loyal Island following. "People call him Coach, wherever he goes," she said. "My two brothers were in the football team. And my two sons played under Vito."
Ms. Larrabee said a lot of fellowship is found in this rivalry between the two Islands. She said a lot of Nantucketers like to see the Vineyard team win — just not against Nantucket.
"I do believe over the years, whenever either one of our teams make it to the Super Bowl, the other Island team is rooting for the Island," she said. "There is an age-old rivalry but we are good friends."