In 1964, the Vineyarders recorded the first of three undefeated seasons in its history. Bob Tankard, Coach T as he is also known, remembers it well.
"Apponequet was the big game that year," said Mr. Tankard, a halfback and defensive back on the 1964 team. "We had never beaten them and they were supposed to run over us. The game was played in a northeaster and it ended a 0-0 tie. We felt like we had won.
"They were huge, with two linemen at 255 and 265 pounds. In those days, that was pro linemen size," he said. "That was the toughest game I've ever played in. I had to block those guys. I had the biggest headache I've ever had by the end of the game."
Coach T credited coaches Dan McCarthy and Maury Dore. "Dan built the team and Maury put the finishing touches" on the 18 members of the undefeated team, he said.
"Of course, beating Nantucket was always first. In those days, we played them twice a year. You could lose every game and beat Nantucket and be satisfied," he said.
Retired from teaching on the Island, Mr. Tankard was also the Vineyarders' head coach from 1978 until 1987. He now works as a consultant for PCR Company, evaluating and facilitating grants for non-profit institutions and is a director for the new Martha's Vineyard Savings Bank.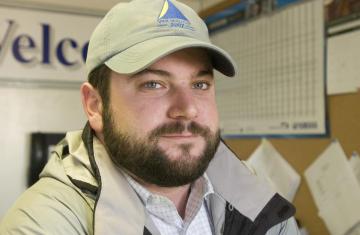 James Hale remembers his high school football career with clarity. "There were a lot of big games but the last one in our senior season was special, playing at Boston University for the Super Bowl. That was special," he said.
A tackle and inside linebacker, Mr. Hale was a co-captain with fullback and linebacker Seth Abbott on a team that had two undefeated seasons and an incredible 30-3 record over its last three years (1997-1999). Mr. Abbott went on to University of Massachusetts-Dartmouth where he played linebacker.
Mr. Hale left the Island and played lacrosse for Bentley College, received a degree in business administration and marketing and a career with a strategic marketing company in Boston. Last spring, Mr. Hale returned to the Island to enter a family business and is now the service manager for the Martha's Vineyard Shipyard in Vineyard Haven. Brother Rob Hale played in 2003 and is a senior at Emory University in Atlanta.
The competitive spirit still burns. "I want to tell those guys good luck, beat Nantucket and take a run at the Super Bowl," James said on the eve of the Island Cup game.
Present coach Don Herman has coached two undefeated teams and five Super Bowl champion teams in seven appearances in his 20-year Island tenure.
"There's a certain toughness and mentality that those successful teams possessed. And you have to be lucky. You need to have that," he said.
Winning chemistry involves unselfishness, Mr. Herman said. "Teammates have to enjoy each other's success. There have been years we've had tremendous talent but had issues between players that they couldn't overcome."
An example of a great chemistry team was the 1989 squad. "I enjoyed going to practice every day. Those kids were so hungry and motivated. They were desperate for success," he recalled. Ironically, the '89 team was not a Super Bowl team but did go 9-1.
Mr. Herman singled out two players who played little but were treasured elements in team chemistry. "Randy Doll (2000) was a kid who knew he wasn't going to play much but he loved the camaraderie and the team," he said. Mr. Doll is now in the Army and was wounded in a Mideast tour. "He's fine now but received shrapnel wounds a year or more ago," Mr. Herman said. Mr. Doll has returned to service in Iraq.
Duncan MacMullen (2004), also now in active Marine service, was another lightning rod for team esprit de corps. "He loved the game. He was my victory cigar. When Duncan went in, we knew we were going to win," Mr. Herman said. Mr. MacMullen is now at Camp Lejeune in North Carolina.
The Lambos brothers, Peter and Brian, played on undefeated teams. Peter is the director of the Boys' and Girls' Club on the Island. Brian is now living in Rhode Island attending electrician school. He's hoping to get back for the game. He loved the Super Bowl atmosphere and has one regret: he wishes his team had beaten Nantucket on Nantucket.
"It's a long boat ride home when you lose," he said.
Brian may be the last five-year player at the high school. "We didn't have junior varsity then so I played varsity as an eighth-grader," he recalled.
Mr. Herman keeps in touch with players. He reports that 1990 star quarterback Louis Araujo attended Holy Cross on scholarship and is now a tribal lawyer in Washington, D.C. Linebacker Chris Dolby (1990) and quarterback Mike Snowden (1999) are police officers in Edgartown.
Among more recent grads, Mr. Herman noted that among 2004 graduates, linebacker J.D. Wild is a senior linebacker at Merrimack College and class valedictorian Hans Buder is a senior at Duke University. "Don't be surprised if you see him running for president in twenty years," Mr. Herman said.
If team chemistry is important, the Island offers an advantage for players to spend all year with each other, to develop relationships that make great teams, Mr. Herman said.
Indeed, Mr. Tankard can instantly recite the litany of his undefeated teammates. "Manny Nunes, Don DePriest, Tom Bennett, John Bunker, Tony daRosa, Bill Bassett, Lenny Donaroma, Tony DeBettencourt." Mr. Bennett is associate executive director of Martha's Vineyard Community Services, Mr. Nunes worked with the town of Edgartown and Mr. DaRosa runs the family printing business. Forty years after their relationships were forged on the football field, "a bunch of us are still close friends," Mr. Tankard said.
"We became a brotherhood through football," he said.