A sharply divided Martha's Vineyard Regional High School district committee voted 5-4 to certify a $16.2 million budget on Monday, up 2.7 per cent over last year. Approved by a single vote at an uncharacteristically well-attended high school committee meeting, the budget reflects last-minute revisions to instructional and fixed costs.
And it follows an emotional public hearing last week at which music and drama students, teachers and parents spoke out on proposed teacher and program cuts across those departments.
A proposed bond issue of $101,000 to pay for a new wastewater disposal system at the high school was put off, creating some breathing room in the tight budget. Half a position was reinstated in the music department and drama and television teacher Kate Murray's full-time status will be kept intact. Ms. Murray's current position will be officially cut two fifths, but the loss will be made up by a newly-created part-time position at the performing arts center. The position was created in anticipation of the retirement of the center's manager and director Jim Novack next year. The television course may be cut from the curriculum.
The budget became a burning issue at the high school over the past two weeks, bringing over 100 people to last week's public hearing, an annual event which last year attracted just one public citizen. The impassioned testimonies of drama and music students from freshman to graduate underscored the popularity of the music and drama departments among members of the student body.
Principal Margaret (Peg) Regan maintained that declining enrollment coupled with rising fixed costs meant that she felt some decrease in instructional costs was necessary. To affect students as little as possible, Mrs. Regan cut from the areas with lowest enrollment numbers.
At the outset of the meeting Monday, high school guidance director Michael McCarthy presented committee members with a letter from guidance counselors opposing the cuts to their departments and calling for $15,000 to be reinstated. The counselors argued for a one-third reduction in summer hours as opposed to 50 per cent.
In its revised state, the music department line in the budget is $198,700, down just $7,000 down from last year, despite the cut of half a position. The half-time employee will still qualify for full benefits and across-the-board salary increases approved last year, the result of union negotiations.
But when asked by members of the public, committee members were unable to describe in detail the staff repercussions within the music department because it is unclear whether cutting half a position will be spread across the department or directed at a single staff position. Vineyard schools superintendent Dr. James H. Weiss said it is a union issue.
Student numbers at the high school are declining — enrollment has dropped from 823 to 765 in the last two years. Using projections based on elementary school numbers, Mr. Weiss anticipates a further drop to 720 next year and a continuing downward trend over the next few years. The high school experienced a spike in enrollment from the late 1990s into the early 2000s as a result of a small baby boom on the Island and explosive growth — following the 2000 U.S. census Dukes County was found to be one of the fastest growing counties in the commonwealth. That trend now appears to be flattening.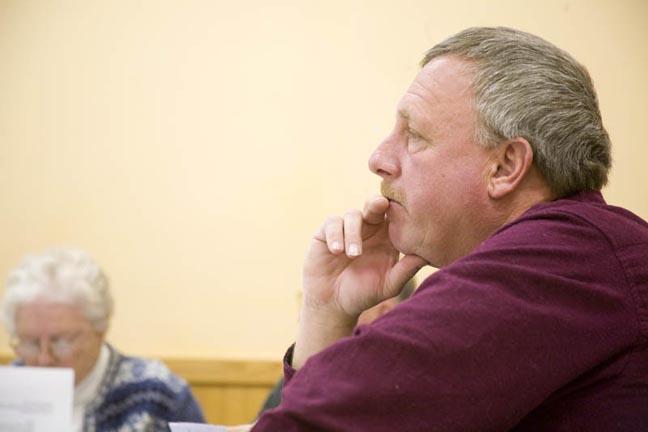 On Monday night up-Island school committee member Jeffrey (Skipper) Manter argued strongly against the remaining arts cuts, suggesting that savings could and should be made in such a large budget to protect the most crucial area — instruction. "This is a unique group of students [in the drama department]. I would boost up that department to include that small amount of money," he said. Mr. Manter suggested that savings could be made in the superintendent's budget. "If we keep hiring administrative staff — it inevitably adds a certain amount of bureaucracy — as well as new software, which is supposed to be making things more efficient but I don't see the reduction," he said. Mr. Manter, who works as a West Tisbury police officer, lobbied for the guidance department as well. "The more counselors deal with students during the day, the less I have to at night," he said.
He led the charge to eliminate a new facilities manager position, which is accompanied by a hefty $90,000 salary, arguing that the job is neither essential nor sufficiently developed to warrant inclusion in the budget. "There's no money apart from a single salary. Nothing for stationery. The guy can't buy a single pencil," Mr. Manter said, adding that the manager, who will not be hired until next year, will be singlehandedly running the facilities of large operation. "For the first six months he won't do anything apart from answer the phone," he said.
But committee member Leslie Baynes disagreed. "Educators shouldn't have to handle fire safety and building repair," he countered, adding: "It's highly dangerous and it's two different skill sets. We have to keep this plant working." In light of the declining enrollment and a looming national recession Mr. Baynes warned that in terms of budgetary constraints, the worst was yet to come. "There won't be any more money coming," he said.
A motion to eliminate the facilities manager position from the budget made by committee member John Bacheller was backed by Mr. Manter, Roxanne Ackerman and Maura Valley, but voted down by Mr. Baynes, Susan Mercier, Judith O'Donoghue, Priscilla Sylvia and committee chairman Susan Parker. Divided along the same lines in reverse, the committee then voted to certify the budget 5-4.
Mr. Weiss said yesterday that the bond issue for the sewage treatment project is delayed but not dead.
At a land use subcommittee meeting held on Nov. 29, it was revealed that the estimated cost of the project has increased from $1.4 million to nearly $2 million.
Mr. Weiss said the plan now calls for bringing the spending request in front of Island voters as a warrant article sometime in the months ahead.