The Hagen household was decidedly uneventful. John Hagen stood outside with Sabu, the practically pony-sized family dog. Elsewhere on the Island, bells rang and kids ran out of classrooms, slinging backpacks into cars. In a matter of moments, the hustle and bustle spilled into the Hagen driveway.
Sabu barreled down the front stairs, taking out anything and everyone in his way. Hannah, 5, practiced the moves she perfected over the weekend on stage in The Nutcracker. She relevéed and piroutted on top of the living room table as her brother, Garret, 8, sat at the kitchen table, books and homework scattered.
Mr. Hagen and his wife, Dede, relish the noise — the giggles and questions from the kids, the scratches at the door from Sabu, the grocery shopping. These things they may once have taken for granted, the couple now bask in them.
In August, four days before her 43rd birthday, doctors diagnosed Mrs. Hagen with stage four melanoma. As they stay busy this fall — Mrs. Hagen is still working full time, Mr. Hagen recently joined his daughter in The Nutcracker, and Garret is trying not to forget about his third grade homework as he ploughs his way through the piles of books he reads for pleasure — the family is also quietly waiting until January when they will learn whether the treatment used to fight the malignant cancer was successful.
"When you break the routine, you start thinking about it," said Mr. Hagen, a fine art painter.
"When I go out to take a walk, or at night when I'm getting into bed, I might start to cry," said Mrs. Hagen, seated next to her husband on the couch. "But then I start thinking about all of the positive things," she said calmly, with strength. Her husband softly placed his hand on her shoulder.
Mrs. Hagen, a teacher at the Martha's Vineyard Public Charter School, was always careful about her health. She ate right, ran, and never lay out in the sun without sunblock. Four years ago, when pregnant with Hannah, she noticed a freckle on her shoulder that appeared to have changed shape. The spot, caught early and removed, was stage one melanoma. Since then, Mrs. Hagen returned to the doctor every six months and, each time, received a clean bill of health.
Then, about a year ago, Mrs. Hagen noticed a flesh-colored hard bump at her hairline. This past August, she had the bump removed. Her doctor at the Martha's Vineyard Hospital said it had worn one-third of the way through her skull. Tests revealed melanoma in both the tissue and the bone removed. Immediately, the Hagens went to the Beth Israel Deaconess Medical Center in Boston where doctors found two more spots in her body infested with the cancer. It had not, luckily, spread to her organs.
This fall, Mrs. Hagen received radiation treatment to prevent the cancer from spreading to her brain. She recently finished a 12-week round of interleukin II treatment, a therapy used to treat melanoma and kidney cancer. And, save for a total of five weeks this fall, she has continued to teach. "I'm lucky, I have no symptoms," said Mrs. Hagen, whose only visible change has been the loss of her widow's peak.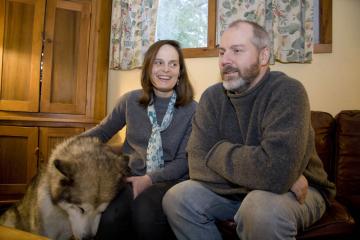 The biggest adjustment the family has made in their lives is an emotional one. "It's really scary to be diagnosed with stage four," said Mrs. Hagen. "It is really dismal." With a poignant practicality, she said only five per cent of patients undergoing this treatment beat the cancer. "There's a small per cent chance it will work. The biggest thing is the waiting time."
The family has not been waiting alone, however. "There is not a day that has gone by since the diagnosis where I have not gotten a card or a phone call," said Mrs. Hagen. "Those are not Christmas cards," Mr. Hagen chuckled, pointing to a beam in their living room covered floor to ceiling with notes of well wishes. Before the couple went to Boston, where they stayed for four weeks while Mrs. Hagen received treatment, anonymous Islanders sent gifts of ferry tickets and free babysitting. Neighbors dropped off homemade meals (the Hagens still have soup in their freezer) and a friend of a friend, a woman they had never met, let the pair stay in her apartment. "The generosity of the people, especially on this Island, makes you crave wanting to stay here," said Mr. Hagen. It is something Mrs. Hagen is still getting used to. "It's hard, having the lights on you," she said. "There are so many people in bad situations in the world. I'm amazed people are supporting us in this way."
This Sunday, the support will continue with a benefit opening at the Granary Gallery in West Tisbury where Mr. Hagen exhibits his work. After hearing of Mrs. Hagen's diagnosis, Chris Morse, owner of the gallery with his wife Sheila, immediately began thinking of ways the gallery could help. He sent a letter earlier this fall alerting the more than 80 artists the gallery represents about Mrs. Hagen's case and asking for their help to put together a show to raise money for the family. "They need financial assistance, and this seemed like the best way to get the story to the public, to raise awareness and resources," said Mr. Morse.
Already, more than 70 artists have donated work, some created specially for the show, which is expected to have over 100 pieces — paintings, jewelry, sculpture — for sale. Since sending out an invitation to the show this past Saturday, more than $5,000 in donations have come in and a number of pieces, displayed on the gallery Web site, have already sold. A preview of the show kicks off Sunday at 11 a.m. The opening runs between 4 and 6 p.m at the gallery; the work will stay up for two weeks.
"I'm totally blown away by the generosity of the artists," Mr. Hagen said. "Most of them we haven't even met." He will also have 23 original works on the walls for purchase. One hundred per cent of the proceeds will go into a savings account the family plans to use to offset medical bills and transportation costs, expenses that are harder to keep up with now that Mr. Hagen does not have as much time to paint.
While waiting to hear her prognosis, Mrs. Hagen is making the most of every minute. "It's so clichéd," she said, smiling. "Live every day. And people tell you that all the time, but I didn't understand that fully until this point." As she got up to check on the homework status over at the kitchen table, Hannah pulled out a book on love bugs and snuggled up to her father. "Hey, if the band's playing a good song," he said, "get up and dance."
All are welcome at the artists' reception at Granary Gallery on Old County Road in West Tisbury on Sunday, Dec. 9, from 4 to 6 p.m. To donate directly to the Hagen family, send a check to You've Got A Friend (Dede Hagen) c/o Martha's Vineyard Savings Bank, PO Box 1069, 78 Main Street, Edgartown, MA 02539.