For Lani Carney, paintbrushes were not made for painting. Paintbrushes were made for dancing.
"I taught them how to dance with the brush," she said, and by them, she meant her students. "Last week I said to them, 'Today, the light blue of the sky really says spring is here! Will you dance with me and your brush and paint what spring says in your heart?'
"That fizz and the actual manner in which the color takes to that wet paper," she continued, "It's a delight you and I have never known!"
When she speaks of her students, practically all of her sentences end in exclamation points.
And these students she spoke of were not high school students. They were not adults looking to start a new hobby. They were three-year-olds. Miss Lani, as her students call her, is the Preschool Arts Director at the Featherstone Center for the Arts in Oak Bluffs.
As she thought back on the painting — er, dancing — class, Miss Lani looked out at the gray sky and the late March rain that pinged and plopped as it hit the windows of her pint-sized Vineyard Haven cottage. She sighed. The day certainly was not springlike. Oh, but there were other things to look forward to.
She began to describe the class she would teach in a few hours, Famous for a Day. "In the class, for example, we look at the work of Jackson Pollack. I invite them to imagine the joyfulness of trying to enact a Jackson Pollack. Can you imagine?" she asked with honest delight. "There was paint ... everywhere! They had their toes in the paint!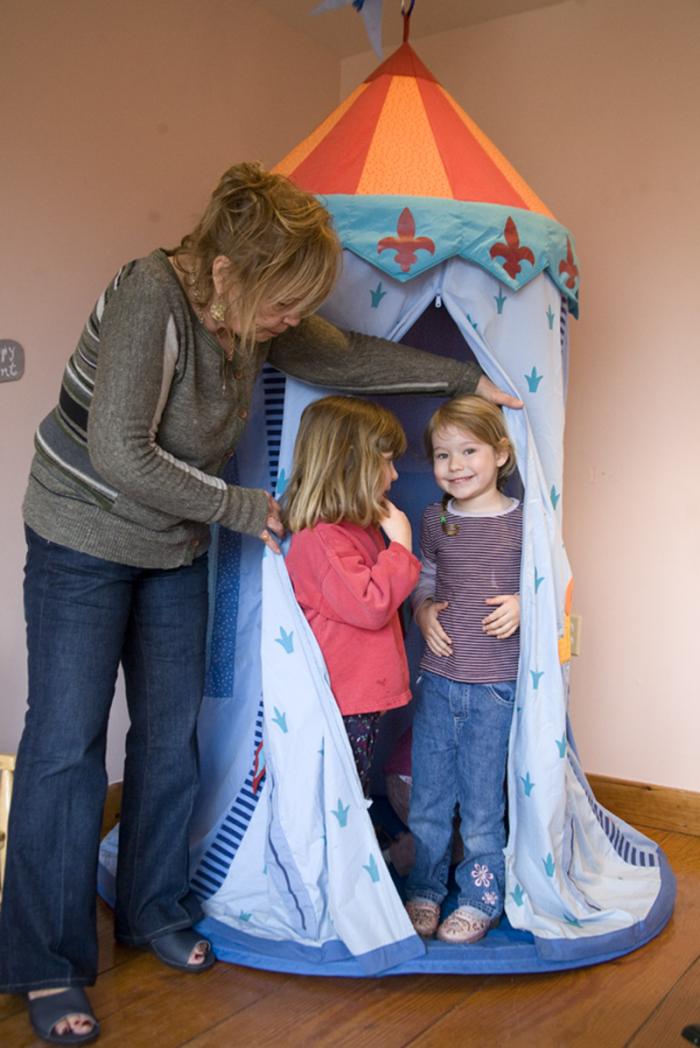 "Another day, I put on the new Cat Stevens CD. I asked them to think about Kandinsky's work, because Kandinsky you know, he started out as a musician. I invited them to paint to the music and asked them if they would paint music. For me, that was just incredible, to have children paint what they heard." Her oldest students have only just broken double digits, but still, Miss Lani believes these youngsters — the little ones she teaches on Monday, on Tuesday, on Wednesday, on Thursday and on Saturday afternoons in winter, and the painters petits who come in droves to her summer classes — are ready to take on the work of the great masters and begin to find their own inspiration.
Five years ago, Miss Lani was, as she says, in the trenches. "For six years I worked as a substitute teacher," she said. "I was in there almost every day." Miss Lani had come to live on Martha's Vineyard after a lifetime spent in California, with stints in Connecticut, Europe (22 countries in six months) and New Hampshire. She made the decision to move to the Island after having spent more than 25 years teaching child development and psychology at the college level. "Being a child advocate, it was only natural to continue that work here," Miss Lani said.
Some may have called the move a step towards retirement.
They would have been foolish.
As conversation winds between different subjects, Miss Lani's voice takes on different tones. When speaking of her students, her words are sprinkled with delight and awe. When the conversation turns to the psychology of children, a tenor of earnest seriousness takes hold. As she shows a visitor around her small home, she waxes with pride. When she talks, her eyes transform too: wide when showing off the select student artwork she has saved for her very own walls, they shrink below a furrowed brow when talk turns to the challenges students face in the classroom and the struggle for equal and open quality education in this country.
From an early age, Miss Lani was a question-asker and an observer. She studied psychology in college, but it was child development which really grabbed her. "I really wanted to be an academic," she said. "I really wanted to do a good job and had such an energy for making a difference in this world." After she graduated, she began teaching in the California community college system. "I had a vision for helping people get back on track," she said. "I wanted to help develop equal opportunity for all people to be educated."
Equality is a word Miss Lani does not take lightly. She entered academia at a time when female professors were few and far between. Professor Carney, as she was called then, remembers asking for written permission to wear a pants suit, rather than a dress or a skirt, before taking her students on a field trip. She taught in a classroom while, on college campuses elsewhere in the country, racially charged riots exploded. When a colleague went to Kent State in Ohio to protest the shooting of students there by the National Guard, Miss Lani was one of seven professors who volunteered to cover his classes for the remainder of the semester at no cost. The professor had been reprimanded for his actions and been ordered to take a leave of absence without pay.
A woman whose own voice is soft, but forceful, Miss Lani believes in giving strength to those whose voices may not always be heard. Often those voices belong to the littlest of people. Her life's work has focused on child development. She was a delegate in 1979 at the International Year of the Child world conference and, when she took her sabbatical year in Europe, she brought along her nine-year old daughter. She argues that children be treated not as mini adults, but with a seriousness and respect which honors their youth and individuality. "Children are ardent explorers," she said. "As teachers, we need to nourish and inspire, but we also have to step back. We don't want to get in the way of their development."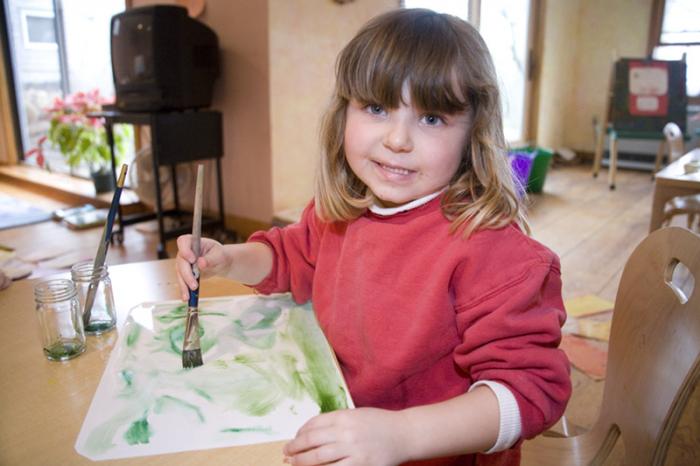 After more than 20 years spent teaching in California, Miss Lani took a position at a college in Connecticut. After a few years, she made the move to the Vineyard, a place she first visited with her family during her own childhood. "I moved here because I wanted a place where my father, daughter and I could live in a circle of simplicity," she said. "I think I am more at home here than I think I've ever felt anywhere since my childhood."
She spent six years on the Vineyard as a substitute teacher before Francine Kelly, who had recently been hired as the new executive director at Featherstone, called her. "We had had requests from people who had asked for programming for younger children," Ms. Kelly said. "I saw that she had a love of children and the training and professional expertise to teach teachers of children." Ms. Kelly asked if Miss Lani would be willing to design, create and teach an arts program for the under-10 set.
The program began in the summer of 2004. Miss Lani welcomed her new students and their families in the same way she has each season since, with a handwritten note detailing her philosophy: "Classes are created in ways that are interactive, engaging and exciting. The process is the beauty for the young artists, not the outcome."
When fall came, Miss Lani added classes for year-round youngsters. Two benefactors stepped forward and provided enough money for the classrooms to stay fully stocked with quality art supplies in winter and in summer and to ensure that students who could not afford the enrollment fee would still be able to attend by way of scholarship.
"It's really exciting to develop these classes," Miss Lani said. "When you're in the classroom with children in art, you want to extend the imagination. I can see their ability to reason, to think more clearly. The ability to reason is taking hold and they are becoming more assured."
The children are not the only ones spreading their wings. After an initial year of success, Miss Lani created more courses and also began a chapter of Roots and Shoots, a youth-driven program bringing together children and adults to foster connections to the community and the environment. Miss Lani does not take credit for all of the growth. "We have a parent group on this Island which is very enriched, very interested in the arts and in nature," she said.
This past winter, 49 children arrived on the Featherstone campus each week for the preschool art classes. Miss Lani taught every day except Fridays and Sundays. Her students return year after year. Some refuse to leave and, with a wink and a nod, they continue to register for her classes even after celebrating their 10th birthdays. Featherstone does not advertise Miss Lani's classes, but around Christmas, parents begin to call about the summer classes. Last year, by March 10, all 96 spots were reserved for the coming summer. This year, call 96 came on February 15.
To accommodate students 97, 98, 100 and 115, Miss Lani has planned extra summer offerings on Wednesday afternoons throughout the summer. She wants to expand even more, but does not want to compromise the classroom experience. "I would like us to do more with youth ages 10, 11 and 12," she said. "I'm always keen to be thinking about generating more coursework and bringing in more people to help me, but I do not want to overextend. I'm very positive about what we're doing now."
"The children just want to be with her all the time," Ms. Kelly said as she tried to explain the phenomenon that is Miss Lani. "She's like Mary Poppins or something."