Award-winning dancer and choreographer Nora Chipaumire enraptured students across the Island last week in The Yard's artists-in-the-schools program. Ms. Chipaumire, associate artistic director of the acclaimed company Urban Bush Women, teaches a blend of Southern African and modern dance.
"Nora's enthusiasm is absolutely contagious," high school teacher Kate Murray reported. "She got the teenagers to engage completely. The kids walked off the stage at the end saying 'That was fabulous.' She was not just teaching, she was confidence building. Anybody would be lucky to have her come in and teach."
Martha's Vineyard Public Charter School sixth grader Teo Azzollini attended a class with Ms. Chipaumire at The Yard. "It was really fun," she said of learning an African movement phrase in the barn theatre in Chilmark. "She was really strong — you could tell she was a really great dancer."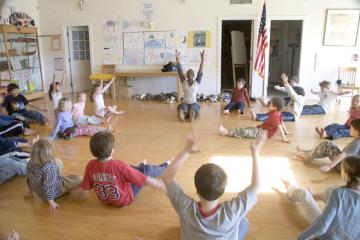 And she certainly could shimmy around the schools too. On Friday alone, Ms. Chipaumire had a morning session with the seventh and eighth graders who were in chorus and drumming, dashed over for an eighth grade workshop at the Tisbury School and, right after lunch, got the entire student body — about 40 kids from kindergarten to sixth grade — at Chilmark School moving to her groove.
A graduate of the University of Zimbabwe's School of Law, with graduate degrees from California's Mills College in dance and choreography and performance, Nora Chipaumire last year added to her many awards the prestigious New York Dance and Performance (aka "Bessie") Award.
She is featured in the documentary Movement (R)evolution and is the subject of the documentary-in-progress, Nora Chipaumire: A Physical Biography. Her choreographic work has been presented in New York and she has taught and performed extensively — from Arizona to Amsterdam, California to Cuba. Her Urban Bush Women thrilled a huge crowd at the Performing Arts Center in the summer of 2006.
Ms. Chipaumire was back on the Island as part of The Yard's artist-in-the-schools program, which has been bringing companies and teaching artists affiliated with such groups as Lincoln Center Institute and Young Audiences for many years. Visiting artists work collaboratively with teachers and students to develop curriculum that dovetails with classroom work. Multicultural groups have brought the dance traditions of West Africa, Korea, Brazil, India, Ireland, and Spain to Island students, and dance educators have introduced the elements and craft of choreography and the basic skills of modern dance to children of all ages. In 2006 and 2007, The Yard's programs reached children in every public elementary school on Martha's Vineyard.
Island students next month will have another chance to dance and learn — this time with Carolyn Dorfman. She will be in residence just after her Carolyn Dorfman Dance Company celebrates its 25th year in a gala performance, and before the company's two shows scheduled for May 24 at 6:30 p.m. at the Martha's Vineyard Performing Arts Center in Oak Bluffs and on May 25 at 7 p.m. at The Yard in Chilmark. For information and tickets, call 508-645-9662.