Warm temperatures may have shaken some Vineyarders out of their winter slump last week, but for Islanders who came across the kids enjoying Safe Haven camp, the surest sign of vitality was the joy on their faces.
It was there as the campers whizzed by on the back of Harley-Davidsons. It was there as they threw down some moves at a dance party at Outerland — "I had to teach all of the counselors how to dance, because it was pretty clear that they didn't know how," one camper reported. It was there as they cast fishing lines into Duarte's Pond, as they bicycled, drummed, cradled baby chicks and ogled big snakes.
From Saturday to Saturday, Camp Safe Haven brought 37 HIV-positive kids to the Island from Philadelphia, Boston and Chicago, allowing the kids to forget about their disease and to form bonds with people in the realization that they are not alone.
Safe Haven Project, now in its 14th year, was founded by Massachusetts educator David Butler. He was inspired by the story of Ryan White, a boy kicked out of his Indiana community, and accepted by another, because he had HIV in the 1980s. "I was heartbroken over what he went through," Mr. Butler said, adding that he knew "there were more Ryans out there."
Each April, Safe Haven holds a camp on the Vineyard. There is another week-long camp on the mainland in the fall, and the project does educational work in Africa at other times of the year.
As Safe Haven has evolved since 1993, it has held fast to its values of community and respect. "We don't heal HIV," Mr. Butler said of the camp. "We heal and comfort the deeper needs of their environment . . . often HIV is only the top, thin layer over a whole heap of problems, like poverty or racism."
Nearly all the campers are referred to the program through their social workers; most have no idea what to expect when they arrive on the Island for a week. Some think it might be like a boot camp.
"At first, I thought it would be boring," said one 16-year-old first-time camper from Philadelphia. "But I realized that I get to do things here that I could never do at home and meet new people."
Her best friend in Philadelphia, also 16, had convinced her to come to Safe Haven, after he'd experienced three years of camp himself. He was back this year as well. "In the beginning, I thought, 'What's the point of sharing myself with all of these people?' Because I figured that I would never see them again," he explained. "At the other HIV camps, . . there was no sharing back. They would hold everything in while wanting us to put everything out there. There are deeper bonds here, because we all show loving parts to each other."
Safe Haven tries to bring kids from varied backgrounds and places, so each can learn from the other. "It's the cultural exchange that goes on here that is special, because very few of these kids get out," said Mr. Butler. "To hear that there is someone else going through the same thing in another city somewhere else is comforting. They aren't alone in this world."
All of the campers mingle together. "When I first came, I cared only about my Philly people," said another 17-year-old from Philadelphia. "But then I got to feel like I should care more about those from the Island, Boston and Chicago. They are suffering the same way I am, just in different forms, and I should be there for them because that's not right."
Here campers find a safe environment in which they can express themselves. "In my neighborhood, you always have to be a tough guy," he continued. "I keep to myself for the most part at my group home to provide for my future. Before I came, I was taking it out on everyone else, but when I came, I saw everyone having fun and being themselves, and I realized that the disease is not going to go away, so you should live your life now."
The camp is held at the Manter Memorial Youth Hostel in West Tisbury. Safe Haven chief executive officer Mr. Butler said he chose the Vineyard because he wanted his camp to mirror the life of Ryan White when his neighboring community opened up to embrace him. "You saw the power of community and how it destroyed — and healed — Ryan. We are so blessed to have this place and the hostel and community here for us," Mr. Butler said.
The campers go out into the community every day on coordinated activities and field trips. At the hostel, the dozens of teenagers enjoy rampant recreation and craziness — and the staff at the hostel love it. "It is the most meaningful group we host throughout the season," said hostel manager Jeff Munroe.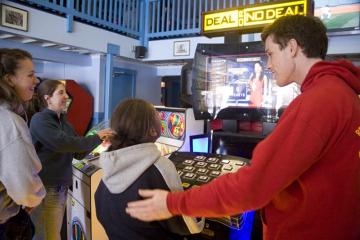 Still, for some campers the shock of being removed from their normal surroundings can be hard. "It's frustrating not being able to see my Law & Order, but it's a relief not hearing crying babies and gunshots for a change," said a 15-year-old Philadelphia camper.
Campers occasionally describe what life is like for them at home. "The night before I came to camp, I walked out of my porch and looked at a guy walking by. He asked what I was looking at, and when I didn't respond, he punched me," said a teenage counselor-in-training from Providence.
Martha's Vineyard Regional High School teacher and Safe Haven co-founder Tony Lombardi was camp director for the past 13 years; he is now director of programming. "Our Island community shows up with an open heart ready to share with the kids, and this makes Martha's Vineyard a true Safe Haven for people with HIV, because for a lot of kids, that is a rare thing for them to have," Mr. Lombardi said.
Aside from the public, it is the counselors who foster a great sense of community, said camp director Meghan Hallowell. "My counselors are the meat and potatoes, the worker bees," she said. "I wouldn't have been able to do camp without them because it is hard to keep up with the campers when you are an adult."
The worker bees come back year after year. "This thing is big, what's going on, and I want to leave my footprint here. It's why I'll come back every year until I can't," said the Providence counsellor-in-training.
The counselors aim to form a sense of togetherness at camp. Most are college students only a few years older than the campers, and often from a different ethnic or economic background.
Julianne Brown, a junior at Providence College, said, "I hope to give kids a role model in myself. But I also hope that they remember me — 'Julianne, she was white, middle-class, in college, but she understood me and loved me.'"
With Safe Haven's activities coordinator Mary Shea, who graduated from the Martha's Vineyard Regional High School in 1999, Ms. Hallowell worked hard to plan activities that would open campers' eyes to new things ­— from bike rides along State Beach, to a trip to Gus BenDavid's World of Reptiles and Birds.
The activities help the campers let go of their anxiety and become kids again. "Coming here, the counselors let us know that, big deal, we have HIV, but we are still going to get through this," said one camper who wants to become a Safe Haven counselor when he gets older.
Mr. Lombardi: "These kids have a depth of character that you don't see very often in a person. They have a great challenge that is life or death for many of them. When, like them, you have to face the reality of your terminality, it makes you appreciate the moment and enjoy everything that you do."
One of the most important parts of camp, most people involved agree, is the Remembrance Ceremony held at the base of Gay Head Cliffs. Members of the Wampanoag tribe assist with tribal dancing and singing, setting a respectful and reflective tone. Then the campers go down to the shore to remember those who are no longer with them.
"At the memorial, I remembered my dad," said one camper. "I was crying with everybody else, but then I made myself smile and sang Halleluja, and put a flower in the water for him."
Eliza Gowell, a Martha's Vineyard Regional High School student, was a counsellor at Camp Safe Haven.