It was Langston Hughes who asked, what happens to a dream deferred?
At age 10, Patricia Carlet first picked up a paint brush and began to dream of becoming an artist. She took private art classes and studied art in college. But soon, the real world — and all of its bills — caught up with her and that dream was put on hold.
Ms. Carlet became a teacher and later the librarian at the Edgartown School. While at staff meetings, she took out paper and pens and doodled. She doodled while talking on the telephone and while waiting for a friend to meet her for lunch. After 30 years as the school librarian, Ms. Carlet retired in 2004 and turned her full attention to art.
In his poem, Mr. Hughes wrote of the dream deferred: Maybe it just sags, like a heavy load. Or does it explode?
At the 19th annual Friends of Family Planning art show benefit next Friday, Ms. Carlet will explode onto the Vineyard art scene, her dream of becoming an artist fully realized. "I'm 70 years old," she said from her Vineyard Haven studio this week. "I've reached the age where I'm not afraid to put my art out there."
The art show is coming on the heels of another dream realized.
The Family Planning of Martha's Vineyard Clinic, which provides reproductive health and family services to the Island community, opened in 1978. Run from the Martha's Vineyard Hospital, the clinic began at a time when no gynecologists practiced on the Island. Since its first year, the clinic has rented office space and relied on state and federal grants, as well as donations and income-based client fees, to operate.
This winter, the Friends of Family Planning, a community group which supports the clinic, purchased a condominium on State Road. Just a few weeks ago, the clinic opened there.
"We now have a permanent home," board member Andrea Quigley said proudly. "We've been able to put enough money aside to make this a reality."
Ms. Quigley is the coordinator of this year's art show, which serves as the only fundraiser for the clinic. With the cost of renovations behind them and a mortgage looming in their future, this show will be an incredibly important one for the organization.
Almost 20 years ago, Island artist Liza Coogan and the late Michael Wild hosted the first art show to raise funds for the clinic. That show, held at Murdick's Fudge in Vineyard Haven, was a one-day event displaying the work of 70 artists. Since then, the show has moved to the agricultural hall in West Tisbury and has grown to encompass an entire weekend. The number of artists this year will top the charts at 120.
"We are so blessed to have many artists who have shown with us for many years," Ms. Quigley said. This year, the Friends put out a special call inviting new artists to join. "In the spirit of newness, with our new clinic, we wanted to encourage new artists to participate," she said.
The annual event kicks off Thursday with a preview gala at the agricultural hall. The party, which begins at 6 p.m., is open to all. Tickets are $40 and are available for purchase at the door. The live music of Jeremy Berlin and food from Jan Buhrman of the Kitchen Porch will provide the backdrop for the event, but the real draw will be the sneak peek at this year's artistic offerings, which include photography and paintings, wall sconces and porcelain figures, jewelry and handbags.
"It will be a really creative, really different feel because there will be a lot of new blood mingling with that great old blood," Mrs. Coogan said. After a 10-year hiatus from the event, she has returned this year to hang the artwork for the show.
On Friday, the doors of the agricultural hall will open to the public. The art sale runs Friday, Saturday and Sunday from 10 a.m. to 6 p.m. and is free and open to the public. The money raised will pay for clinic advertising, staff development, the free condoms available in the waiting and exam rooms and the mortgage on the new building.
"This is a really important year," said Friends vice-president Miryam Gerson. "We are hoping that people will really come out and support us."
"I have three daughters and four grandchildren," Ms. Carlet said when asked why she is making her artistic debut at this show. "I have always believed in a woman's right to choose, which is why I support Family Planning, because they do give young people that option."
Ms. Carlet plans to display eight of her abstract acrylic paintings at the show.
"[The clinic] is something that I've supported through the years, so I thought, why not?" said Berta Welch, a wampum jewelry maker who is teaming up with her husband, Vernon, to submit pieces to the show. Although seasoned art show exhibitors, this will mark the first time the Aquinnah husband-and-wife team have displayed their jewelry at the Family Planning art show.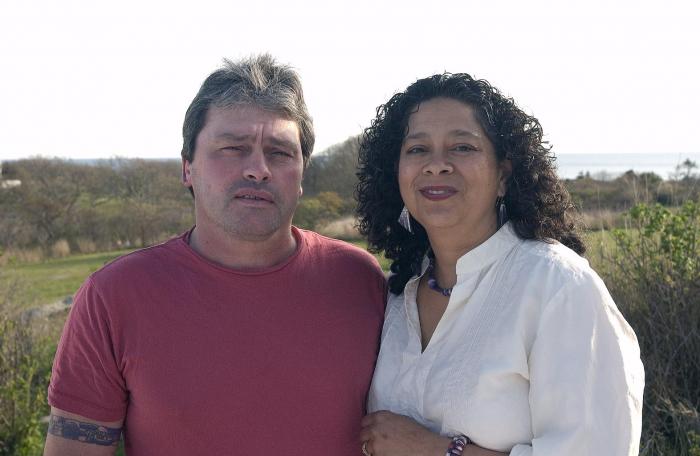 "I believe [the clinic] really provides a lot of various services to men and women of different ages and, with our health care system being the way it is, it is important," she said. "Parenting really needs to be planned. They're offering an incredible service."
For Ray Ewing, a high school student whose photographs will be on display at the show, the experience is a chance to share the spotlight with some of his Island mentors.
"This, I thought, would be a chance to really have my work displayed alongside the best work that's going on on the Island," he said. "It's a big venue, a big event."