The seeds are planted and the first hay harvested. Across the Island, farms are full of activity and, just as their farmers are busy with animals and crops, farming advocates are working tirelessly to protect the agricultural tradition here.
Despite all this hard work, there is little to no coordination of agricultural activities on Island.
On Wednesday, members of the Martha's Vineyard Commission met with a small but interested group of farmers, aquaculturists and farming advocates to discuss a proposed plan to form an Islandwide agricultural commission. By meeting's end, the consensus was clear: they need more coordination, but not another layer of bureaucracy.
"I would love to see more Islandwide coordination," said Ali Berlow, executive director of the Island Grown Initiative, a nonprofit group that supports local food and farming initiatives on the Vineyard. "Would this commission solve that? I don't know. What I don't want to see is overlap."
Farmer Donny Mills agreed. "There is a lack of communication between town boards and what's going on in agriculture," he said. "But my sense, and it is just a personal opinion, is that things like this tend to evolve into things they shouldn't be. Are we just creating another level of stuff that everyone has to jump through?"
The proposed commission, which would be comprised of local farmers and agriculture supporters, would act as a public advocate for farmers. It would have no permitting or regulatory authority, but would provide a link to state and federal agricultural agencies and grant funds. Locally, it would help coordinate ongoing efforts and take on new initiatives like mediation and advising town boards.
A resolution from the Dukes County Commission would create the group, which would operate without a staff or a budget.
There are more than 95 agricultural commissions in Massachusetts. The majority run on a volunteer basis and have no staff.
On the Vineyard, five organizations are working to promote and support Island agriculture. They are the Martha's Vineyard Agricultural Society, the Martha's Vineyard Shellfish Group, the Farm Institute, the Island Grown Initiative and the Vineyard Conservation Partnership. On occasion, the Martha's Vineyard and Dukes County commissions also take active roles in agriculture, but no public agency is now dedicated to the cause.
In November, the two commissions, along with the agricultural society, hosted a workshop on agricultural commissions. Members of the Dartmouth and Plymouth agricultural commissions as well as representatives from the state and national Departments of Agriculture gave presentations. The Martha's Vineyard Commission hosted a similar discussion the year before, but there was little turnout.
Following the November meeting, a small steering committee continued to meet and on Wednesday, they presented a draft proposal to set up the commission. But with an unseasonably hot summer sun above, crops to tend and animals to feed, the meeting drew only 10 people.
Prior to the meeting, the committee sent surveys out to 70 farmers and community organizations to gauge their level of interest. Only four came back.
"We got a glimmer of a response," said Jim Athearn, who owns Morning Glory Farm in Edgartown and is a member of both the Martha's Vineyard commission and the agricultural society. "But we didn't hear anything negative."
West Tisbury conservation commission chairman Prudence Burt, who has attended all previous meetings regarding the commission, disagreed. "I have talked to people who said, I don't have time to go or to get involved. I've also talked to people who said, I'm not in favor of this," she said.
Ms. Burt, who used to sell at the West Tisbury Farmers' Market and left the meeting early to pick up a delivery of hay, said she thought there was no need for a commission.
"I've gone through the list of what the commission could do and checked things off. Everything on here is being done," she said. "The downside of the idea is more redundancy, more repetition."
"There are a lot of things that are being done here, but there are some things that aren't," said Martha's Vineyard Commission executive director Mark London. "This could be an extremely lightweight, non-bureaucratic way to improve what's going on and identify what's not being done."
The idea comes as work continues on the commission's Island Plan, a comprehensive master plan for the Vineyard which includes a look at the agrarian community. "How do you translate a list of objectives, a wish list, into making them happen?" Mr. London asked. "Often, it's an entity. Ultimately, it is people's energies which make it happen."
It also comes as national attention to healthy and local eating is increasing, making it more important to recognize the needs of the farmers who supply this food. "There are all kinds of competing interests on this Island — environmentalists, developers. What harm would there be to have a more formed voice for the agricultural community?" Mr. London asked.
And with so many groups with similar goals on Island, some efforts are being duplicated and some issues go unaddressed. Rick Karney, director of the shellfish group, attended Wednesday's meeting and mentioned a map of local farms, released two years ago by the Island Grown Initiative. When it was printed, the agricultural society had been nearing the end of a similar project.
As the discussion wound down — after a full lunch hour and a half — Mr. Karney told those gathered about the Martha's Vineyard Water Alliance, a group which began to meet informally a couple of years ago to discuss water-related issues.
At first, the meetings drew eight to 10 people a few times a year. Now, the group meets once a month and draws crowds of 20 from different Island organizations concerned with water quality. The meetings are held at the commission offices. Mr. Karney suggested a similar group begin to meet to coordinate agricultural efforts and discuss farming issues, rather than immediately form a commission.
Those in attendance supported the idea. "This could provide a more formal link to the towns and the state," Mr. London said. As for the idea of the commission, he said it would be something to think about in the future. "It is not something not to pursue, we just don't have to rush," he said.
The group agreed to host a meeting of Island farmers and farming advocates in September. Until then, they will send letters to the five key Island groups asking for their support to continue investigation into the idea of an agricultural commission. The group will also seek input from town boards.
•
In other news, the haying season has gotten off to a good start and was further helped along by the weekend rainfall.
"It would have been good if we got the rain a little sooner, but we got it, so it helped," said Debbie Athearn of Morning Glory Farm. This weekend, her husband and sons harvested 390 bales from Leonard Athearn's fields and 400 from the Engley field on Edgartown-West Tisbury Road. "They would have loved to get 500, but we were pleased to get what we got," Mrs. Athearn said.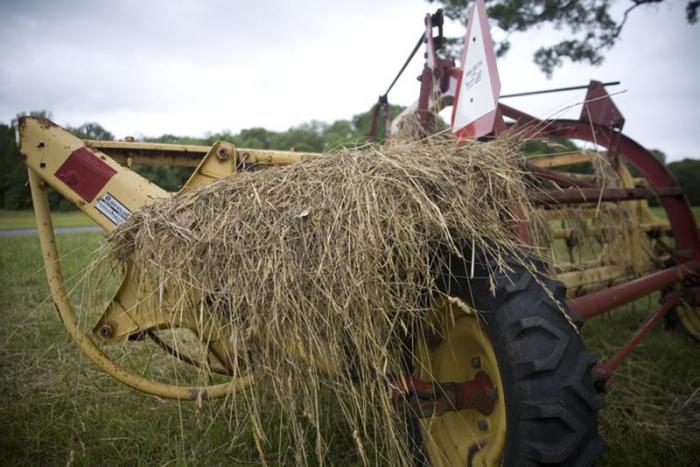 Up in West Tisbury, Arnold Fischer Jr. of Flat Point Farm said the dry weather made for good hay cutting last week. "I've never known a week where we've never even had the threat of a shower to worry about," he said. "It was a great week for making hay. Cut one day, bale the next."
Mr. Fischer said the yield has been down overall this year because of last year's drought and dry conditions this spring. Last year was the first season in recent memory where Mr. Fischer did not do a second cut of hay.
"I'm hoping we'll get rain this summer so we can get another cut in," he said. "Even yesterday, we got some rain, but it was not enough. But it was a great Father's Day present for me to have rain on Father's Day."
This column is meant to reflect all aspects of agricultural activity and farm life on the Vineyard. To reach Julia Rappaport, please call 508-627-4311, extension 120, or e-mail her at jrappaport@mvgazette.com.