When Paul Strauss and his wife Marion moved to the Island year-round 16 years ago after he retired from a long career in the scientific laboratory industry, he envisioned a leisurely life — one that might include him swinging in a hammock with his feet up with a book in one hand and an iced tea in the other.
After vacationing here with his family for nearly 30 years, he thought his decision to retire and move here full-time would bring with it the freedom to pursue various projects and hobbies, or perhaps explore the Island's many walking trails and beaches.
But Mr. Strauss, now 81, also wanted to remain active in the community to some degree, and after he and Marion moved into their home on Winemack avenue in Oak Bluffs, he checked to see if there were openings on any town boards or commissions. When he learned there was an opening on the conservation commission, it seemed like a natural fit. He had served on the conservation commission for many years when he and Marion lived Redding, Conn., and also served as a conservation commissioner when he lived in Carlisle, N.Y.
Never did he imagine that his appointment to the Oak Bluffs conservation commission would soon expand to serving on other boards, including those of Sheriff's Meadow Foundation, Friends of Sengekontacket, and the East Chop Association.
In 2002, Mr. Strauss campaigned for his first elected position on the Dukes County Commission and won easily. He was later named the county representative to the Martha's Vineyard Commission, and served on the Dukes County Charter Study Commission.
What it all adds up to is a lot of public hearings, countless deliberations and decisions and many, many meetings. Mr. Strauss says he started to attend so many meetings it started to feel like a full-time job.
"I came here to retire — but I was going to so many meetings it began to feel like a second career. Sometimes I would leave one meeting early just to get to another meeting," he said.
Not that he is complaining. After a full life of giving back to both community and country that included serving in the Navy during and after World War II, Mr. Strauss is proud to work for the good of his adopted home of Oak Bluffs and the Vineyard.
"As soon as Marion and I started coming out here fifty years ago, we knew it was a special place," Mr. Strauss told the Gazette earlier this week during an interview at his home with Mrs. Strauss at his side.
"We fell in love with this place right away," he said. "But I realized that the things that make it so attractive are the same things that make it so fragile — everybody wants a piece of it. After I moved out here [full time] I felt like it was my responsibility to see if I could help keep it a special place."
But if Mr. Strauss is not as excited about the copious amount of meetings he once was, it is not because they are taking away from his leisure time in the hammock or at the beach. Instead, it is because they have taken away his cherished time with his friends and family — most notably his wife.
"The one who suffered the most from the extended periods away was my wife, Marion. She, mostly, raised the children, tended the animals, managed the household and handled all manner of household chores and emergencies . . . this has not been easy on her," he said.
So with that in mind, Mr. Strauss announced last week he will retire on June 30 from his seats on the Dukes County Commission, the Martha's Vineyard Commission and Dukes County Charter Study Commission. He made this announcement in a letter he sent to the county commission last week, which stated his decision to retire was based on age and age-related health care issues.
"We don't know how much more time we have left . . . so we decided that we want to spend more time together."
But he is quick to point out that he is not totally leaving public service. He will remain on the Island Plan steering committee and will continue to serve on the town conservation commission, the first Island committee he ever served on.
By many accounts, the timing was right for Mr. Strauss to step down.
Just last year he was named the top conservation commissioner for the previous year by the Massachusetts Association of Conservation Commissions, a nonprofit environmental organization that oversees the quality and the protection of wetlands, watersheds and open space.
In his long tenure on the conservation commission, Mr. Strauss worked on wetlands and open space issues both locally and regionally, and also worked on creating the town's bylaw regulations and updating the open space and recreation plan. When asked what was the toughest issue was he ever faced as a member of any board or commission, he didn't have to think long for an answer.
"The Southern Woodlands," he quickly answered. "I think that was one of the toughest issues this whole Island ever faced."
Mr. Strauss, of course, was referring to the proposal by Connecticut developer Corey Kupersmith to build an 18-hole golf course in the southern woodlands of Oak Bluffs on top of an environmentally sensitive watershed for the Lagoon and Sengekontacket ponds. The plan divided the town, among other things leading a group of officials and residents to push for the town to secede from the Martha's Vineyard Commission.
Although he rarely tipped his hand during the application phase, Mr. Strauss was opposed to the project, which was not a popular position in some circles.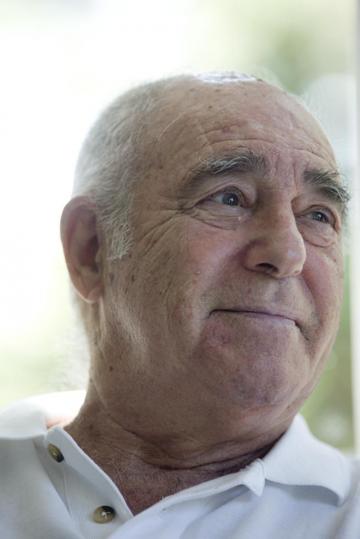 "I am thankful that is behind us now; it was a bad time for Oak Bluffs and the Island . . . it basically turned brother against brother. But I think we have come a long way and made a lot of progress in just a few years," he said.
Mr. Strauss said it will be hard for him not to keep tabs on the Martha's Vineyard Commission and Dukes County Commission. Old habits are hard to break, and he said he may continue to attend some meetings as a member of the audience.
But for now Mr. Strauss has plenty of projects to keep him busy. There are some pieces of oak furniture around the house, for example, he has been meaning to refinish, and there is some yard work that needs to be done. And he no longer has any excuses to put off the work.
"I just can't tell Marion I have a meeting and disappear until 10 p.m. — I don't have an excuse anymore."
But the thing he is most looking forward to is spending time with Marion, a constant presence in his life since they were married more than 50 years ago. He fondly recalls that it was Marion who actually found the home they bought and now live in, even though he was initially skeptical.
"We were looking for a house to buy," he said, "but it was almost impossible to find one we liked and could afford. So Marion told me one day that she found a house in the paper that seemed good, but when she told me it was in East Chop, I told her it would too expensive and to forget it."
"But I didn't forget it," Mrs. Strauss chimed in. "I called that same day and I talked to a real estate person, and we found out it was available and we could afford it."
Mr. Strauss then paused and looked at his wife with a wry smile, and praised her for not listening to him and showing good judgment.
"So from now on I clear everything with her," he said affectionately. "That's how I show good judgment."