She is most at home in the water and on it.
"My grandparents had a house on Morse street with a barn out back and they gave it to my parents when they got married. We called it The Shack and I was there from zero to ten. We would start coming Easter weekend and go straight through until Halloween and we'd be here all summer. We would load up the car Friday after school and we'd stay until Sunday night or Monday morning, depending on the tides. Dad was a fisherman, you know, so if the fishing was good, we'd stay."
And so began the love affair between Emily Bramhall and the Vineyard.
"When we moved to the house over on Fuller street, which overlooked Ox Pond Meadow and across to Eel Pond, we kept a boat in the mosquito ditch there and went fishing. We would take our Sunfish over to Cape Pogue, and I have great memories of shellfishing on Eel Pond. At least five times a week we'd have steamers for dinner. Maybe four times."
Like in any great love story, Ms. Bramhall and her Island grew closer over time.
"When I was at Putney," began Ms. Bramhall from her office atop the Main street Vineyard Haven shop which bears her name. She was talking about the Vermont boarding high school she attended and she paused to close the office door behind her so afternoon shoppers would not distract her and the sounds of cars passing below would be muffled.
She continued: "I took advantage of a six-week senior project and came down here to work for Bob Woodruff in the early, early days of [the Vineyard Conservation Society]. He ran out of things for me to do, so he loaned me out to the Martha's Vineyard Commission, which had just formed. I literally built their bookshelves. I just loved it. I loved all of it. It was a really heady time. The commission was brand new. It was exciting being able to define where we were going to go and who we were going to be."
It was March on Martha's Vineyard and Ms. Bramhall spent her nights in a waterfront shack. When the wind gusted up off the pond, the corners of the rugs fluttered. It was like a love letter scripted just for her.
"The Vineyard then was this really incredible place. The ideals and the values here were really different and they really spoke to me," she said.
When she graduated from high school, she returned to the place she had spent every single summer of her life. "I was accepted to colleges, but I knew I did not want to go. I knew I wanted to live here," she said. "So I moved here year-round and I never left."
She was 17 at the time.
Ms. Bramhall took a job at Helio's Restaurant, which stood where the Edgartown café Among the Flowers is today. When the restaurant moved to Vineyard Haven, Ms. Bramhall rebuilt it from the ground up. She tiled the bathroom, created the kitchen and sanded the floors. When it opened, she worked every job: manager, bookkeeper, waitress, busser.
"There is an expression in boating called coming up the hawsepipe," she said, referring to the nautical term for climbing up the ship's ranks. "That was my education," she said. "I did every job there was to do." After a few years at Helio's, Ms. Bramhall took a job at an Irish imports store in Edgartown.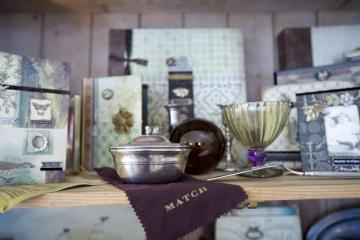 She comes from an artistic family. Her father is the noted Island painter Kib Bramhall and her mother, Tess, worked as a guide at the Museum of Fine Arts in Boston. Both of her grandmothers did needlepoint and showed her the craft at an early age. She taught herself to knit and bought her own sewing machine at 13. "I was always surrounded by art," she said. Her exposure grew at Putney, where she took classes in textiles, jewelry making, pottery and stone carving.
While working at the imports store, Ms. Bramhall developed her love of antiques and textiles and began to dream of owning her own shop. Her manager there, Tharon Dunn, already owned a store on Nantucket and wanted to open another on the Vineyard. She asked Ms. Bramhall if she would manage it. "I said no, but I would be her business partner," she remembered with a smile.
Even at 25, her confidence was unshakable.
The two opened Bramhall & Dunn, a textiles shop in what was then Crispin's Landing, a collection of art stores on Main street Vineyard Haven where LeRoux at Home is now. "I knew I wanted to be in Vineyard Haven. I wanted to be in a year-round community," she said.
The year was 1983; downtown Vineyard Haven was as practical as can be.
"There was something for everyone in this town. It had real character," Ms. Bramhall said. "CB Stark was here and Rainy Day, although the post office was where it is now. Cronig's was still in town and there was Yates Drug Store. Shirley's was in town and Murray's and Vineyard Dry Goods. It was a real year-round working town."
Ms. Bramhall stocked her small store, 500 square feet, with hand-knit sweaters and books on knitting. She had dreams of selling her own goods as well. "I had my own loom by this point and I thought I would weave in the winter and sell my own things in the store in the summer. I got two scarves woven and I don't think I've done anything else since. I still have the loom, though," she said.
"I remember opening day I was really nervous. You've borrowed a lot of money and you're really going out on a limb. This is your vision of what you think people are going to like and it's a creation, just like a book is a creation or a painting is a creation," she said.
But Ms. Bramhall had nothing to worry about. The store immediately gained a following.
"I remember I had bought this $210 sweater. That was an as-tro-nom-ical amount of money then," she said, drawing out every syllable. "It was hand-knit by a woman in Vermont with silken wool and I put it out and I thought, this will never sell. It sold the first night."
After four years, Ms. Bramhall moved her store to its present location smack dab in the center of Main street.
"Moving was another big gulp," she said. "It was four times the inventory, a huge increase in rent and we did huge renovations," she said. To fill the space, Ms. Bramhall began taking trips to England to buy antique furniture and hung her father's paintings on the walls. She stocked the shelves with towels and fine sheets, glassware and pottery and, as always, the knit sweaters.
"I wanted this to be a place where you could find anything that was beautiful, but practical to live with. I wanted to create a home style," she said. "At the time, this was a very radical idea. There were department stores then, but there wasn't anything like this." Not just on the Vineyard, but anywhere. "I remember three years after I opened, a similar store opened in New York city and it received all this press. I just sort of chuckled," she said.
For a few years, Ms. Bramhall operated a second store in West Tisbury, where the Granary Gallery is now. She was travelling to England to scout out antiques and sweaters at least twice a year and she filled the second location with furniture. "It was really fun and exhausting and hugely successful," she said.
But time passes and styles change. The antiques dealers she frequented began running low on stock and she closed the second store when the gallery owners wished to expand. Knitting turned passe and polar fleece came in, so Ms. Bramhall ordered jackets instead of sweaters. When she had children, she began selling children's clothes. She grew older and needed reading glasses, so she sold those as well, in bright colors and classic styles. And as her daughter Ty grew older, her taste influenced the store as well. "I give complete credit to Ty for the cowboy boots," Ms. Bramhall said of the now signature Bramhall & Dunn footwear.
The boots — they come in colors teal and brown and red, styles both high and short — line the store shelves. Next to them are stacked cereal bowls with pink and green polka dots. Photo albums lie on coffee tables upstairs and bangles and books and note cards are tucked into the store's nooks and crannies.
Ms. Bramhall denies any attempt to stay ahead of fashion. "I've just always bought what I've liked. I'm not trying to lead a curve," she said. "The things that I buy don't go out of style. They are timeless, but not dated."
Just as her merchandise has changed, so too has the town. "It's definitely really changed. It was sad, seeing all those stores leave, because it was one of the things that drew me here," she said. "It was a classic small town. It had everything here and I really liked that. But I still really like it. Now it has become the location on Island for home furnishings." Ms. Bramhall has watched as a number of stores have opened nearby with inventory which echoes her own. "With time, everybody has stuck to their vision and there is a place for all of us," she said.
This spring, Ms. Bramhall celebrated all of this change with a birthday and an anniversary. She turned 50 this year and her store turned 25. "That's big," she said. "That's half my life." It is a milestone she shared with her children, both of whom spent the first six months of their lives in cradles on the store floor. She shared it with her staff, whom she praises, and her clients. "I have a terrifically loyal clientele. It's one of the tremendously rewarding things about this job. There are people who make this their first stop off the boat and people who make it the last stop before they go home," she said. "They come in here like it's their store."
Above all, it was an event she shared with the Island she loves and the water she feels at home on. "Did I ever guess that I was going to own a retail store?" she asked of no one in particular. "No," she replied. "But," she shrugged, "this was where I wanted to live."