It is the last Tuesday in July. The asparagus is long gone. Sugar snap peas have departed. Strawberry season has come and gone. But still there is much to look forward to. There are blueberries for sale and red, orange and even purple tomatoes ripening on Vineyard vines. There are cows to be milked, rains to be thankful for, sweet corn to eat by the dozen. August is just around the corner.
•
In Chilmark, Susan Murphy reports a stellar start to the blueberry season. "I've never had such a good season. We've had more this year than in the 22 years we've had our plants," she said yesterday morning.
The reason is anybody's guess, but Mrs. Murphy has one suspicion. "The moments for pollination were perfect," she said. "Everything can be right, but if it's rainy or cold when the flowers open, then the bees won't pollinate and I think this was just true all over the Island because everything is so lush right now."
Mrs. Murphy has been selling at the past three West Tisbury Farmers' Markets and has also opened her Rumpus Ridge Road bushes to do-it-yourself pickers. "I have enough this season that I can really share the bounty," she said. Her berries are grown without pesticides, herbicide and chemical fertilizers. To schedule an appointment for picking, call 508-645-2883. Price is $6 per pint picked, $8 a pint at the market.
•
On Middle Road, Allen Healy has two new Jersey cows. Mr. Healy is now milking three cows at his Mermaid Farm and will be milking four in August.
"It hasn't been so hot this year, so they're doing all right," Mr. Healy reports. "There has been a good milk turnout. We are a little short right now, but we have enough to meet the demand for now."
His wife, Caitlin Jones, said the tomato season has had a good beginning. "The tomatoes look surprisingly good this year," she said. "It just seems like they didn't get an early blight this year." She said the season will hit full swing August 10.
Ms. Jones has planted some new varieties of the heirloom tomatoes this year, mostly bicolored ones and cherry tomatoes. They are available at her stand just off the road. A cash box is there for customers and transactions are on the honor system. The bright-colored tomatoes are all sizes and their sweetness makes an eater pause and think: should I really chop them into salad or just eat them for dessert? The Chilmark chocolates and summer fruit pie went back to the cupboard for another day.
•
On South Road, it is all chickens and talk about the recent rain. "Our chickens are really growing," said Clarissa Allen of the Allen Sheep Farm. "And we are so grateful for that rain, our fields were just all burned up. It's hard if you're grass-based and you don't get rain. The grass isn't growing and the animals aren't putting on the weight. You want your grass to be growing and you want rain, much-needed rain." In her garden, Ms. Allen is eagerly awaiting tomatoes. "We've planted lots and lots of old heirloom-y ones," she said. The plants were started over in Ms. Jones' greenhouse.
Last week, Ms. Allen and her husband Mitchell Posin and son Nathaniel took an evening away from the farm to hear author Michael Pollan speak at the annual Slow Food Martha's Vineyard potluck and fundraiser at the agricultural hall in West Tisbury.
"I thought he was fabulous, wonderful, inspirational and there were a lot of farmers out," she said. "He's kind of tying all the pieces together, the whole notion of why local is good. I think the amazing thing that he said was don't eat anything your great-grandmother wouldn't recognize."
•
In West Tisbury, Doug Brush and Jeff Munroe of Flat Point Poultry held their second and final slaughter day for the summer. By Friday afternoon, all 216 birds had been spoken for. The two men slaughtered roughly 400 birds this summer. Though they had initially thought of continuing their pastured poultry community supported agriculture venture on into the fall, Mr. Brush said this run marks the end — for now — of the project. "Everything's going really well, but we are thinking of changing to a totally free-range system," he said. In a few weeks, Mr. Brush will receive a small batch of chicks. As a trial run, he will let the birds range free in a small wooded area surrounded by electric fencing. "This will be a small run just for family," he said. "Next summer, people can expect a whole new operation."
•
At Bayes Norton Farm in Vineyard Haven, summer crops are in. "Tomatoes, which are a big crop of ours, are starting to come in heavy," said Jamie Norton, who owns and runs the Edgartown-Vineyard Haven Road farm and farm stand.
The tomatoes — cherries, Juliets, Sweet One Hundreds and Supersonics — are all red and ready to be picked. Baby potatoes and beets also are being dug.
"The fingerlings are the most popular baby potatoes we've got going on right now. They started coming in 10 days ago, but they're being dug heavy now and we're selling lots of beets," Mr. Norton said. "They started coming in two weeks ago, but now they're getting bigger and we're selling full-sized, not just baby beets."
It's been a good season overall, he said. "The peas and strawberries were good. You know, at the end of June, the strawberries can get moldy because of all the rain, but this year, that didn't happen because it was so dry." And speaking of rain, Mr. Norton was very happy with Sunday's storm. "That's helping the eggplants and the squashes," he said. "And the peppers are just starting to come in, too."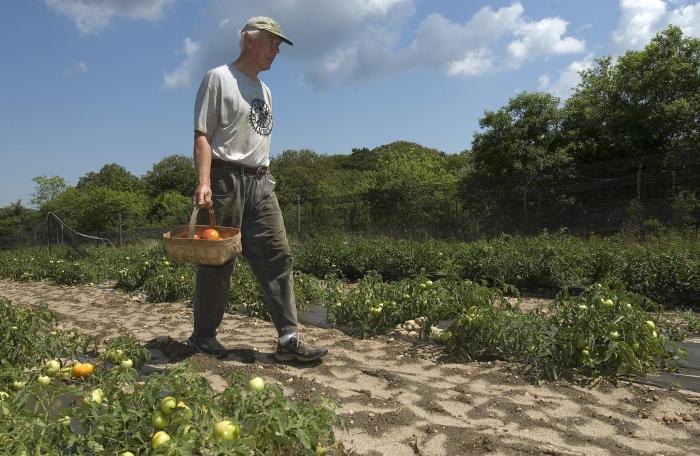 This column is meant to reflect all aspects of agricultural activity and farm life on the Vineyard. To reach Julia Rappaport, please call 508-627-4311, extension 120, or e-mail her at jrappaport@mvgazette.com.