As Vineyarders are bogged down in renewable energy regulations and the Cape Wind project languishes, some Island kids are well aware of what adults are just beginning to understand; "solar ovens/ and solar cars/ will make you all/ into stars/ . . . to prevent global warming/ you can turn off lights/ when it's storming/ you don't fly your kites."
These rhyming, truthful lines are part of the Energy Rap, a song composed by the campers at Sense of Wonder Creations, a day camp in Vineyard Haven run by Pamela Benjamin.
Last Friday, the campers and counselors celebrated the joyful conclusion of the program's 18th summer. The campers were eager to talk about what they had discovered through their experiences.
"We learned to save energy. We built solar cars, and windmills, and we learned that we should buy local food. We got to milk goats and made our own pasta," said Caroline King, referring to when counsellor Doug Brush brought ingredients from his family farm to feed the hungry children. Haley Dolan enthused, "I learned a lot about the environment and even more so about global warming and keeping peace around the world."
When asked what he though was good for the planet, Hoffman Hearn, age six, replied, "Trees. Leaves. I think that's all." Young Mr. Hearn is Ms. Benjamin's grandson.
Garrett Hagen showed off his new and functioning solar car he had built at camp. The eco-friendly model crawled up the hill; eying its sluggish performance, the young engineer explained, "It's pretty good, but it works better when it faces the sun."
Besides learning about how technology might provide us with cleaner, more sustainable kinds of energy, the kids spent their summer launching model rockets made from plastic bottles, swimming in Vineyard Sound, painting, making drums from recycled materials, and swinging on a huge rope swing.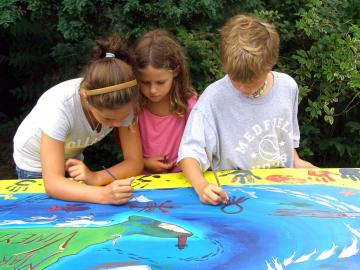 Pam Benjamin, the founder and director of Sense of Wonder, wants her charges to have fun while simultaneously widening their world view.
"The goal of the camp is to blend the creative arts with an awareness of caring for the environment, appreciation of ethnic diversity, expanding young people's understanding of peace and justice, and doing local and global community service," she said.
The latter two goals were evident during Friday's celebration. A giant papier-mâché manatee graced the premises, engaging viewers with its limpid bovine eyes. The creature is to be auctioned off next summer using raffle tickets that art patrons can purchase during the year. The proceeds will benefit endangered species.
Aquatic mammals are not the only creatures to benefit from Sense of Wonder. Campers held a walkathon to raise money for the Mother Teresa orphanage in Port Au Prince Haiti and the Children's Education Fund at the Felix Neck Wildlife Sanctuary.
The campers also painted a giant mural of Martha's Vineyard, complete with lighthouses, octopi and swirling schools of fish.
The mural will be sent to the orphanage in Haiti; "It is a cultural exchange," said Mrs. Benjamin, "We are sending them something and they will send us something back."
Over the course of the summer, the campers have learned a lot, and many hope to return next year too. One of the junior counselors, Julia Sharp-Levine, said she had been going to the camp for ten years.
"On a scale to one to ten," said Margaret Joba-Woodruff, "I would give the camp a nine-and-a-half." That is to say it is, in a sense, wonderful.