You really need a plan if you're venturing out this weekend. More than a plan — a strategy. And sustenance — no, on second thought you can just work stops for free snacks into your strategy. But sneakers might be a good idea, for sprinting between events during this, the annual Christmas in Edgartown weekend extravaganza.
Or maybe just forget all that and take a sanguine, Santa's-coming-to-town approach to walking around the whaling captain's village for the whole weekend.
There are reasons to leave Edgartown over the next couple of days — tomorrow is cider and cocoa at the Allen Farm, and Offshore Ale is having cookie decorating and ornament making for the kids (while the parents enjoy their own drinks, perhaps?) on Saturday afternoon, while on Sunday Sail MV's maritime art show in Vineyard Haven has a drop-in reception most of the afternoon with very boaty and beautiful art for bargain, benefit prices — plus free snacks. We won't factor in Chilmark Chocolates because you were probably in the lines there last weekend and have your candy boxes wrapped and ready.
There are many, many reasons to simply admit you can't do it all and stay where things are concentrated: Edgartown. You've already missed the bank's wine and cheese party, and free snacks at the Harbor View — those were last night — but fear not. You can begin right now with free snacks, I mean, hors d'oeuvres, at the sleek Détente restaurant in Nevin Square, from 2 to 5 p.m. Or maybe leave those for now, because they are available again tomorrow, and one of the big daddies of the whole program comes now, this early in the weekend: the fabled Evening of Enchantment at Donaroma's Nursery. They roast chestnuts. They have egg nog (with and without). They ring bells, sing songs and serve cookies. And the lights, oh the lights, it's positively Seussian, the lights that lead from path to path, to greenhouse to greenhouse, to that shop filled with flowers and trees and ornaments and candles. Just try to leave Donaroma's without a bag of something for someone you previously didn't know what to give; you can't do it.
The Martha's Vineyard Preservation Trust's holiday cocktail party beckons some (the quite well-dressed) instead to its nosh-up at the Dr. Daniel Fisher House. But then, hallelujah, the enchanted and the cocktailed can gather together at 8 p.m. for the Minnesingers' concert at the Old Whaling Church.
Ten o'clock, Saturday, it's places along Main street for the holiday parade. You know, animals, guy in red suit, that sort of thing. If you need to be more creative, head back to Donaroma's and learn to make your own wreath at a workshop that also begins at 10 a.m., paying only for the materials, not the expert help with getting ypur bow to look like theirs. Then again, if you have to be the very first shopper into the Handmade from the Heart benefit sale for Hospice of Martha's Vineyard, it also begins at 10 (some shoppers suggest repeat visits throughout the day, others schedule their stop for around 3:30 p.m., ready to open their wallets and buy up whatever's left in the last few minutes).
If you've got kids there for the parade, surrender. Head for the Elves Faire at the Federated Church on Saturday. Pack a few fivers and let them make gingerbread houses, ornaments, hats, who knows what . . . while you peruse the silent auction items (again, serious shoppers will factor the closing time of the auction into their strategy). If the kids are not too sugared up, there are Santa photos to benefit Big Brothers and Big Sisters at Past & Presents on Main street from 11 a.m. to 1 p.m.
The Martha's Vineyard Museum is free all weekend, but Saturday there are extra events to consider: a ghost tour leaves from there at 11 a.m., while a jewelry jingle — sort of a local, live eBay for second-hand personal ornaments — takes place from noon to 4 p.m. In between it all, there are open churches, open art galleries, open inns, even open house at Murdick's Fudge. The lighthouse is offering tours, too, and there are open crafts at the library and authors signing books to keep at Edgartown Books.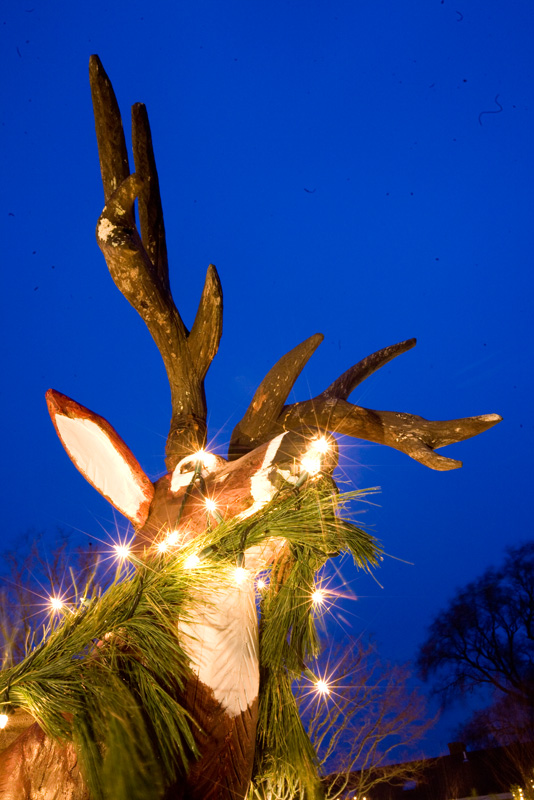 By lunch, you have more choices to make. There's the Christmas shoppers luncheon downstairs at the Whaling Church and there's the chowder contest on Main street. If you skipped lunch, remember there's a cookie tasting at Espresso Love cafe behind the courthouse, hot cider and hot chocolate on Main street and those snacks at Détente. Eat something before the 3 p.m. wine tasting at Soigne — nobody wants you sloppy at the encore Minnesingers family show at 4 p.m. or the tree lighting and carolling at 6 p.m.
But will you stop there? No, no, it's the most wonderful time of the year, the time you can't say no. Breakfast with Santa is Sunday morning at The Wharf, why not order eggs and bacon? Let the children enjoy the treasure hunt that starts at Past & Presents (10:30 a.m. to 2:30 p.m.) and then ink — not pencil — yourselves in for the winter walk at Felix Neck from 1 to 2:30 p.m. (In fact, maybe you should stop by the MSPCA's weekend booth at By the Sea and consider adopting a dog so you have to walk every day.) Might as well have your gifts wrapped at the movie theatre while you're on the walk. Then again, if there are so many you have to leave the packages for those hours, maybe you should factor in buying a lottery ticket some time earlier the weekend. You may need it.