It was a jam-packed week in Vineyard sports, with high school teams playing a full slate of games, two charitable golf tournaments and the annual bike ride to raise money for Multiple Sclerosis. And recreational and youth teams — including youth lacrosse and little league — have entered the stretch run of their seasons.
Girls' Lacrosse
T he regional high school varsity girls' lacrosse team remains undefeated halfway through the season at 11-0-0.
Led by coach Betsy Dripps, the Vineyarders advanced to the third round of the state tournament last year, and things are looking good again this year. The Vineyard girls lead the Maritime League with a 10-0 record and played their toughest stretch of the season this past week — including four road games in five days.
The biggest challenge was last Wednesday against Falmouth, when the team fell behind in the second half 6-5, one of two times all season they have trailed.
Coach Dripps said it was a great gut check for her team.
"We haven't been in many close games. But the girls knew what they had to do, and they got it done," she said.
The game started with two quick goals by Laura Jernegan, who leads the team with 37 goals and is second with nine assists. Teammates Hayley Pierce and Cristine Wiley added goals to make it 4-3 at the half, and Pierce added another goal in the second half to give her a team a two-goal cushion.
Then Falmouth scored three unanswered goals in the second half to it make it 6-5. But the Vineyarders were undeterred; Jernegan scored the equalizer with about six minutes left on the clock and Molly Fischer scored the game-winner two minutes later to seal a 7-6 win.
Coach Dripps said it was truly a team win.
"Our defense shouldn't be overlooked, they were outstanding . . . [goalie] Zoe Fisher was incredible, she made eight saves and kept us in that game," she said.
The Vineyarders took on a talented team from Bishop Stang the next day, but once again jumped out to an early lead on a goal by senior Ana Cristina Jurczyk, who redirected pass from Jernegan. Goals by Pierce and Jernegan followed, although Stang kept it close through the first half, tying the contest twice.
But the Vineyarders reeled off three quick goals to begin the second half to put the game away, and won 17-10. Zoe Fisher made 15 saves, while Olivia Gross, Lonni Phillips and Taylor Chisholm all played well on defense.
The girls got off to a slow start against Barnstable the next day, falling behind by two goals early. But they went on a tear later in the half, as five different players scored six unanswered goals. When the smoke cleared the Vineyard lead 8-4 at the half, and won 12-9.
At home against Dartmouth on Tuesday, the team was behind 7-5 at the half. But in the second half they scored nine unanswered goals in 20 minutes, winning 15-9. Jernegan had one of her best games of the season with five goals; Kate Cecilio had four, Pierce had three and Wiley had two.
"We're on a roll," Coach Dripps said after the win. "Let's hope we can keep this up."
The Vineyarders next play at home tomorrow at 3:30 p.m. against Barnstable.
Softball
The softball team is also off to a strong start with a record of 5-4, despite playing in the Eastern Atlantic Conference, one of the tougher leagues in the region. The Vineyarders will not officially become a member of the EAC until next year, but are playing most of the teams in that conference, including Bishop Feehan, Bishop Stang, Somerset and Cassidy Coyle.
Coach Josh Burgoyne said there are no easy games on the schedule.
"We have our hands full with these Eastern Atlantic Conference teams . . . there isn't a lot of room for error," he said.
The coach said his team has a realistic shot at qualifying for the state tournament, but will need to win a majority of their games from here on. There have been several highlights already this season, such as last Friday's 24-6 drubbing of Mashpee on the road, and last Monday's no-hitter by Caroline Davies, also against Mashpee.
The coach praised Davies for her performance in Monday's 15-0 win, noting that she was only slotted in to pitch after junior Martha Scheffer went down with an injury earlier this season (Scheffer has since returned). The young players have done well, the coach said.
In last Monday's win, Alisha Oliveira, a sophomore making her first start on the varsity team, went three for three with two RBIs. Third baseman Holly Robinson made several spectacular defensive plays to preserve the no-hitter.
"The team was amazing behind Caroline [Davies], they made plays when they had to," Coach Burgoyne said.
Later in the week the girls lost to Coyle Cassidy on the road 12-0, and then lost 18-2 to Bishop Stang at home. But they returned to their winning ways last Friday against Mashpee, piling up more than 20 hits and scoring an eye-popping 17 runs in one inning in a 26-4 blowout win. The game wasn't as close as the final score indicated, as the Vineyarders were up only two runs heading into the sixth inning.
But a key hit by Katie Hines helped the team put on a crooked number, as the team batted around and everyone in the lineup had at least one hit. Leadoff hitter Taylor Perrotta went three for six with four runs, Emma Frizzell reached base all six times at the plate with three RBIs, Robinson had three runs and three RBIs and Gail Herman had three RBIs.
Games were cut back this week due to poor weather. The girls next play at home on Tuesday at 3:30 p.m. against Cape Tech.
Baseball
Baseball coach Gary Simmons remains upbeat.
"I think this is as excited as I have ever been about a 2-11 team," the coach said cheerily. "The record may not be great, but things are looking bright for later this season and next year."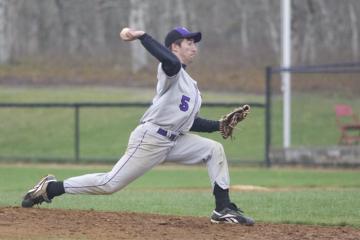 With only two wins on the year the Vineyarders won't qualify for the state tournament. But this has allowed the coach to dip into the junior varsity team and bring up talented freshmen and sophomores. Freshman Will Stewart looks promising as both a position player and pitcher, while freshman Mike Montanile has also been sharp at third base.
Sophomore Anthony Piland has been solid as starting second baseman. And sophomore Ben Ciciora has quietly established himself as the team's number one starting pitcher while splitting time playing first base. Sophomore catcher Jack Wadleigh has also played well behind the plate.
"This group coming up are smart and talented. They do things on their own, you don't have to tell them what to do as much, they are mature for their age," Coach Simmons said.
Boys' Tennis
The tennis team is 6-4 on the season this week, after easily defeating Bishop Stang but once again falling to powerhouse Cape Cod Academy in straight sets.
In the match last Thursday at Bishop Stang in North Dartmouth number one singles player Andrew McHugh was perfect, winning 6-0, 6-0. Teammate Reid Yennie was also dominant, winning 6-2, 6-2, while the doubles team of Win Grimm and Dylan Hutchinson won 6-1, 6-1. Grant McCarthy and Thomas Tilton-Heylin also won in straight sets, 6-4, 6-2, at second doubles.
Nik Wojtkielo was the only one to be stretched into a third set, but still won fairly easily at 4-6, 6-4, 6-4.
The Vineyarders lost on Wednesday on the road against rival Cape Cod Academy. McHugh played well against the Cape's number one Jon Zelman, but lost in straight sets, 6-4, 6-3. Reid Yennie fell to Eric Eldridge 6-1, 6-1, and Kyle Morgan fell to Tyler Kugler, 6-0, 6-1.
Cape Cod Academy is undefeated.