The general impression is that the West Tisbury Farmers' Market is having a slow start to its 35th year. Farmers are weathering a recession as well as the persistent rains which are dampening the enthusiasm of crops and shoppers alike.
Nailing down anything more specific, though, is hard work. There are 40 vendors at the West Tisbury market and as many prognostications about the coming season. The market opens from 9 to noon tomorrow for its second Wednesday, and for the fourth Saturday, July 4.
Other signals are mixed, too: Richard Harwood, who was managing the parking lot Saturday morning, was too busy wrangling cars in the parking lot to utter more than a few syllables. He pointed to the fresh mud in the parking lot where a silver BMW was spinning its wheels, saying it made his job harder but that it was early in the season and trade tends to pick up in July.
"This is busy though, the lot is filling up," he said.
There weren't the clamoring masses waiting before nine to pounce on the fresh produce in and around the Grange Hall. There are just a few cars on the curbs which often are lined on a Saturday morning at this time of year.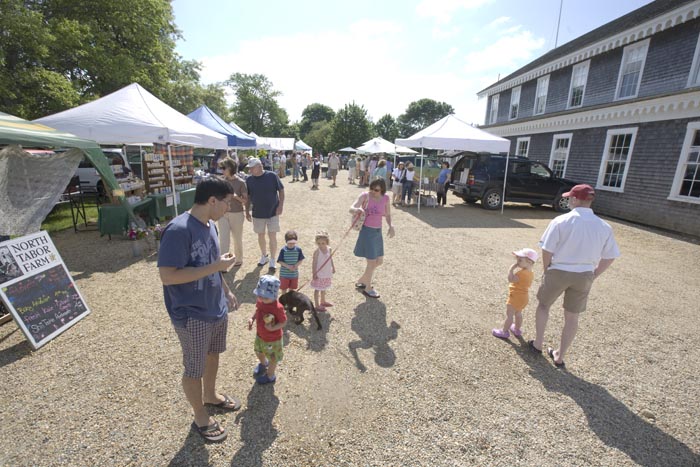 Yet Linda Lee Alley, who has been making jams for 20 years, is having a great season. She is comanaging the market this year in a role which rotates between vendors on an annual basis.
Others are struggling, she acknowledged, something Ms. Alley puts down to poor weather and poorer economy.
"We want some sunshine, especially for the farmers, but the market is okay on a cloudy day because people come here rather than the beach. The market is on rain or shine," she said.
Personally, though, her jams are going as fast as she can make them.
"When I'm not making jam, I'm asleep or paying bills," she said.
Ms. Alley produces around 6,000 jars of jam per season, working out of her kitchen and using fruits from farmer friends. Her grandmother made jams, and one summer, 21 years ago, Ms. Alley decided to make some, too.
"I had some surplus berries and thought, well, I think I'll make some. And then I went to the market one day — there were much less restrictions in those days, and I thought, wow, this is really fun. I like that it's my own thing and I love being in my house [making jam]. And it's great to see the same faces every year, the July people, then the August people," she said.
Comanager Deborah Koines is doing slower business than usual at the Little Rock Farm stand, selling pies, other baked goods, iced coffees and pickles.
"Every year I do better than the previous, and this year I'm down for the first year in a long time," she said, "and I've seen farmers going home with produce. This isn't scientific or anything, but there might not be as many people making food at home. Those regulars I would see coming to get food they took home to cook, I haven't seen. Maybe they're trying to rent out their place.
"But maybe it's too early in the season. I know Linda's doing really good, and actually last weekend I did as well as last year."
Jacquie Balaschak of Katama Honey is sure: this is a bad season.
"It's a tough, tough year for bees," said Ms. Balaschak. She lost 30 per cent of her hives this years to the Asian mite that has devastated the American bee population since the late 1980s.
Then once she gets the produce to market, selling it is another quandary. The economy has left people less willing to pay the little extra for local and organic produce, but she also is also worried about the competition.
Though the West Tisbury remains the pooh-bah of Vineyard markets, many others are cropping up around the Island.
The Down-Island farmer's market is open Tuesdays 11 a.m. to 3 p.m at the Tisbury wharf, selling organic produce, baked goods and Island arts and crafts.
In Edgartown a farmer's market is launching next Friday in the parking lot of the Edgartown School, run by members of the school parent teacher organization (PTO). Parent Lucia Hayman is coordinating the market, which she hopes will be a fundraiser for the school.
She hopes to have 15 to 20 vendors, from the Farm Institute to a ready-made food stand run by Jan Buhrman of Kitchen Porch catering, and produce from Morning Glory Farm.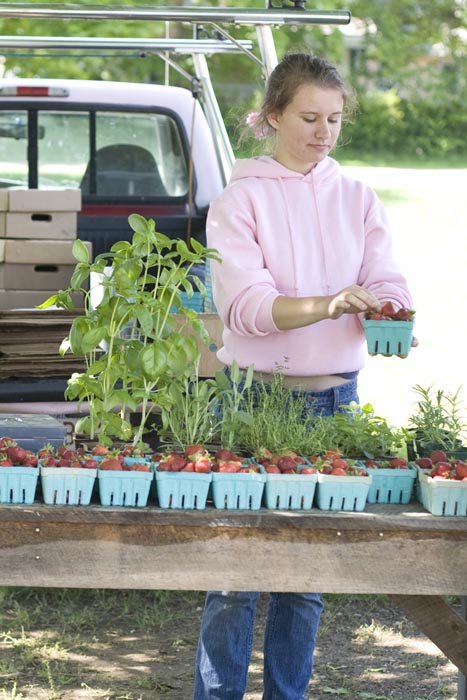 The school is keeping an 18-bed garden and Ms. Hayman hopes there will be harvest for a stand run by students in sixth to eighth grades. Money from that stand will go back into the Edgartown School garden coffers, and a small fee levied on other vendors will go to the PTO fund. The PTO is focusing on raising funds for classroom smartboards, and they also organize ice cream socials and dances at the school throughout the year.
"There's no farmers' market in Edgartown. There's great parking there, and it's kind of the back door to Edgartown," she said.
ECO MV plans to set up a stall on Main street, Vineyard Haven, to sell their products and, when available, produce from the Farm Institute, at the site of Cafe Moxie restaurant which burned down this time last year. They hope to open July 19 following a selectmen's hearing.
A low-key craft and farmers' market on Chappaquiddick runs from 4.30 to 5.30 p.m. on Wednesdays starting next week until at least the end of August and probably into September.
In its third year, the market is expanding exponentially, but it's all relative — this year resident Margaret Knight is predicting between four and six tables.
And, given the recent weather, market regular Will Geresy isn't sure he'll have anything to sell come next Wednesday. Mr. Geresy lives at Wasque, where the weather has been particularly gruesome he reckons.
"My garden's a disaster, it's all gone to seed," he said.
Mr. Geresy's garden usually reaps lettuce, tomatoes, beans and other staples. He grows organically, which makes the process even tougher.
"It looks awful. What little lettuce I did grow bolted, and I've got nothing for the market," he said, "I'm just trying to guard against the onslaught."