Her camp is the longest running, volunteer-operated overnight camp in the United States for children and adults with disabilities. Helen Lamb founded Camp Jabberwocky over 50 years ago on an impulse to do something good, and she did it, as she does all things, in a way that was pragmatic, efficient and sustainable.
Next month Hellcat, as Mrs. Lamb is affectionately known by hundreds of Jabberwocky denizens, and her camp will receive the prestigious Ruth Bogan Creative Living Award. Given by the Permanent Endowment Fund of Martha's Vineyard each year to an Islander who embodies the spirit of Island living, the award includes a $500 honorarium.
But during an interview at her home in Swansea on a recent Sunday, Hellcat is rather nonplussed by it all.
"Creative living award? Well, when we started camp, we certainly had some creative living," she says brusquely, placing her still-vital, 95-year-old frame on a straight-backed, thin-cushioned chair in her off-Island sitting room.
Today the camp, centered on a rolling, tree-covered campus on Greenwood avenue in Vineyard Haven, has spawned a network of Jabberwocky programs, including affiliated camps in Mississippi, Nantucket, Oaxaca, Mexico, Vermont and Venice Beach, Ca., one documentary film, two genre features and a hit cable television show.
Napoleon, the big red school bus that carries Jabberwocky campers to their endless summer engagements that range from the upcoming Fourth of July Parade (where their float has been a must-see, perennial first prize winner) to the town-designated spot on State Beach in Oak Bluffs, has become a familiar symbol of joy, laughter and a healthy dose of nonsense to Islanders seasonal and year-round alike.
And despite some schisms and tension in recent years (all suitable for another story), the Jabberwocky philosophy has remained constant: give the parents and caregivers of children with severe disabilities a break, and give the children themselves a break from the endless corrective therapies and stress of trying to function in a world that seems designed for everyone but them.
In her sitting room in Swansea on this day, Hellcat describes the camp's humble beginnings: "You see, the first time I had camp, I had a little tiny cottage by the Tabernacle, in the Camp Ground in Oak Bluffs. Very tiny. There were two bedrooms upstairs; one and a half, I guess you could say. And I had one counselor with me, a high school girl. She was an excellent counselor and she still befriends me to this day. We had six children a week . . . Now, you probably know that in poor families, very poor families, when this [disabled] child is born, the husband takes off. He doesn't want anything to do with it, nothing. Absolutely nothing. And then he goes, and the wife is left alone . . . but what I've found is that as soon as this child was out of the house, the husband returned. So then I thought of, well, the camp. I thought, I'm going to run a camp this year for one month and see how it goes."
Her nickname can be traced back to the first few years of camp and had to do with her notoriously erratic driving skills. One summer, while the camp was still at Happy Days cottage in the Camp Ground, her son John, age 8, had a young friend named Arthur, age 10. She recalls: "Arthur drove somewhere with me one night, I don't know were I was going, but when he came back, he said 'Well, if anyone wants to go with Hellcat then go, I'm not going anymore.' And I don't think he did. That's how I got my name of Hellcat and it's stuck . . . I guess everyone thought it was very appropriate."
And it is. Her fiery nature is immediately evident to all who meet her, and even past the mid-90s mark, she maintains the same vigor and fierce independence that she had at 21, when she defied the wishes of her parents and eloped with her sweetheart, a gentle-mannered violinist named John Lamb, back in her home country of England.
"My mother and father didn't think that a musician was very good marrying, and I suppose he may have had other flaws. He was 14 years older than I was, all these silly things, so they wouldn't give me permission, so I ran away to get married. He was a musician, a violinist actually, one of those famous violinists. And it was a very fine marriage, it was; he was a very great husband. And we had three children. Gillian was the first, then Janet and then John."
As a bride and young mother, she was pursuing a career in acting, but as with so many others, life was interrupted by World War II. "I was an actress and had some great leads in the north of England, in a very lovely theatre there. I was doing two shows a week, taking the lead, and it was hard. Then, well, the war had been coming, and then the war came. All theatres were closed and my husband went out to help with the effort, so I decided I would help out myself. I first started digging in London; there were many people digging to see if we could find any bodies that were still living. And we would find a lot of dead bodies but occasionally we would find some that were still living. And this one little girl, she was still living, and I took her to this big house that had been donated to us to take all these injured people to and this little girl, she was very beautiful, everybody loved her, but she would not speak.
"And we were all so tired and very kind and we spoiled her, really, but all she wanted to do was sit in a big chair in front of this large fire — this was a really very large, beautiful home — and she wouldn't walk, she wouldn't go away from that fireplace. And we had to feed her as she sat there in the chair and so on. Finally, this one night arrived and I was particularly furious with the world and I went up to her and said, 'For Christ sake, Mary, will you say something? Say something! I know you can speak.' And she said nothing, just looked at me. So I got hold of her, I lifted her up and gave her a good shake and I said, 'For Christ sake, Mary, say something!' And she said, 'Put me down.'
"And that was the beginning; I decided that there would be more Marys, that there must be more Marys out there and so I decided I would become a speech pathologist as soon as the war was over. I really didn't need to go back to school. I would go and ask for a sheet of paper and answer the questions on it in order to get a degree. I didn't need to go to the classes, I knew far more than they did: I had all that experience with many Marys. So that was it. Quite easy."
Shortly after the war ended, her husband John died from tuberculosis, likely contracted from drinking raw milk while he had been stationed at a night radar research facility.
"I felt very lonely after my husband had died and my mother and sister wrote and asked me would I go to America, where they were already living. My mother was living in New Bedford and she owned a two-floor house there and she said we could have the top floor. And so that's where we stayed until Gillian went into high school. I was working with children at a clinic in Fall River as a speech pathologist."
Then her career path changed again, funnily enough, with the purchase of an automobile. "At first, I had to come to Fall River every day on the bus, as I didn't have a car, and then take the bus back. It was a long day. And buses always make me feel sick. But then I bought a car. It was a funny car, I can't think of the name now, it was very strange and so I would drive to Fall River and back and that would be a little easier. But then, while working at the clinic, I realized that there were many things I should tell the parents. And so instead of getting home, I'd go around to these houses and try to get the mothers to do various things with their children. And sometimes they would and sometimes they wouldn't, and when they wouldn't, I would bring them back to my house and work with them there. There was one boy, when I got him, he was five years old. And he couldn't walk properly and couldn't skip or any of those things. He couldn't hop. So we put that right. And then I started in on his speech and I think he had every complication you could possibly have. That's exaggerated some, I'm sure; but anyhow, after he could walk and he could hold things in his hands and throw a ball a little bit and his speech started to improve, he rose to the top of his class. I have a picture of him; he sent it to me."
She continues:
"I never thought, even in the first year of camp, I never thought that I was doing anything special. I was glad I was doing it, and I was glad that it was doing so well and I could already see a difference in those children. It always used to be, at the clinic, that when we asked them to do something, they usually said 'I don't want to.' But after being at camp for a week, which wasn't very long, no one ever said 'I don't want to' anymore. And I think one thing was they felt closer to me, because I became their mother at camp. I mean the closeness to me, the closeness that it brought me to them . . . they didn't have that fear. They would trust me."
What fear? "The fear of doing something they have never done before. They would trust me and know that I would be right there with them. They knew they weren't doing something that would hurt them. They would try to do new things. They tried very hard. I suppose that was to try to please me."
She has visited other recreational and care facilities for people who are disabled and knows what she does is different. "I've been there, to the Easter Seals, for example; to one of their camps, just to see what it was like, and my reaction was, that is not what I'm going to have. A lot of the kids were crying, because they didn't want to be there, I guess. I don't know why they were crying. But there's no freedom. At our camp, everything, or at least I try to have everything to be about freedom."
A final camp story: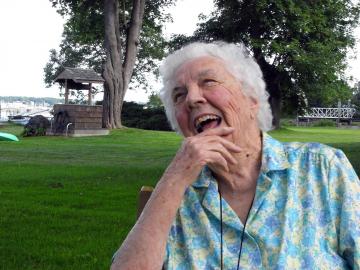 "Now Skipper {Brooks, a lifelong Jabberwocky camper] . . . when he was a youngster, I think he was about five years old, he was always hiding. He was always lost and sometimes I would get quite concerned. I never said anything, but I was always quite concerned. One time, they were digging a big, big ditch, back when camp was at the 4H Club, it was over near the deBettencourt's garage on New York avenue. I guess they were going to put some pipes down, right along the clubhouse. So they're digging this trench and I was kind of at the end of my tether, looking for Skipper, and I happened to be looking down, but I guess I was probably so worried I wasn't really looking, more like staring, but suddenly I noticed this yellow thing down in the ditch. And I thought, is that a ball? No, it's moving about; it can't be a ball. What is it? And I went to look and down in this ditch there was Skipper Brooks. He knew I was looking for him and had been standing not 10 feet away, shouting for him. There were all sorts of people looking for him, and there he was. So I got him out of that ditch and at that moment, someone came by with some other campers and they were going down to get ice cream and I said, 'Here, take Skipper too.'
"You can't get anywhere with a child by saying 'No, no, you can't do that.' That's only going to make it worse. So I've always tried to join whatever they're doing. If he's trying to jump into the water over there, I won't try to stop him. I will go over there and try to take as much of his and my clothing off as possible and jump in with them. It goes with anything. If he was taking a cookie now, I would say, 'All right, Skip, pass me one.' And then after we'd finished jumping into the water, as he was putting his shoes and socks on, I would say, 'Now, Skip, I don't want you to do this alone. Come for me or find someone else to go with you.' So I would watch him, unknown to him, for the next few days and he wasn't about to go alone. And very often he'd come up to me and take my hand, and I'd say, 'What do you want, Skip?' 'Boats,' he'd say. He wanted to go in the water. So in we'd go."