A fast 90-foot sailboat broke the record in the annual Round the Island race held on Saturday, the conclusion of the Edgartown Yacht Club Regatta. Rambler, owned and skippered by George David, completed the race in five hours, 18 minutes and 47 seconds. She is one of the fastest sailboats in the region. Last month she nearly broke the record in Annapolis, Md. to Newport, R.I. race, in the end winning line honors.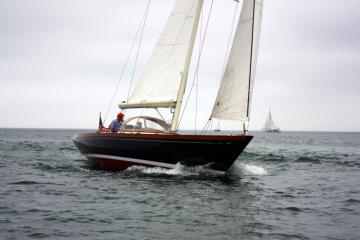 The Reichel-Pugh-designed yacht made impressive speeds around the 63-mile course, starting at approximately 8 a.m. and returning to Edgartown by 3 p.m. Forty-three boats competed in the race.
Yacht club commodore Owen Smith said he was pleased by the full turnout for the Saturday morning start. Though it had rained heavily an hour before, the clouds lifted and the breeze was enough for the 8 a.m. start. Mr. Smith said the Round the Island race has been gaining momentum in recent years after a slump in participation a decade ago. "We continue to build this race," he said.
Saturday morning winds were not what forecasters had predicted the day before. Bill Roman, manager of the yacht club, said there was serious concern that some boats might not have been able to race had the forecast been accurate. "We think the weather was fantastic. We had a nice gentle southwest breeze, far better than forecasted," Mr. Roman said. Sunshine came out later in the morning and it was blue skies by afternoon.
Mr. Roman confirmed the record. "The previous record, for a shorter course, was held by a boat called Wild Horses in 2000. She completed the race in six hours and 41 minutes. So Rambler, on the longer course, put that to rest," Mr. Roman said.
There is plenty of high-performance engineering in Rambler. She is water ballasted, with lots of carbon, said Mr. Roman. While Rambler made her debut, Mr. Roman said the vessel's captain had competed here previously in another boat called Idler.
The Round the Island race was part of the much larger three-day 86th annual regatta.
About 400 sailors participated, including at least 225 junior sailors.
Racing began on Thursday and did not stop until Saturday afternoon. From youngsters racing in Optimist sailing dinghies and 420s, to adults racing in Shields, Herreshoffs and Wianno Seniors, "a good time was had by all," Mr. Roman said.