So, you all know about the giant Jack met up that beanstalk, right? But did you know that giant was the reason all those kids ended up in that old woman's shoe? Here's how the children themselves explain it, in song:
"The giant, big and mean and mad, made himself a snack of our moms and dads; now they're gone and deep inside his belly, and we're in his shoe all wet and smelly."
The chorus in the fairy tale mash-up musical Bittersweet, written right here on the Island and premiering this weekend, sums up their situation when all the young actors belt out (shout in fact):
"It stinks!
"Life stinks when you have to live in a giant shoe, boohoo! There's nothing we can do, we all live in a shoe, P-U!"
Bittersweet is full of the gags and laugh-out-loud lyrics that its trio of creators has become known for, through their original musicals for young audiences, including Beanstalk! The Musical, Bluebeard and Waking Beauty. They are author Donna Swift — the force behind all things IMP on the Island, her longtime lyricist and collaborator, Ross Mihalko, and the latest to join the team, composer Brian Weiland, who holds a day job as the music teacher at the Oak Bluffs School.
The prestigious publisher Baker's Plays a couple of years ago snapped up Beanstalk, putting Ms. Swift and her North Carolina-based Mr. Mihalko (when not together at IMP camp, the two compose over the phone, at separate keyboards and notebooks) on a national stage.
Now their latest new play, Bittersweet, will be performed by two casts of Island students in four performances at the Katharine Cornell Theatre in Vineyard Haven, two 35-minute matinees tailored to the smaller audiences and two evening shows that add a first act of IMP's trademark improvisation.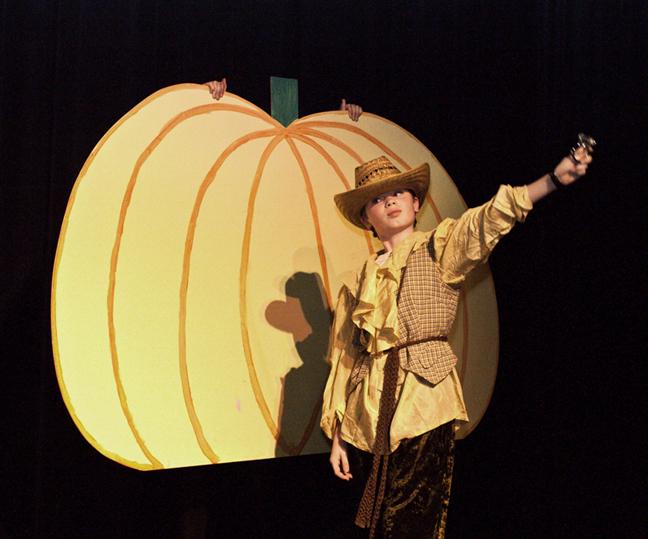 Bittersweet follows the orphan Carmella, who lives in the shoe orphanage with the Old Woman, as she searches for a home of her own. Along the way she falls for the royal candy maker, but she ends up with Peter, who lives in a pumpkin with his own entourage of children — who do not welcome adding a new big girl to the squash: "We don't like you. No we don't. We won't listen, No we won't. Not our parent. Not our pal. Just some stupid orphan gal," they sing.
This is sung to Mr. Weiland's tango beat, and incorporates the classic children's refrain, "nah, nah, nah, nah, nah, naaaaah!"
Ms. Swift, just back from Chicago with her teen improvisors, in Bittersweet cast two almost completely different troupes, to incorporate all the talented students who audition and to accommodate busy spring schedules. "But most of the time they rehearsed together, and it was lovely to see them working together to create the characters," the director says.
She and her team aim to create two original shows a year, workshopping them together at the summer IMP camps, where students have input into the script's twists, and where older IMPers (and IMP graduates) take part in the camp, and the creation.
"I feel very, very lucky to have these people to work with," she says.
Nothing stinks about that.
Performances are Friday, May 21 at 7 p.m.; Saturday, May 22 at 11 a.m. and 7 p.m.; and Sunday, May 23 at 2 p.m. at Katharine Cornell Theatre. Preschool families are encouraged to attend the matinees for a one-act version of Bittersweet. At the evening shows, there will be a first act of improv, where young performers make spontaneous theater based on audience suggestions. Tickets are $6 for kids, $8 for adults and $25 for the family at the door only. For details, 508-939-9368 or see imp4kids.com.