Ripples were made for the first time in the brand new YMCA pool on Saturday. Nearly 60 guests were serenaded into the building by the Martha's Vineyard Regional High School Minnesingers' rendition of the Village People's YMCA, eager after waiting in the hot sun to sign up for summer programs or go for a swim.
With the Martha's Vineyard Arena, regional high school, Martha's Vineyard Community Services and skateboard park as their neighbors, the addition of the YMCA has created a campus of community activities at the Edgartown-Vineyard Haven Road location.
"My greatest hope is the Island sees it as a real asset, and uses it as an asset," Chuck Hughes, president of the board, said after the ceremony. "We don't know how it's going to be used, but it's the people that make it go round."
Wearing a YMCA T-shirt and shorts, executive director Jill Robie welcomed new members, noting how fortunate she was to be able to open a YMCA in a community that had never had one.
"I always wanted to do something that made a difference," Mrs. Robie said. "And the YMCA touches the lives of so many people."
The ribbon was cut by a virtual timeline of leadership at the YMCA, including current and past board members, staff and local officials. Ribbon cutters were urged to take a piece of the ribbon home with them, as a memento of the occasion.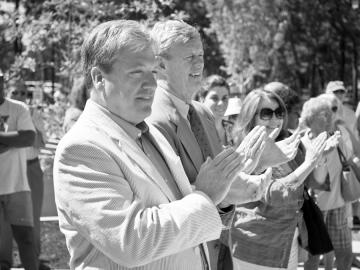 The green building houses cardio machines, weights, studio and child care center, and people took advantage of the chairs and tables available in the lobby for socializing.
"There are not many places everyone comes together, and this is a huge gift to the Island," board member Cindy Doyle said.
Swim instructor Leslie Craven is also looking forward to signing up swimmers for her classes. "My class is going to be huge," she said. "I don't care if you're just learning to walk again, you got a hip replacement or you want to get out of P.E.; I want them all."
Ms. Craven and others think the YMCA will be particularly beneficial to the senior community on the Vineyard.
"All the work involved and group collaboration speaks well to the community, and is a reflection of you," Cape and Islands Sen. Robert O'Leary told the crowd. "Thank you for all your efforts."
Even with specified parking spots for hybrid-only cars, heated water by solar panels for the showers in the locker rooms, ultraviolet treated water in the pool and recycled rubber tire floors, the green factor of the YMCA is only one step in the building process.
Mrs. Robie said the YMCA still needs to raise $3.5 million, and hopes that an August 1 benefit concert with jazz pianist Dave Brubeck will bring in badly-needed donations.
On Saturday they were having no problem signing people up for summer programs including day camp, aqua fitness, pilates, Zumba, yoga, and personal training. "The programs are coming," Mr. Hughes said.
Duncan Ross, an Oak Bluffs selectman, reminded the crowd: "Whatever good things we build end up building us."