Martha's Vineyard Magazine's Best of the Vineyard winners and runners-up were announced Wednesday at a celebration party at Mediterranean Restaurant in Oak Bluffs.
The Net Result and Sharky's Cantina walked away with honors in multiple dining categories, with Offshore Ale and Giordano's not far behind.
Making a strong showing among clothing outfitters were the Green Room and Basics.
President Barack Obama was named the Person You'd Most Like to Have Lunch With, edging out last year's winner, Island chanteuse Carly Simon, who came in second.
The race for best electrical contractor was highly charged, with Dolby Electric and Powers Electric tied for first place, and David Schwab only a handful of votes behind.
With new events added to the calendar every year, some Island favorites held onto their "Best of" titles, including the Possible Dreams Auction for best charity event, the Oak Bluffs Fireworks for best summer event, and MVY Radio Big Chili Contest for best off-season event.
The competition drew nearly 2,000 people to cast their votes for Island businesses, places and activities in 77 categories, while about 200 attended the awards party.
At the party, the magazine – which marks its 25th year of publication this summer ­­— ­­highlighted other Island businesses now celebrating their 25th anniversary: the Net Result, Eden Market and Garden Center, Edgartown Paint, Chilmark Chocolates, Hutker Architects, Hart Plumbing, Skipper/Vineyard Sound Charters, and Heel and Sole Podiatry.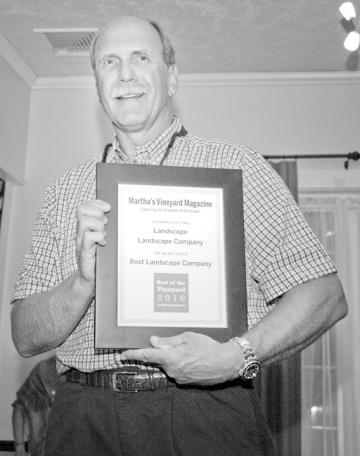 Details about the winners and runners-up are included in the July issue of Martha's Vineyard Magazine, on newsstands now. For information about next year's contest, visit the magazine's Web site at mvmagazine.com.
Martha's Vineyard Magazine has been sponsoring the Best of the Vineyard awards since 2001, carrying on a tradition begun by the Vineyard Gazette in 1996. Over the years, hundreds of Island businesses have garnered many thousands of readers' votes to earn their Best of the Vineyard titles.