Colorful cocktail dresses and navy blazers stood out against the dusty brown parking lots of the West Tisbury Agricultural Hall Monday night, as Islanders flocked to honor former Sheriff's Meadow Foundation president, the late Stephen R. Crampton, at the foundation's annual summer benefit.
The Ag Hall wasn't part of the original plan. Partygoers were displaced by an afternoon downpour that left the fields of Brookside Farm — the location of the event and intended parking lot — filled with pockets of sloppy mud. But event coordinators and volunteers quickly managed to sketch out a backup plan, and sent attendees to be shuttled from the hall via taxi vans.
The event kicked off with an extended cocktail hour as vanloads of guest slowly arrived to fill up the sprawling white tent set up on Wendy Gimbel and Douglas Liebhafsky's farm. The Island band Ballywho, led by local musician Brad Tucker, provided the musical backdrop as the party spilled out from underneath the tent. The entertainment continued later in the evening with a special appearance by Kate Taylor and her band.
Gray skies threatened rain, but thankfully did not deliver.
"The only day of rain we've had all summer, we had it today," joked Sheriff's Meadow executive director Adam Moore, once guests had settled into their dinner seats around one of the dozens of round white tables that filled the tent. "Thank you so much for your patience, and putting up with the travel difficulties today."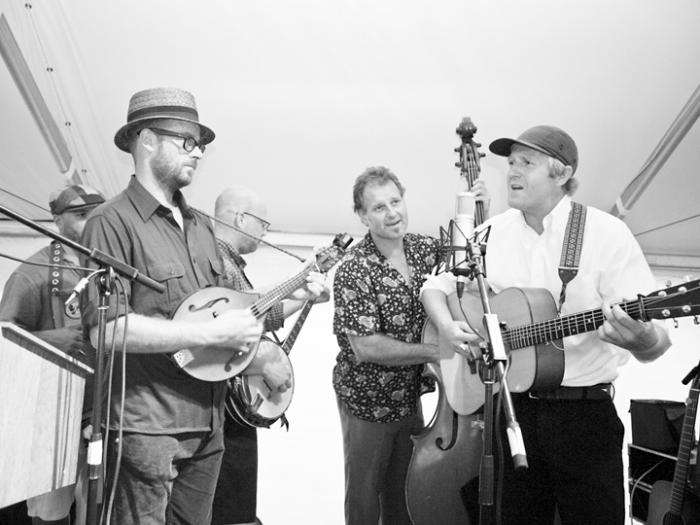 But the sticky parking situation was already forgotten as Mr. Moore began the trail dedication. The party location had a special significance that night, as it marked the beginning of the new trail set up by Sheriff's Meadow.
"One of Sheriff's Meadows' chief goals is to connect our lands to the community. And a key way of doing that is through trails," said Mr. Moore. "Tonight we're here to dedicate a new trail."
The trail crosses three Sheriff's Meadow properties, donated by supporters Ms. Gimbel and Mr. Liebhafsky, Stan Panitz, and Jerome and Carol Kenney. The properties are collectively known as the Brookside Ridge Preserve.
What makes the trail unique is that it creates a continuous link between North Road and South Road. "The trail begins in a magnificent grove of American beeches. It runs the length of Brookside Ridge Preserve, all the way to south road," said Mr. Moore. "It connects hundreds of acres of conservation land, much of it [Martha's Vineyard] Land Bank properties."
"This is increasing the trails that we already have, and we have another hundred acres across Middle Road that is going to be connected into the same trail," said West Tisbury land bank commissioner Glenn Hearn. "We're very pleased to work with Sheriff's Meadow."
But the new trail itself was only part of the reason why hundreds of Sheriff's Meadow supporters gathered Monday night.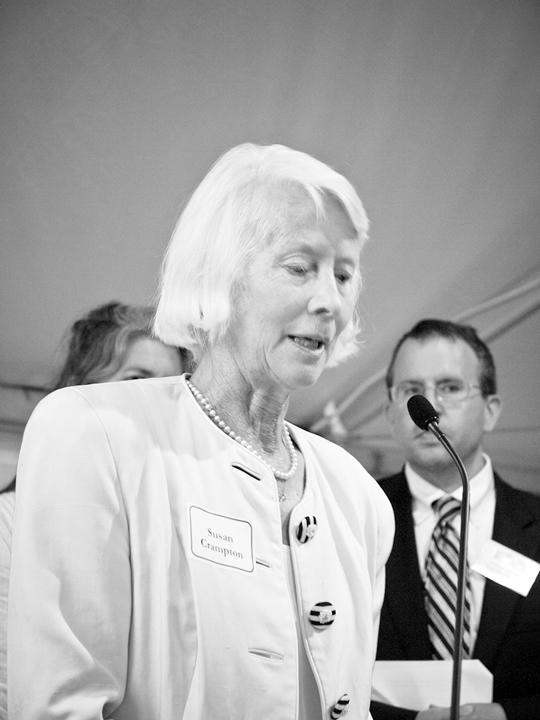 "On Friday the Sheriff's Meadow Foundation board of directors met and officially dedicated this new trail, at Brookside Ridge Preserve, to Steve [Crampton]," Mr. Moore said.
Mr. Crampton was president of Sheriff's Meadow from 2006 to 2008, and was a board member from 2002 until his death early this year.
"Steve loved the outdoors. He loved the Sheriff's Meadow properties, and he loved the trails," said Mr. Moore. He continued:
"He loved working on them, and no one in the Sheriff's Meadow Foundation was more enthusiastic in the woods with a pair of loppers or with a chainsaw than Steve. And he enjoyed trails, but what was more important is that he saw a greater purpose in them. Steve believed that as a tax-exempt charity, owning two thousand acres of tax exempt land, Sheriff's Meadow Foundation has an obligation to contribute to the community in a tangible manner. And one way that Steve believed that Sheriff's Meadow could contribute is by creating trails in our properties where possible. I fondly recall his support of the establishment of this trail, the Brookside Ridge Preserve."
Mr. Crampton's wife Susan was invited up to the podium for the dedication. Her voice shook slightly as she wished aloud that her late husband could have been present to see the Brookside trail plan come to fruition. "Steve would be somewhat embarrassed to be recognized with this. He would also be terribly proud to see Sheriff's Meadow's inclusion of the public in creating and facilitating this trail network," said Mrs. Crampton. "This evening's trail dedication is truly a wonderful example of what Steve believed in. I hope that many of you will walk the trails in the days ahead."