It's hard to believe that in their 25-plus years of existence local fiddling legends the Flying Elbows have never released an album. That is, until now: on Sunday, Nancy Jephcote will lead the Elbows in a release concert at the Grange Hall for their boisterous new album, Pokedelic.
For decades the Elbows have been fraying bows and leading contra dances on the Vineyard, but when Ms. Jephcote reflects on "Elbonian history" — one which includes onstage musical cameos by Walter Cronkite and Bill and Hillary Clinton — she also sees the history of an Island transformed by development and fame.
"The world changes, there's nothing you can do about it," she said in an interview on Tuesday at her Vineyard Haven home. "Martha's Vineyard has become a somewhat suburban environment, and it never was."
Ms. Jephcote recalled an era of Island life when dances at the Grange Hall were a staple of the Vineyard social scene, and the Agricultural Fair's competitive fiddle contest brought in top talent from all over the country.
"The fiddlers used to be allowed to camp free of charge at Flat Point Farm," she said. "There was prize money, but nowadays it would never even cover a place to stay."
It's been years since the Vineyard hosted the fiddle contest, and for Ms. Jephcote and the Elbows the next best thing was to make a recording honoring that tradition
"A lot of people are nostalgic for it," she said. "I could be a wealthy woman if I had a nickel for everyone who misses it, so we went ahead and made a nostalgic CD.
"There's no way to go back to the 70s and 80s on Martha's Vineyard in any area of life. We can remember it, we can treasure it, and what we really wanted to do was inspire the feeling of the live music people used to hear at those contests."
Originally from Iowa, Ms. Jephcote came to the Vineyard in 1984, but the Flying Elbows, as she says, "go clear back to vinyl." The band's cast has changed over the years, at one time swelling to 13 members, and although the Elbows have appeared on a number of compilations, they have never released an album on their own.
"This is a very big deal for us, and we are a better band than we used to be," she said, noting that there is more for old fans to expect on this latest album than simple contra dance fare. The band has recently been experimenting with three-part harmonies and, along with the fiddle, mandolins, banjos, washboards, even a jug makes an appearance on an album that never slows its rollicking, "loose as a goose" pace.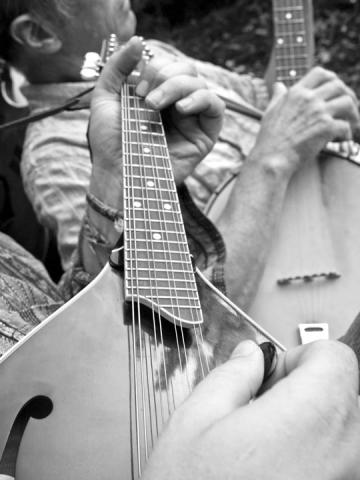 At the concert on Sunday Ms. Jephcote promises a preview of the band's next phase of evolution, with forays into zydeco and Cajun music. For now, though, she is simply enjoying the release of Pokedelic, which was a long time coming.
"It was getting a little embarrassing," she laughed. "People would always ask, 'When are you going to finish the CD? Are you ever going to finish the CD?'"
Although modern life has done much to undercut the lifestyle that inspired the carefree rural jamborees of yore, in many ways technology has fostered a new generation of fiddle music enthusiasts, who have been able to circumvent mass media and discover the music on their own. Ms. Jephcote, who teaches music at Vineyard elementary schools, has noticed the trend even among her own pupils.
"I have kids that go online to learn songs that you couldn't get at without great difficulty when I was younger," she said. "Now you can just punch in 'old timey fiddle tunes, key of C' and come up with reams of stuff, and on YouTube you can actually see them play."
Ms. Jephcote collects most of her material offline but scoffs at the sometimes pretentious claims of fellow fiddlers about the esoteric origins of their tunes.
"Every fiddler wants to make you believe that they learned their songs at the knee of some master," she said. "A lot of the traditionalists, when they have a tune, will say, oh I got this from so-and-so, who got it from so-and-so, who got it from so-and-so. A lot of that's BS."
Ms. Jephcote says that she learned many of her tunes from bandmate Bob Hammond, who in turn learned them from a cousin who had attended fiddle fairs and concerts in the Carolinas, but that she also enjoyed finding others on her own, either by riffling through out-of-print Pennsylvania fife and drum books, for instance, or by inventing them out of whole cloth, like the song Row and Rock Me Darling, which appears on Pokedelic.
"Give me three months' work and 12 months' pay," Ms. Jephcote pleads on the tune. It's a sentiment any year-round-resident can relate to, but Ms. Jephcote thinks that her music is universal.
"Some people think they can't move if they don't know how to dance to the music," Ms. Jephcote said, "which has always baffled me because you see the little three-year-olds know what to do, they're movin' their booties.
"It's really not complicated."
The Flying Elbows Fiddle Band's CD release party for Pokedelic is Sunday, August 8, at 7:30 p.m. at the Grange Hall in West Tisbury. All are welcome.