Anna Sylvia tends to her draft horse Virgil every day at Sweetened Water barn in Edgartown. Whether after work at the SBS Grain store or after school during the winter, Anna takes at least an hour of her day to clean out Virgil's stall, bathe and ride him. Yes, Anna rides her draft horse.
"They get bigger than him. He's actually tall for a Belgian draft horse, most are stockier and shorter," Anna said. "When I was younger I rode at Arrowhead Farm. They had a draft cross there and I rode him all the time and I didn't really like riding small horses. I decided when I looked for my own horse I would look at draft crosses, but then I ended up getting an actual draft."
Anna, 17, is like many kids and teenagers getting ready for this year's 149th Agricultural Fair, and because many of them are entering livestock as entries, more care and preparation is needed. Virgil won first place last year in the draft horse show in the light-weight halter class, and she's confident he will again.
"This year I worked a lot on obedience, ground work," Anna said standing outside of Virgil's stall. "When I walk, you walk next to me; when I run, you trot next to me; when I stop, you stop immediately next to me. He's well behaved and respects my space."
Virgil is nine-years-old, 17-2 hands and weighs about one ton. Anna has had him for only two years, but there was an obvious connection between the two as she nuzzled her face against his long muzzle. "I keep him nice and clean, I bathe him before the fair. I try and groom him as much as possible," Anna said, explaining how the currycomb gets out the dirt and brings out the natural oils in their skin. "Some people come to the fair and the horse still has dirt all over it. I really care about how he looks."
Anna rides Virgil as much as she can, practicing with him in the ring behind the barn. "Not all draft horses are riding horses," she explained. "For him it's helped him with his gate. What helped him win last year was that he could move so fluidly, and the judge really liked that. He's practicing trotting every day; it's not like, oh here's my horse."
For 13-year-old twins Andrew and Peter Ruimerman, it's not as much about presentation as it is about competition. The brothers raise chickens in the backyard of their Chilmark home and have been entering chickens and eggs at the fair since they were three. To avoid competing head-to-head in the same category, Andrew and Peter switch off who will enter their blue-ribbon-winning chicken Whiteout and who will enter the jumbo eggs.
"It's on and off, with Whiteout it's almost always a blue ribbon," Peter said sitting next to his brother on the family's screened-in porch. The brothers had brought out a pile of ribbons to show the Gazette. "The person who has the jumbo eggs gets the blue, and the regular sized eggs gets the red."
"Peter is entering Whiteout and I'm entering the jumbo eggs," Andrew said, a bit disappointed. Peter smiled.
"We choose which chickens we're going to bring the morning of, except for Whiteout," Andrew said. "That way if something changes, it's the best chicken then."
When they're not checking on their chickens, Andrew and Peter work at the fair so they can receive the all-inclusive four-day pass the Ag Society offers as compensation. In between ticket sales and rides, the boys' favorite part of the fair is the fried dough.
"Every year it kind of changes a little bit," the boys' mother, Janet, said. "When they're really small it's really great to go see the animals. And I never thought we would have any but then chickens got to be the big thing. Every year's just a little bit different. It's a multigenerational thing."
Kaya Seiman is seven years old and will be entering four of her nine chickens this year. "Their names are Peanut, Chooper, Wednesday and Sunshine," Kaya said. "Chooper and Peanut are my favorites." Kaya got her chickens in May and has been taking care of them every day since then in preparation for the fair. "We let them run around in our yard," Kaya said. "I think Peanut or Chooper might win."
Kaya likes the pigs, chickens and horses at the fair, but she was really looking forward to entering her own livestock this year. "I really like all the rides, and I thought it was really cool that we could enter our chickens," she said.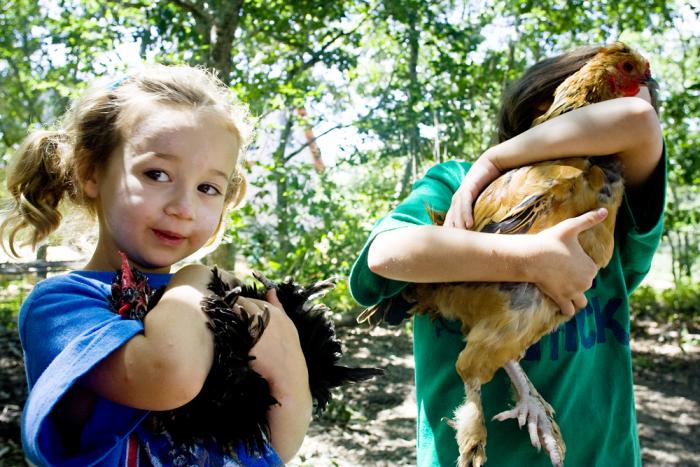 Competing against Kaya and the Ruimerman brothers are the Capece sisters. "The theme is Kiddin' Around at the Fair so we're trying to come up with something they can make," Heather Capece, mother to two-year-old Coco and four-year-old Lucia, said at their West Tisbury home this past weekend. "So we've made this map of the fair and we took pictures from the past years and we made them into little booth areas where they put themselves in around the fair."
Lucia and Coco made a diorama map of the fair grounds, careful to include the firemen's booth, the alpaca tent, barns and games. They will be entering it in a display category. "They like to go on the rides and they're expensive so I told Lucia she had to save her money so on Friday night she could do the rides with the $20 pass," Mrs. Capece said. "So all winter she made two jars and wrote on them: one says rides and one says games. We counted it and she had over $40."
But the Capeces's prized entries are their chickens and eggs. With a chicken coop made out of reusable materials in their backyard, the Capeces have more than 10 chickens and will be entering most of them in this year's fair. Outside, Lucia was running after her favorite chicken, Rain, barefoot with no hesitation.
"She's nice," Lucia said, cradling the chicken in her arms. "She loves me."
"Look at all the chicken poop," Coco chimed in.
"Lucia grew up with them; she is totally a chicken whisperer," Mrs. Capece said. "They just go to her."
Lucia and Coco will also be entering Ronnie, Fluff, Freckle, Sparkle, Toothless, Sawyer, Kate, Clare and Charlie, the rooster. "We check on them every day at the fair, which is great," Mrs. Capece said. "We have to make sure no one tries to steal them like they did last year." Mrs. Capece was referencing an incident that occurred on the last day of the fair when people came to claim their entries, and one of the Capece's chickens was stolen.
"Do you want your feathers back?" Lucia asked Charlie, her mother cautioning her not to keep his claws too close to her face. With Coco in her arms, Mrs. Capece asked her what she was looking forward to about this year's fair. "To be open!" she squealed.
This column is meant to reflect all aspects of agriculture and farm life on the Vineyard. Remy Tumin may be contacted at 508-627-4311, extension 116, or e-mail her at rtumin@mvgazette.com