Martha's Vineyard Regional High School quarterback Randall Jette walked off the practice field in the brisk fall air on Wednesday night after a hard practice that ran until almost 7 p.m. under the lights in preparation for tonight's pivotal league game against Somerset at home. "Friday night is our Super Bowl," Jette said.
Last year the Vineyarders lost 20-0 to Somerset and Jette is candid about what went wrong. "Me," he said.
For Jette, Friday's game represents a full circle in his evolution as a quarterback. A year ago he was thrust into the unfamiliar position, moving from wide receiver to quarterback on the basis of his pure athleticism. The move has paid off as Island fans have witnessed dazzling runs past defensive linemen and defensive backs alike by the fleet-footed quarterback, who is usually the fastest player on the field. Jette has worked diligently with quarterback coach Jason Dyer to learn the mechanics of the position, but he admits it was a tough transition.
"I was nervous that whole Somerset game," he said. "It sounded like it was a bad defensive game but it really wasn't. The offense should put up more than 20 points."
Now, a year later Jette says he is completely comfortable in the position, and his coaches are comfortable too.
"I'm a defensive coach," said longtime Vineyard coach Don Herman, "and one of the most difficult things to game plan against is a mobile quarterback. He can just make nightmares for you on that side of the ball."
While leading his team to the top of the division with a 4-0 record (tying the Vineyarders with Somerset atop the Eastern Athletic Conference), Jette has stealthily become a top prospect in Massachusetts, having already received an offer from Bryant College and attracting the interest of Division I schools including Boston College and Rutgers University. After a performance against Coyle-Cassidy in which he racked up 192 yards and five touchdowns, Jette earned a laudatory mention from an ESPN high school sports blog.
But it isn't his offense that is attracting the most attention. Jette is being scouted primarily for his work on the other side of the line of scrimmage as a defensive back.
"Sometimes I think I'm going to college to play quarterback, I get so excited out there," he said.
The Vineyard offense is predicated on the option, an offensive strategy made famous by college teams such as Navy and Nebraska and predicated on split-second quarterback decisions and risky lateral pitches. Jette says it took time for him to develop the ability to read defenses and make the appropriate decisions, but it has now become second nature. He says he has developed an almost telepathic on-field relationship with his fullback Brian Montambault.
"I don't have to look at Brian, I just know where he is and I know where he'll be to pitch it," he said. "It works!"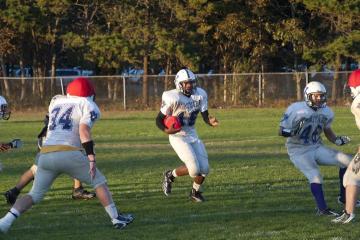 Jette's ability to helm the frenetic offense doesn't surprise Coach Herman, who says the senior is eminently coachable.
"He's a great kid and he has a very good athletic mind," he said, noting that Jette also comes from an athletic family; he coached his parents at the high school. And while Mr. Herman says that his players can always do better in school, he thinks that Jette's academics will open doors for him.
Although he already has a name tailor-made for football stardom — local color commentators on MVTV have taken to calling him "the Jette-stream" — Jette is ambivalent about the moniker.
"I hadn't heard that," he said, laughing. "I guess you can't choose your nicknames."