Wearing their sashes proudly and standing with their wagons full of cookies, a group of Girl Scouts were waiting with anticipation last Saturday in Edgartown for a Santa sighting.
They watched as dogs in festive wear walked by in the annual Christmas in Edgartown parade, the Vineyard Assembly of God caroled through the streets in Dickensian costumes, and miniature ponies with sleigh bells trotted across town.
And then, he turned the corner.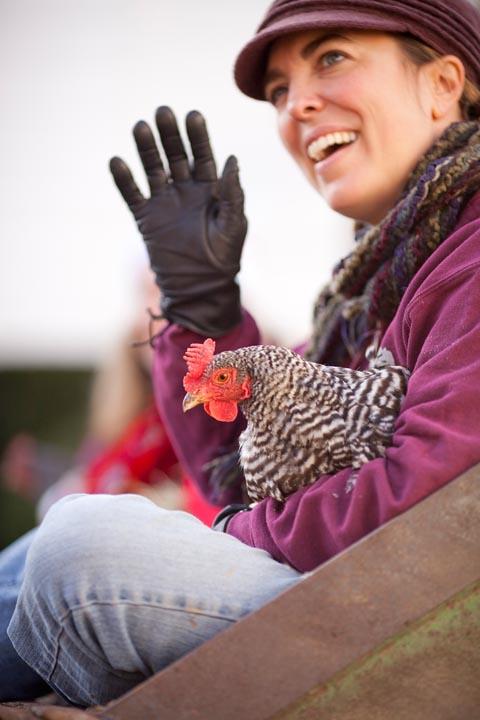 "It's Santa!" they all screamed together, forgetting their Thin Mint cookie sales for a moment. From his parade float he waved a jolly hello to the girls, who only have to wait a week for another sighting.
Behind Santa came the Farm Institute and Morning Glory Farm's float, with farm manager Julie Olsen driving the tractor that pulled a float with a large Christmas tree, sheep and calves. The Oriental Martha's Vineyard Lodge Masons took first prize in the walking contingent, dressed in traditional Masonic outfits.
Meanwhile, people ducked in and out of Murdick's Fudge for free tastings in between shopping at the Edgartown School's holiday art and craft show and art gallery open houses.
Butter, cream and clam concoctions could be smelled blocks away as the annual chowder competition was underway (congratulations to Sharky's J.B. Blau and his Martha's Vineyard Chowder Company, who took first prize). A large snowman took pictures with kids as they waited in line to fill their bellies before heading back out to the high school Minnesingers' winter concert at the Old Whaling Church or later on the lighting of the Christmas tree in the Village Green.
At the Daniel Fisher house, a small recorder band was playing Christmas carols for shoppers who bought goodies to benefit Martha's Vineyard Hospice. Between the lights and baubles decorating the historic house, the pine bows on the banisters and hot cider being served, it smelled like Christmas. Outside, a new puppy with a wreath around its neck played with a pinecone.
"It was the best Christmas in Edgartown parade," town administrator Pam Dolby said at the weekly selectmen's meeting on Monday. "It really was the best," added selectman Michael Donaroma. "A number of people stepped up."
"It was tremendous," selectman and board chairman Margaret Serpa said.